You are here
Activists educate public on healthy lifestyle
Royal Health Awareness, partners address best eating habits, recipes, tell success stories
By Mohammad Al Raqqad - Feb 09,2019 - Last updated at Feb 09,2019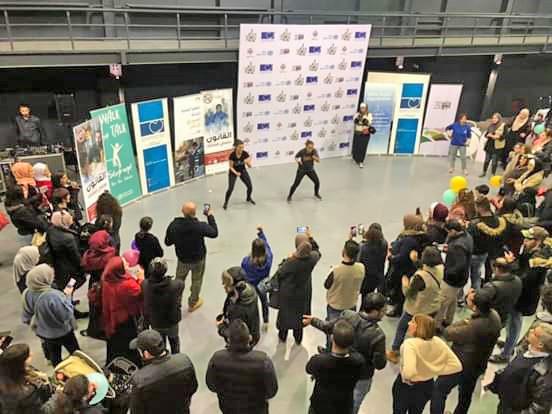 Attendants of an event to promote health lifestyles watch performers during the Saturday event at Ras Al Aid Gallery (Photo courtesy of Royal Health Awareness Society)
AMMAN — The Royal Health Awareness Society (RHAS), in cooperation with the World Health Organisation (WHO) and the Greater Amman Municipality (GAM) on Saturday organised an open day to promote healthy lifestyles under the slogan "Eat Right".
The activity was aimed to motivate individuals to have a healthy lifestyle by starting to eat healthy foods and physical activity, organisers said.
The event, held at the GAM's Ras Al Ain Gallery, featured practical methods to introduce health ingredients into daily meals, examples of healthy snacks, free medical examinations, success stories, competitions and the distribution of brochures to raise awareness of health and teach children the skills needed to prepare their own healthy meals.
Many nutritionists participated in a number of speaking functions on related topics, including the impact of food during childhood on obesity, healthy and scientific methods of weight loss and causes of food addiction and ways to overcome them, while they provided health tips and answered questions of attendees.
Ghada Kayali, health programmes manager at the WHO office in Jordan, said that the term "lifestyle" is used to express explicitly that health and illness are largely influenced by people's ways or means of living. "It is the observed patterns and the usual behaviours that determine people's preferences in various areas, such as nutrition, entertainment, use of medicines, sleep, work and sports, which are predictable preferences in a particular social environment," she said.
Experts also addressed ways to empower people to address their health problems as well as the creation of social, economic and environmental conditions conducive to good health. These, Kayali explained in a press statement, can be achieved by raising awareness among individuals and communities of healthy lifestyles and the definition of risk factors for non-communicable diseases, such as lack as physical activity, unhealthy eating and smoking, she added.
Director General of RHAS Haneen Ouda said that educating individuals about the elements of healthy food has a significant impact on the quality of their lives and, therefore, the entire community, especially in individuals' early years.
This is the basis of a number of awareness programmes implemented by the RHAS in a large number of schools in the Kingdom: educating people about healthy behaviours, especially children, makes it easier for them to adopt the behaviours as a way of life later on.
Ouda added that real change occurs only if people take small but effective, sustained and systematic steps to replace unhealthy habits in their daily lives.
Talar Balian, an attendee, told The Jordan Times that she came to the event to learn about the latest developments in health and ways to raise awareness.
She expressed admiration at the diversity of topics covered and the number of people who attended.
Diyala Salkhi, another attendee and an aspiring nutritionist currently at university, said she wanted to increase her knowledge of healthcare and how to better communicate information to people as she would one day be responsible for guiding people towards a healthy life.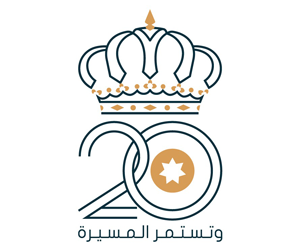 Newsletter
Get top stories and blog posts emailed to you each day.