You are here
29 COVID deaths, 2,648 virus cases recorded on Wednesday
By JT - Oct 21,2020 - Last updated at Oct 21,2020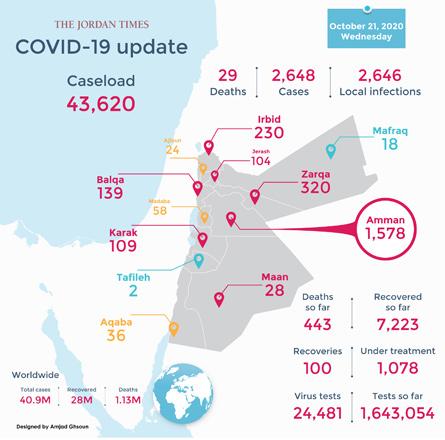 AMMAN — Twenty-nine COVID-19 deaths and 2,648 coronavirus cases, including 2,646 local infections, were recorded in the Kingdom on Wednesday, increasing the caseload to 43,620, the government announced.
The reported fatalities took the Kingdom's coronavirus death toll to 443, according to a joint statement issued by the Prime Ministry and the Ministry of Health.
The local cases comprised 1,578 infections in Amman, 139 in Balqa, 230 in Irbid, including 112 in Ramtha district, 320 in Zarqa, 36 in Aqaba, 24 in Ajloun, 104 in Jerash, 109 in Karak, 28 in Maan, 58 in Madaba and two in Tafileh, in addition to 18 cases in Mafraq.
Cases from abroad comprised one Jordanian returning to the Kingdom and one Jordanian truck driver who tested positive at the Omari border crossing.
A total of 97 COVID-19 patients were admitted to accredited hospitals on Wednesday, the statement said, adding that 1,078 cases are receiving treatment in hospitals, while the rest of COVID-19 positive people are under home quarantine.
The statement added that 100 recovered patients left accredited hospitals.
A total of 24,481 virus tests were also conducted on Wednesday, bringing the cumulative number of coronavirus tests administered to 1,643,054.
Amid the growing number of local infections, the Ministry of Health has renewed its call on the public to abide by defence orders, as well as to adhere to precautionary measures, mainly wearing face masks and avoiding holding gatherings that exceed 20 people.
The ministry also highlighted the "Aman" (Safety) application for smartphones, which alerts users if they come into contact with a COVID-19 positive person, as well as "Sahtak" (your health) application, which provides users with the latest information and news related to COVID-19, in addition to guidelines and warnings pertaining to the Kingdom's epidemiological situation.
up
13 users have voted, including you.
Newsletter
Get top stories and blog posts emailed to you each day.