You are here
22 new COVID-19 cases raise total to 345
Random testing to begin in southern Jordan, health minister says
By JT - Apr 05,2020 - Last updated at Apr 05,2020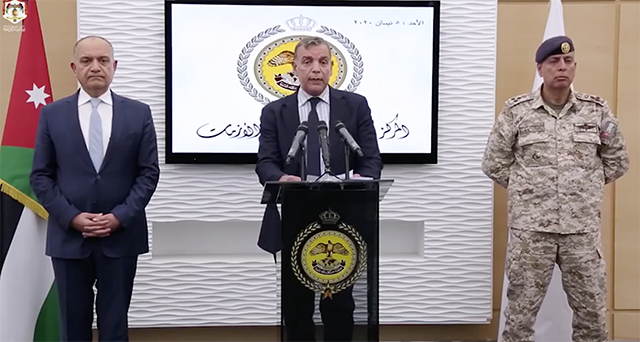 Health Minister Saad Jaber speaks at a joint press briefing at the National Centre for Security and Crisis Management with Minister of State for Media Affairs Amjad Adaileh and Brig. Gen. Mazen Faraiah, director of operations at the centre's crisis cell, on Sunday (Photo courtesy of Prime Ministry)
AMMAN — Minister of Health Saad Jaber on Sunday announced that 22 new cases of coronavirus infection have been recorded in Jordan, bringing the total number of cases in the Kingdom to 345.
Random coronavirus tests will be conducted in the southern parts of the Kingdom, he said, noting that this move is part of a comprehensive epidemiological investigation across the Kingdom.
He noted that around 300-400 tests of people with no symptoms will be conducted in each governorate randomly to assess the general situation in the country.
During a joint press briefing at the National Centre for Security and Crisis Management with Minister of State for Media Affairs Amjad Adaileh and Brig. Gen. Mazen Faraiah, director of operations at the centre's crisis cell, Jaber said that the new infections include an individual who had contacted a Lebanese patient and two Iraqis who had contracted the disease from their daughter.
The new cases also include a person who had contracted the virus from a family member, he said, noting that seven members of this family had previously tested positive and that this is the eighth case.
He added that the new infections also include a woman who was in contact with an infected relative, a person who was in contact with two co-workers who had tested positive, seven cases from an apartment building in Hashemi Shamali, bringing the number of infected people from the building to 28.
The cases also include a mother who accompanied her son receiving treatment at Prince Hamzah Hospital and was diagnosed during her stay in the hospital. He also said that another case was reported in one of Amman's private hospitals and an investigation is ongoing to determine the source of infection.
Seven members of a single family were also confirmed to be infected through contact with another family member.
The minister added that 36 coronavirus patients have recovered and were discharged from isolation units at hospitals, including 29 patients who were discharged from King Abdullah University Hospital and seven who were discharged from Prince Hamzah Hospital, among them two French nationals and an Iraqi citizen.
During the briefing, which was streamed live on Facebook, Adaileh said that no new decisions on resuming the work of private and public institutions have been taken, including schools and universities.
However, he affirmed that these issues are being discussed and any decisions will be announced as soon as they are taken.
Related items being circulated on social media platforms are proposals and recommendations, which are being considered by specialised teams as "options rather than decisions", he said.
"Citizens' health and wellbeing is a red line, and we will not rush to make a decision that could put them at risk," he stressed.
Adaileh also said that His Majesty King Abdullah on Sunday chaired a National Policies Council (NPC) meeting, during which the King urged creative solutions to confront the challenges resulting from the coronavirus crisis, notably the work of institutions and resuming the production cycle without putting the public health at risk.
The Cabinet also held meetings chaired by the premier over developments and proposals related to the crisis, the Jordan News Agency, Petra, reported the minister as saying.
Since the beginning of the crisis, the government and official bodies have taken 207 decisions and measures aimed at protecting the public and alleviating the damages to various sectors and individuals affected by the crisis, he said, noting that these measures and decisions will be announced through official platforms.
These decisions focus on nine main pillars: Preventive measures and healthcare; measures related to travel and mobility; controlling strategic stock of medical supplies and goods; awareness, information and communication; procedures related to public events and religious rites; tourism, preventive measures for public facilities and measures to maintain the sustainability of the sector; measures to assist affected economic sectors; norms for organising work in the public and private sectors and measures to follow up on the crisis.
He also affirmed that the decision to close the border crossings will stay in effect until further notice, and that it is linked to internal and external developments, Petra reported.
During the briefing, Faraiah announced that on Sunday afternoon, the government isolated Marka's Rabwah area, namely the Margab area, as a number of confirmed cases were reported in that region, stressing that the move was taken to facilitate the work of the epidemiological investigation teams as well as the sterilisation teams.
A total of 291 people have been evacuated from Regency Palace Amman, he said, affirming that they underwent tests before leaving, and that one of them tested positive for COVID-19 and was taken to Prince Hamzah Hospital.
He also noted that all those involved in selling or forging curfew passes underwent investigations and that legal measures have been taken against them.
Newsletter
Get top stories and blog posts emailed to you each day.