You are here
'19 illegal wells sealed, 441 fixtures on water mains removed in February'
By Hana Namrouqa - Mar 09,2015 - Last updated at Mar 09,2015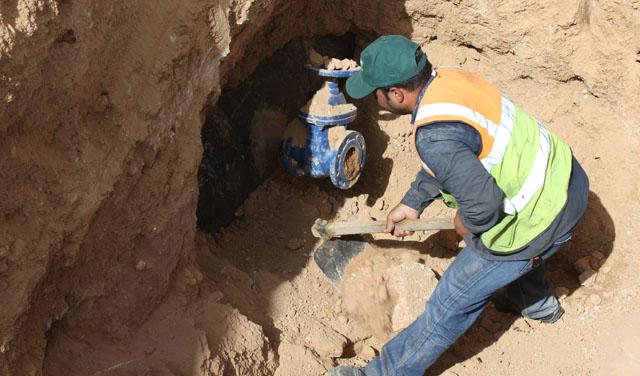 AMMAN — Authorities removed more than 441 illegal fixtures on water mains and carriers across the Kingdom in February, government officials said on Monday.
Under an ongoing campaign to end water theft and violations on water networks and resources in the country, the Water Ministry and security authorities also sealed 19 illegal wells last month, raising the number of sealed wells since the start of the campaign in July 2013 to 600, a ministry official told The Jordan Times on condition of anonymity.
Moreover, the ministry, water companies and security forces seized and confiscated 19 drilling rigs, the official added.
In a statement e-mailed to The Jordan Times, Water Minister Hazem Nasser said more than 14,000 illegal fixtures on pipes and carriers supplying cities with water have been dismantled since the crackdown on water theft in the country started.
"Authorities are carrying out regular inspections of water pipes and mains and are constantly removing violations and sending those involved to court… water violations are considered economic crimes under Article 456 of the Penal Code," Nasser underscored.
Water theft in Jordan constitutes 70 per cent of water loss, according to the ministry, which seeks to save an estimated 35-50 million cubic metres of water that is stolen or wasted via illegal fixtures and the drilling of illegal wells.
The ministry banned the drilling of wells in 1997 to limit random pumping of water and preserve aquifers from depletion and salinity. There are 1,318 wells across the country, more than 400 of which are unlicensed or illegal, according to official figures.
Nasser said the Jordan Valley Authority handled 845 violations on state-owned land, highlighting that infringements on the King Abdullah Canal are increasing, standing at 2,957 violations since the campaign began.
The 110-kilometre King Abdullah Canal, which is supplied by the Yarmouk River, irrigates 40 per cent of the crops in the Jordan Valley and provides some 40 per cent of the capital's water after it is treated at the Zai Water Treatment Plant.
The amended Water Authority of Jordan Law stipulates stiffer penalties against those who abuse any element of the water system.
Those who abuse water carriers and mains, wastewater, pumping, purification or desalination stations; or cause the pollution of water resources, pipes or stations used for drinking water; and dig or are involved in the digging of wells without obtaining a licence, face a prison sentence of up to five years and fines up to JD7,000.
In addition, violators of water and wastewater projects are jailed for up to three years and fined up to JD5,000, according to the new amendments.
All penalties stipulated under the new law are doubled in the case of repeat offences.
Related Articles
Feb 23,2016
AMMAN — Around 110 million cubic metres (mcm) of water have been saved since authorities launched a national crackdown on water theft in 201
Apr 18,2015
The authorities removed more than 748 illegal fixtures on water mains and carriers across the Kingdom in March, over half of which were discovered in the capital, a government official said on Saturday.
Nov 05,2016
AMMAN — Three years after the government started removing violations on the water network, more than 26,000 illegal fixtures on water mains
Newsletter
Get top stories and blog posts emailed to you each day.