You are here
'Jordan is a museum no one bothers visiting'
Tracks Jordan takes youth around Kingdom for volunteering, exploration programme
By Maram Kayed - Aug 20,2018 - Last updated at Aug 20,2018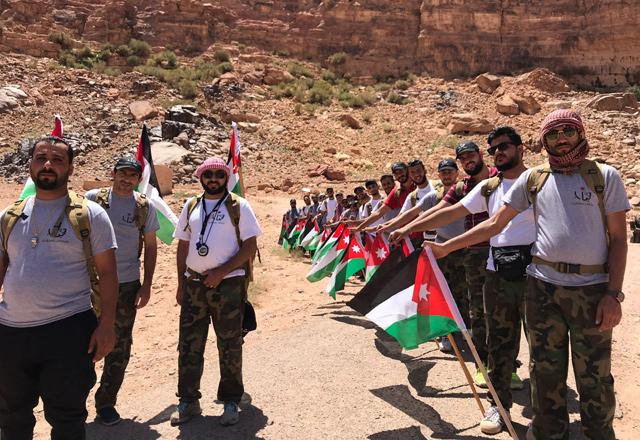 Volunteers in the Tracks Jordan programme pose for a group photo as part of their trip around the Kingdom recently (Photo courtesy of Tracks Jordan)
AMMAN — Volunteers in the "Tracks Jordan" programme recently shared their experience walking from the north to the south of Jordan while helping to improve the lives of those they met along the way.
"We are not the same people we were before going on this tour," Mahmoud Jaber, a participant in the programme, told The Jordan Times.
Organised by the Ministry of Youth (MoY), the programme is part of the eight-week long summer camp Al Hussein Youth Camps.
"Each camp is set for a week in a particular place along the track from north to south, after which the participants pack up and move to another destination," said Amani Majali, spokesperson of the MoY, noting that the participants engage in all kinds of voluntary activities, ranging from renovating houses to fixing burnt-out lightbulbs in the streets.
"One time, we would go on a cleaning mission in a far-away village, another time we would be fixing broken-down houses," Jaber recounted.
Although the aim of the camp is for the youth to contribute as much as possible to the community through walking the track, they also had the chance to become well-acquainted with Jordan's history by meeting the people of each village and learning about its history.
"We have had participants crying, saying they feel guilty for never really knowing their country," said Firas Shawabkeh, manager of youth programmes at the MoY.
Ghazal Yazbeejan, a participant, mentioned that "she will never book a hotel ever again, with all these great, natural places present in Jordan".
She told The Jordan Times that she has never even heard of the places she visited before the camp, and that she has people on her social media continuously asking her about the places she posted pictures of.
According to Amani, the selection of the participants depends mainly on their age. Because it is organised by the MoY, the programme was directed at individuals aged between 18 and 25 years old, giving priority to those who have not participated in the programme before.
"We've had an overwhelming amount of positive feedback so we are thinking of extending the programme to become an all-year-round one instead of only in the summer," Shawabkeh told The Jordan Times.
Ghazal highlighted the fact that "Jordan is a museum that no one bothers visiting", voicing her hope to see her friends and fellow Jordanians partake in this programme to "get to know their country better".
Newsletter
Get top stories and blog posts emailed to you each day.