You are here
'IMF report message to world that Kingdom is moving forward'
By JT - Feb 09,2019 - Last updated at Feb 09,2019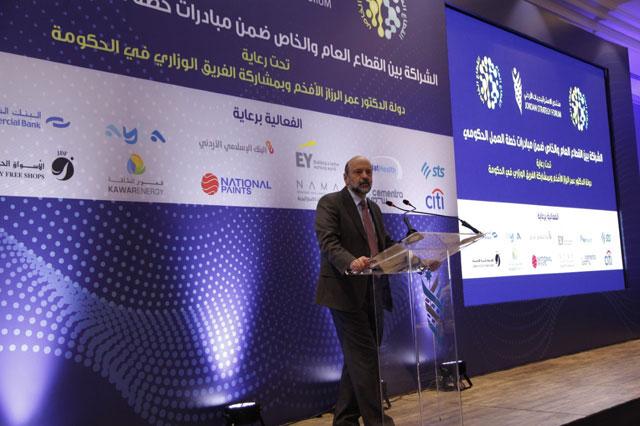 Prime Minister Omar Razzaz speaks during a workshop organised by the Jordan Strategy Forum, under the title 'Public-Private Partnership within Government Action Plan Initiatives' (Petra photo)
AMMAN — Prime Minister Omar Razzaz on Saturday stressed that the importance of the International Monetary Fund (IMF) report does not lie in the satisfaction of the fund or any other institution or entity, but is rather a message to the world that Jordan is moving in the right direction.
Razzaz made his remarks during his participation in a workshop organised by the Jordan Strategy Forum, under the title "Public-Private Partnership within Government Action Plan Initiatives", the Jordan News Agency, Petra, reported.
The premier said that the government is closely monitoring such meetings, which contribute to maximising the benefits from the partnership between the public and private sectors to overcome challenges and seize opportunities.
Razzaz pointed out to the difficulty that the government faced with all sectors to bring the Income Tax Law into reality, adding that "we were aware of the consequences of not enacting the law in 2019, as we would have had to pay additional hefty costs".
He stressed that Jordan has real opportunities based on qualified human resources and a geographical location that can contribute in the reconstruction of Iraq and Syria and retrieve lines of communication between the Arab Gulf countries, Turkey, West Asia and Europe.
He affirmed that Jordan has the opportunity not only to export goods but also to export services in many sectors, notably engineering, law, medicine and information technology, and to benefit from free trade agreements and exemptions with the US, Europe and others.
He referred to the advanced industries in the Mafraq Development Zone and the increase in the number of factories and investments as a result of the positive outlook for the future.
Razzaz called on all agencies and bodies to not engage in "finger-pointing", and to work together to seize opportunities.
Newsletter
Get top stories and blog posts emailed to you each day.