You are here
'Boost with Facebook' programme launched to support 1,000 local SMBs
By JT - Oct 15,2020 - Last updated at Oct 15,2020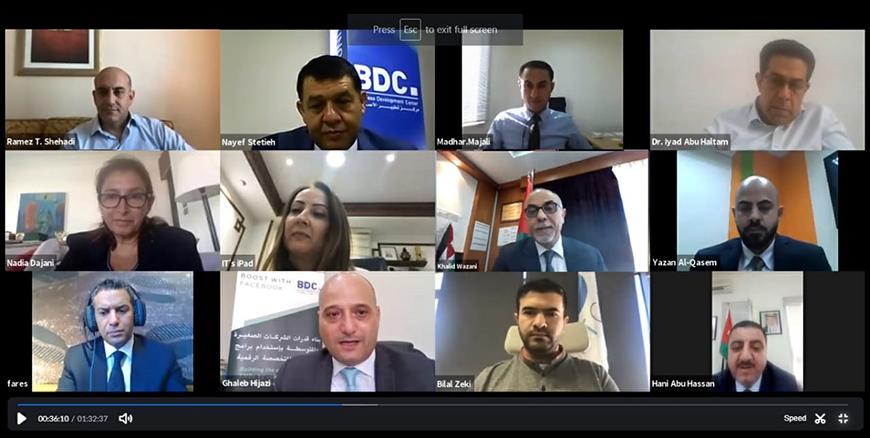 Facebook, in partnership with the Jordan-based Business Development Centre (BDC), on Wednesday announced the launch of 'Boost with Facebook' programme (Photo courtesy of BDC)
AMMAN – Facebook, in partnership with the Jordan-based Business Development Centre (BDC), on Wednesday announced the launch of "Boost with Facebook", its global programme designed to equip small- and medium-sized businesses (SMBs) with the digital marketing skills they need to grow their presence online and compete in the digital economy.
The programme, launched in the presence of Minister of Industry, Trade and Supply Maha Al Ali, aims to train 1,000 SMBs across Jordan to support their economic recovery, according to a BDC statement.
"The Boost with Facebook" programme will start the implementation in the first week of November 2020 with the aim to provide virtual training for SMBs over a period of six months across the Kingdom, the statement said.
Within the framework of the programme, Facebook professionals will provide "Training of Trainers" courses to enable trainers to effectively transfer their knowledge and expertise to participants from selected micro, small and medium enterprises, ensuring that the programme's impact continues to multiply, according to the statement.
Ali said that the ministry, through its different initiatives and services, is looking for all means that help the growth and expansion of small- and medium-sized enterprises and increase their competitiveness, believing in the role in developing the Jordanian economy and decreasing unemployment rates.
Due to the COVID-19 pandemic, many entrepreneurs realised the great importance of using and developing technology, either for development or for marketing to reach non-traditional markets that help increase or maintain the sales level and the continuity of the company's life, she said.
The Jordanian products have the most prominent role in competing during the pandemic and have proven their mature level in all regional and global markets, and this is "a clear evidence that our companies' products are of high quality, but need modern marketing in line with new developments, and it is also among the priorities of the government currently to adapt modern technology to promote products in Jordan", the minister said.
"We believe that this agreement is the best opportunity for the owners of small- and medium-sized enterprises, especially that it's in partnership with Facebook, being a global company and the digital tools available to it, will give these companies the opportunity to adapt their products to suit the current circumstances. We in the Ministry of Industry, Trade and Supply are supportive of this partnership between the Business Development Centre and Facebook, which we hope and invite all Jordanian companies to benefit from its services," she said.
Managing Director for MENA at Facebook Ramez Shehadi commented: "The challenges that small- and medium-sized businesses continue to experience as a result of COVID-19 are significant, and we remain firmly committed to supporting them in both recovering and, in due time, thriving."
"We recently launched our MENA-wide campaign, #LoveLocal, which provides online resources and tools to small business owners for tips and training. With 'Boost with Facebook', we are continuing those efforts with the support of prominent institutions as BDC helping further boost a burgeoning startup ecosystem. Our broader aspiration is helping to positively impact socio-economic growth and that our efforts with SMBs is a key to this aspiration," Shehadi added.
President and CEO at BDC Nayef Z. Stetieh said: "2020 has been a difficult time for businesses around the world, including Jordan. With the help of Facebook, we have adapted the 'Boost with Facebook' programme to include modules that specifically address the need to stay in touch with and retain clients during the pandemic, as well as revisit their existing strategies to deliver products and solutions.
"Today, digital is no longer a luxury but a national necessity and absolute priority. This programme will help SMBs to increase their competitiveness, exports and presence in the international markets which is highly needed."
During the launching event Nadia Dajani Jewellery - Nadia Dajani and Mecalmen - Tojan Ounallah presented their "successful business model" utilising Facebook online tools to accelerate their business, the statement said.
The "Boost with Facebook" curriculum presents two varying tracks. The "Beginner's Track", which caters to businesses with limited online presence and who are set to embark on their digital journey. The sessions will also cover developing financial statements, online sales techniques and marketing strategies including labelling and packaging, according to the statement.
Additionally, the "Advanced Track" caters to businesses that are looking to take their online presence to the next level. The sessions will focus on leveraging digital platforms to promote products to regional, international and non-traditional markets, as well as cover customer management and export strategy.
Newsletter
Get top stories and blog posts emailed to you each day.