You are here
Reviving forgotten places
May 18,2017 - Last updated at May 18,2017
The Decapolis is a group of ten Greco-Roman cities on the eastern frontier of the Roman Empire, in the southeastern Levant, grouped together due to language, culture, location and political status.
The Decapolis cities are currently located in modern day Jordan, Syria and Israel.
Six of the ten cities are located in Jordan: Gerasa (Jerash), Gadara (Umm Qais), Pella (West of Irbid), Philadelphia, modern-day Amman, Capitolias, also Dion (Beit Ras) and Raphana.
In 2015, tourism accounted for 4.7 per cent of the country's GDP, according the World Travel and Tourism Council.
Jordan capitalises on many of its sights, where one could perform cultural or therapeutic tourism, or enjoy nature, but only three of the six cities (Jerash, Umm Qais and Amman) are being promoted heavily as tourist sights.
There is no charge for visiting Beit Ras and Raphana and there are no tour guides there. Many Jordanians do not even know of their existence.
According to the chairman of the Jordan Federation of Tourism Associations, there are plans to promote tourism in these other Decapolis sites, which should be equipped with guides, restaurants and other facilities for tourists.
The Decapolis cities in Jordan are highly profitable. The promoted ones, Jerash, Umm Qais, and Amman, attracted 569,063 visitors in 2015 and generated close to JD2 million in ticket sales.
The Citadel and the Roman theatre attract close to 125,000 tourists a year, according to the Chamber of Commerce while, according to the Ministry of Tourism and Antiquities, in 2015, Jerash attracted 178,897 visitors and Umm Qais 140,166 visitors.
Umm Qais and Jerash alone generated JD1,223,930 in ticket sales.
The forgotten tourist sites should be promoted, both to generate profits for the country and to make these ancient places of civilisation known worldwide.
Jordan should apply for international funds to fully excavate and preserve these sites and tell the world their story.
A Decapolis trail could be created, specifically promoting the Decapolis cities in Jordan. This will create jobs, diversity, means of livelihood and life in places outside the capital.
Lynn Malkawi,
Amman
Related Articles
Jul 13,2017
AMMAN — The Irbid Department of Antiquities has found 19 Roman ruins in Beit Al Ras town that narrate the stories of the former inhabitants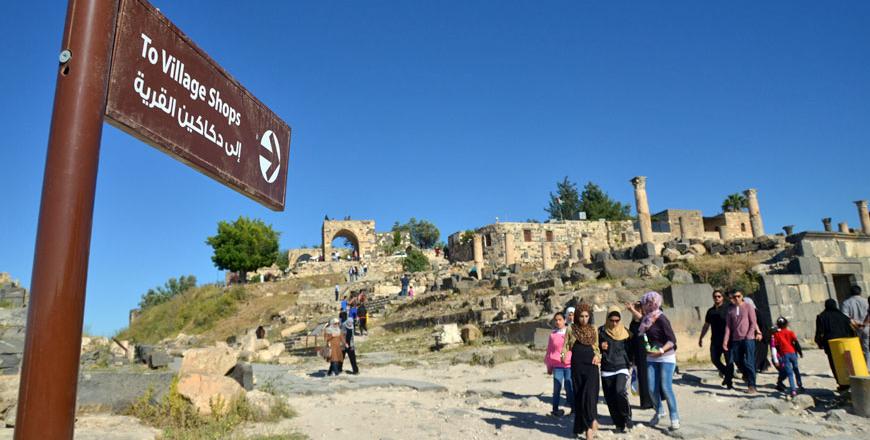 Jan 19,2016
AMMAN — "Unfamiliar" tourist sites around the Kingdom can be promoted as providing visual experiences and opportunities for interaction with
Sep 17,2014
The performance of the tourism sector has improved over the first eight months of this year compared to the same period last year despite local and regional challenges, according to Tourism Minister Nidal Katamine.
Newsletter
Get top stories and blog posts emailed to you each day.