You are here
The Weeknd, smooth yet steamy, makes quick return
By AFP - Nov 26,2016 - Last updated at Nov 26,2016
NEW YORK — Just one year after he catapulted into the ranks of top pop stars, The Weeknd has returned with a sprawling new album in which his silky voice goes into steamier territory.
"Starboy", the third studio album by the Toronto singer, stretches for 18 songs plus an accompanying short film and is full of star collaborations including with the elusive French electronic duo Daft Punk.
The album came out Friday, almost exactly a year after the artist whose real name is Abel Tesfaye released his breakthrough "Beauty Behind the Madness", which topped the charts through mega-hits such as "Can't Feel My Face".
As evidenced by his quick and voluminous return, the 26-year-old has no shortage of ideas for his latest album with tracks that take cues from hip hop to 1980s New Wave.
But the album's overall vibe is steaminess, as if "Starboy" takes place in a packed but chilled-out nightclub in the early hours of the morning.
The Weeknd's defining trait remains his celebrated voice, strong yet smooth with a comfortable falsetto. On the tracks such as "Secrets", The Weeknd also shows his ease at lower ranges.
"Starboy" marks the highest-profile project by Daft Punk since the duo, long-time leaders of the French house scene, won worldwide mainstream acclaim with the 2013 album "Random Access Memories".
Daft Punk injects a heavy bass that drives the title track and closes the album with a retro R&B feel on "I Feel It Coming" — a track that reinforces the oft-noted vocal similarities between The Weeknd and Michael Jackson.
While Daft Punk is only credited as featured collaborators on the two tracks, the French duo's influence can be heard throughout "Starboy" with its embrace of audio filters and a minimalist production that emphasises beats and The Weeknd's voice rather than synthetic effects.
The Weeknd said he had become friends with Daft Punk's Guy-Manuel de Homem-Christo and went into the duo's studio in Paris, with the three men experimenting with sounds and recording the two songs in just a few days.
The Weeknd said it had always been on his "bucket list" to work with the "enigmatic and mysterious" members of Daft Punk, who never appear in public outside of their robotic disguises.
"I was definitely inspired by that at the beginning of my career because nobody knew how I looked as well," he told Apple Music's Beats 1 radio.
The Weeknd, who grew up with humble means as the son of Ethiopian immigrants, made his name by posting recordings on YouTube, winning fame online despite his anonymity.
'Homeless to Forbes list'
The quick earning of riches is much on the mind of The Weeknd, who topped the Forbes magazine list of top-grossing celebrity newcomers of 2016 with $55 million earned.
Much of the lyricism on the album recalls braggadocio rap as The Weeknd — or perhaps his alter ego "Starboy" — lists off the money he earns, the cars he drives and the women he woos.
"Homeless to Forbes list/These niggas bring no stress," he sings on "Sidewalks", a collaboration with leading rapper Kendrick Lamar.
"I feel like Moses. I feel like I'm chosen," he sings.
Lana Del Rey imagines an erotic encounter as she sings on "Stargirl Interlude" — an apt collaboration with Del Rey's music fitting in with the album's breathy mood.
Yet, The Weeknd is also reflective, especially as the album nears its end. On "Ordinary Life", he sings of a sexual experience with another woman he barely knows.
"If I could, I'd trade it all / Trade it for a halo," he sings as he ominously suggests, "Like I'm James Dean, I'mma die when I young".
Related Articles
Jan 27,2014
The Grammy Awards celebrated outcasts and outsiders, including a couple of French robots, white rappers and a country girl singing about gay rights.
Jan 25,2015
From within a jungle of musical instruments and audio cables, a voice flows like nectar: British singer PJ Harvey recording her ninth studio album in front of an audience hidden by a one-way mirror.
Sep 06,2014
Robert Plant has come home to England from Texas. The Led Zeppelin frontman has been pining for his roots — familiar landscapes, the distinctive "Black Country" accent of where he grew up and people who call him "Planty".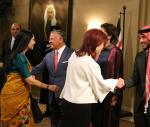 Newsletter
Get top stories and blog posts emailed to you each day.