You are here
Volkswagen ID.3: Reinventing the People's Car for the EV era
By Ghaith Madadha - Sep 11,2023 - Last updated at Sep 11,2023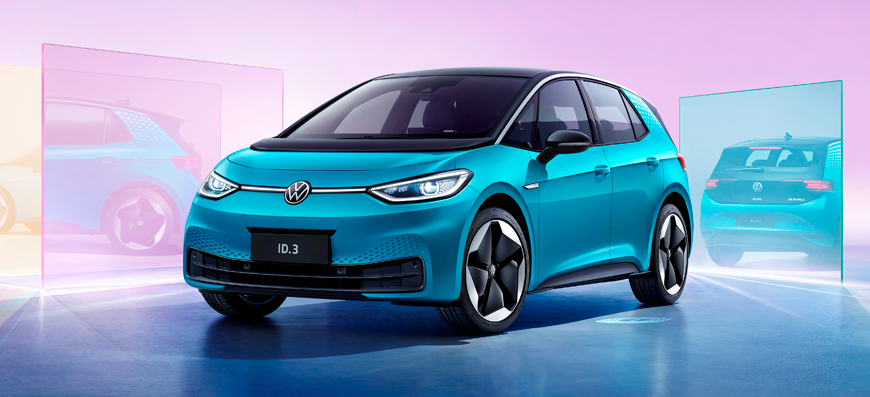 Launched in Europe in 2019 with Chinese market variants soon following in 2021, the Volkswagen ID.3 is the German manufacturer's purpose-built electric vehicle take on the family hatchback segment. Successor to the electric powered derivative of Volkswagen's iconic Golf nameplate, the ID.3 nevertheless still runs concurrently with the e-Golf in China. Manufactured by the "people's car" brand through the SAIC-Volkswagen joint venture in the People's Republic, the Chinese-built ID.3 has found popularity in Jordan, if not quite the same ubiquity as its ID.4 and ID.6 crossover sisters.
Lighter, quicker, and more maneuverable and rewarding to drive than its larger and more popular relations, the ID.3 captures the well-rounded everyman practicality of the Volkswagen Golf that it might eventually replace. Under its skin, the ID.3 however harks back to Volkswagen's eponymous first and most famous model that was later known as the Beetle. Like the air-cooled icon of ruggedly uncomplicated motoring that was the original Beetle, the ID.3 rides on a rear-motor and rear drive platform, but sits higher than either Beetle or Golf, owing to its heavy and cumbersome battery pack situated under its floor.
Assertive yet playful
Arguably the best designed of Volkswagen's EV models, the ID.3 walks a fine line between assertive and playful, utilising a combination of convex and concave surfacing, sharp lines and soft edges, to achieve a look that has uncomplicated clarity ,yet, is modern and sophisticated. Narrow and upright with a big glasshouse and short, low bonnet, the ID.3 nevertheless maintains a sense of athletic momentum with its use of a squinting lighting signature, rising waistline, jutting side skirts and rear spoiler, descending roofline, blacked out rear fascia and moderately large 18-inch wheels.
Positioned at the rear, the ID.3's electric motor powers the rear wheels through a single-speed automatic gearbox, and develops a healthy 167BHP and gutsy 228lb/ft torque. Unleashing a near instant wave of torque that seems to kick it forward, the ID.3 is smooth, swift and near silent from standstill, and achieves a 50km/h city speed in 3-seconds. However, its rate of acceleration decreases noticeably as speed increases, as usual for most EVs, with benchmark 0-100km/h acceleration arriving in an estimated 8.5-seconds, on the way to a 160km/h top speed.
Versatile Volks
With powerful but heavy liquid-cooled 57.3kWh batteries estimated to weigh somewhere around 400kg, the ID.3 claims a long 450km single charge driving range, but would be expected to deliver somewhat shorter range in 'real world' conditions, topography and driving style. For 0-80 per cent charging using a fast non-domestic DC, where available, it is quoted at just 40-minutes, but still falls short of the quick convenience of combustion vehicle refueling time. Domestic AC charging time is meanwhile lengthier and even less convenient at 8.5-hours, depending on charger type and available electricity supply.
Yielding power more progressively than many EVs, the ID.3 is less susceptible to unintentionally un-sticking its driven rear wheels when powering out of corners. It rides a broad and muscular torrent of torque, and is responsively aggressive at low and cruising speed and versatile in building speed for inclines and overtaking, but with just one gear, acceleration vigour drops off somewhat at higher speeds. It is however best in stop/start urban driving, where abundant torque compensates for its single ratio gearbox, while regenerative brakes have greater opportunities to recoup kinetic energy.
Fresh and fun
The ID.3's ride can be slightly firm over harsh lumps, bumps and cracks, but is otherwise forgiving. Buttoned down and well-controlling its hefty, near crossover-like 1,760kg mass through corners owing to a low centre of gravity, the ID.3 is, however, one of the more engaging EVs to drive. With quick, light and accurate steering, short overhangs and big footprint, and a slight rear-biased weighting and rear-drive, it turns tidily and eagerly into corners, and is fairly agile throughout. It meanwhile grips hard with its electric motor pressing down on its driven rear wheels.
A user-friendly commuter car that is quiet, confident and comfortable on highway, and maneuverable through winding roads and in town, the ID.3's ride is smooth, stable and settled, with a grounded feel through corners. Uncluttered and unpretentious, but with a sense of quality about it, the ID.3's cabin ambiance is fresh and airy, with a sporty steering wheel, horizontally-oriented design and user-friendly controls and tablet-style infotainment screen. Reasonably well equipped, the ID.3's cabin provides good front and above-average rear space. Cabin accessibility, visibility and luggage volume are similarly good for its class.
SPECIFICATIONS
Engine: Rear-mounted electric motor
Battery: Liquid-cooled lithium-ion, 57.3kWh
Gearbox: 1-speed automatic, rear-wheel-drive
Power, BHP (PS) [kW]: 167 (170) [125]
Power-to-weight: 95BHP/tonne
Torque, lb/ft (Nm): 228 (310)
Torque-to-weight: 176Nm/tonne
0-50km/h: 3-seconds
0-100km/h: 8.5-seconds (estimate)
Top speed: 160km/h
Range,: 450km (estimate)
Charging, DC fast charger, 0-80% / AC standard charging, 0-100%: 40-minutes / 8.5-hours
Length: 4,261mm
Width: 1,778mm
Height: 1,568mm
Wheelbase: 2,765mm
Luggage volume, min/max: 385-/1,267-litres
Kerb weight: 1,760kg
Steering: Electric-assisted rack & pinion
Suspension: MacPherson struts / multi-link
Brakes, F/R: Ventilated discs / drums, regenerative
Tyres: 215/55R18
Related Articles
Jul 31,2023
Launched in 2021, the Chinese-built Volkswagen ID.6 electric-powered crossover has quickly proved to be an automotive hit in Jordan — especi
Aug 08,2016
Pitched as a rose-tinted retro-infused hatchback harking back to Volkswagen's defining, first and longest running model, the Beetle is built
Apr 13,2015
Launched as a 1998 model, Volkswagen's first New Beetle was a pioneer of the "retro" car design trend, fashionable in the 2000s, and was followed by re-incarnations of the original's Mini and Fiat 500 contemporaries.