You are here
Volkswagen Golf GTI Clubsport: Masterclass in practical performance
By Ghaith Madadha - Nov 14,2016 - Last updated at Nov 14,2016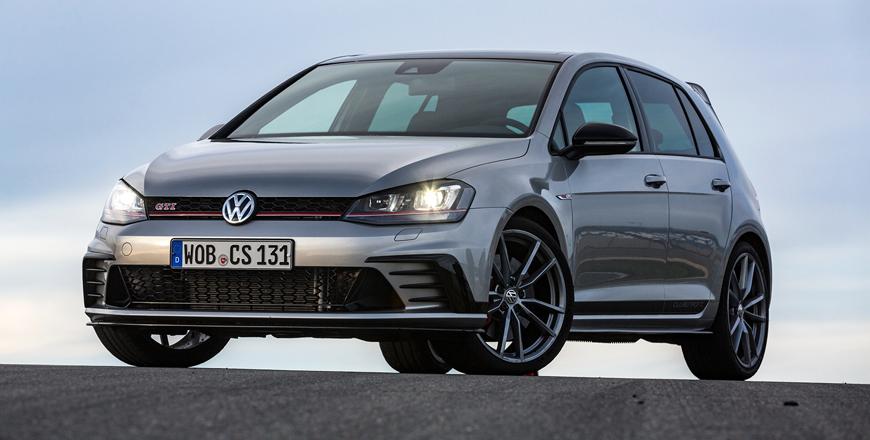 Photo courtesy of Volkswagen
Launched globally late last year and in the Middle East earlier this year, the Volkswagen Golf GTI Clubsport arrives 40 years after the iconic original profoundly altered the compact hatchback and sports car segments with the practicality and affordability of the former and performance and agility of the latter. With eager agility, perky performance, and classy yet understated charm, the Golf GTI Clubsport is a serious contender for being the best allround hot hatch in a contemporary segment brimming with talent.
A breath of fresh air in a segment that now includes various four-wheel drive hyper hatches developing well over 300BHP and dramatically designed yet less practical competitors with bulging bodywork and low rooflines, the Clubsport is pitched perfect as a genuinely practical performance car. Without over complication or over ambition, the Clubsport retains the standard GTI's lighter and more eager and agile front-wheel drive configuration yet adds 45BHP and 35BHP over other Golf GTI variants, a more focused chassis set-up and a subtly more assertive aesthetic treatment.
Assertive aesthetics
The most powerful front drive five-seat Golf, the Clubsport is lighter yet slightly less powerful than the four-wheel drive Golf R, but is a more engagingly nimble drive, and also far better captures the Golf GTI's promise of practical performance than the extreme Clubsport S version. Developing 306BHP, the Clubsport S was designed to best the Honda Civic Type R's former front-wheel drive Nurburgring Nordschleife lap record, but with rear seats replaced by a roll cage and production limited to 400 examples, it is otherwise little relevant as a hot hatch.
The best looking Golf since the angular Giugiaro-designed original, the current MK7 Golf features clean, sharp lines, squinting headlights and raised bonnet centre. More importantly, its design is practical yet fresh, crisp and urgent, while functionality taking a front seat to form. Already assertive in standard GTI guise, the Clubsport edition adds a black side decals, darker rear LED headlights and bigger bore dual chrome tailpipes. More importantly, the Clubsport receives a deeper front bumper with bigger intakes in front and a rear diffuser and extended rear spoiler atop and around the tailgate for added downforce.
Eager and willing
Powered by an upgraded version of the standard GTI's 2-litre turbocharged direct injection four-cylinder engine, the Clubsport develops the same 258lb/ft torque output throughout a broad and flexibly accessible 1,700-5,300rpm.
The Clubsport's power has been considerably hiked to a nominal 261BHP at 5,350-6,600rpm, which further rises to 286BHP for short bursts on overboost. Essentially the same engine powering its Seat Leon Cupra 290 Volkswagen group cousin, the Clubsport's use of an automatic overboost to access its full potential keeps it from officially treading on the Golf R's toes, and maintains low fuel consumption figures.
With little by way of turbo lag, the Clusport is responsive off the line and drives with the same civil yet effortlessly flexible confidence as the regular GTI at low- and mid-range speeds. However, the further up the rev range and the more aggressive the throttle inputs one feeds, the more one gets an impression of the Clubsport's longer-legged and more muscular abilities. Particularly evident on hill climb with added load, the Clubsport becomes particularly quick beyond 4,000rpm, when power starts accumulating with more urgent intensity.
Swift and succinct
A truly brisk car, the Clubsport quite the fire-breathing hot hatch when one is driving with clear intent and accessing its full 286BHP. Precise throttle control and an eager revving character allow one to effectively utilise its power and dial in exact increments through winding roads. Capable of 250km/h, the Clubsport makes confidently rapid progress on the move and can blitz the 0-100km/h benchmark in 6.3 seconds according to published European stats accounting for an official 261BHP output. However, with its full 286BHP on tap, this figure drops to 5.9 seconds for the automated dual-clutch DSG gearbox version driven.
Lining up odd and even gears on separate clutches, the Clubsport's DSG gearbox makes smoothly slick and responsively quick cog changes. Accessible through the infotaiment screen, one chooses successively more aggressive gearbox and driving modes. In economy mode, the gearbox can be a slightly slow picking up throttle inputs on the move. Developing high levels of traction and suffering little of the torque steer that can afflict high-performance front-drive cars, the Clubsport's electronic differential lock system distributes power to the wheel best able to put it down effectively off-the-line or when powering out of corners.
Agility and reflexes
Riding on MacPherson strut front and independent multi-link rear suspension, the Clubsport, however, receives a more focused and tauter chassis set-up, including firmer springs and dampers, for sharper reflexes and enhanced control. Taut and controlled through corners, with little body lean, it is buttoned down and settled at speed and on rebound. Riding on the firm side, the Clubsport was not particularly uncomfortable on Dubai roads, even with optional low profile 225/35R19 tyres, but for rougher Jordanian roads, the standard 225/40R18 tyres would be the better choice. Meanwhile, optional adaptive dampers feature more focused and more supple driving modes, allowing one to tailor mix and match chassis and drive-line modes.
An easy, willing and rewarding car to drive briskly, the Clubsport finds the right combination between alert and eager and refined and settled. Tucking tidily and crisply into tight corners or sprawling switchbacks, the Clubsport's front wheels dig in hard, its body remain flat while weight transfers to the outside rear wheel. Biting taut into tarmac and eager in and out of corners, the Clubsport walks a fine line between playful and reassuring, while added downforce keeps it more tightly pinned to the ground at speed and through corners.
Function over form
Quick and precise with the right mix of feel and feedback to refinement, the Clubsport's superb steering is eager into corners yet well damped at speed, and lends itself to confident driving and manoeuvring. Meanwhile, brake-based torque vectoring driver assistance selectively brakes the inside wheel through corners to enhance the Clubsport's nimble and tidy agility. Emphasising function over form, the Clubsports' stylishly minimalist body surfacing, upright cabin and big glasshouse allows for excellent driving visibility to exactingly and confidently place the car on road, whether driving through brisk switchbacks or confined urban settings.
A masterclass in functionality and un-ostentatious elegance, the 5-door Clubsport's cabin features clear instrumentation and user friendly controls and layouts, while high quality materials include fabric upholstery, Alcantara trim and soft touch textures. The Clubsport's design allows for well above average cabin space and boot space, with headspace being particularly good without a sunroof. Driving position is alert and upright, with excellently supportive, comfortable and adjustable seats and chunky. Well equipped with standard and optional convenience and safety systems, the Clubsport also features a suite of sophisticated driver assistance systems including rear view camera, blind spot detection and lane assistance.
TECHNICAL SPECIFICATIONS
Engine: 2-litre, transverse, turbocharged 4 cylinders
Bore x stroke: 82.5 x 92.8mm
Valve-train: 16-valve, DOHC, direct injection
Gearbox: 6-speed automated dual clutch, front-wheel drive, limited slip differential
Power, BHP (PS) [kW]: 261 (265) [195] @5,350-6,600rpm
Specific power: 131.5BHP/litre
Power-to-weight: 187.1BHP/tonne
Torque, lb/ft (Nm): 258 (350) @1,700-5,300rpm
Specific torque: 176.4Nm/litre
Torque-to-weight: 250.9Nm/tonne
0-100km/h: 6.3 seconds
Maximum speed: 250km/h
Fuel consumption, urban / extra-urban / combined:
8.6-/ 6-/ 7 litres/100km
CO2 emissions, combined: 160g/km
Fuel capacity: 50 litres
Wheelbase: 2,631mm
Track width, F/R: 1,538/1,516mm
Ground clearance: 133mm
Unladen weight: 1,395kg
Headroom, F/R: 1018/967mm
Legroom, F/R: 1,046/903mm
Elbow room, F/R: 1,469/1,440mm
Luggage volume, min / max: 380- / 1,270 litres
Steering: Variable electric-assisted rack and pinion
Turning circle: 10.9 metres
Brakes, F/R: Ventilated discs, 340mm/310mm
Suspension, F/R: MacPherson struts/multi-link,
adaptive dampers
Tyres: 225/35R19 (optional)
Related Articles
Jan 29,2018
By All the car that one could reasonably need for most motorists, the Volkswagen Golf GTI is at once a nimble and quick sports ca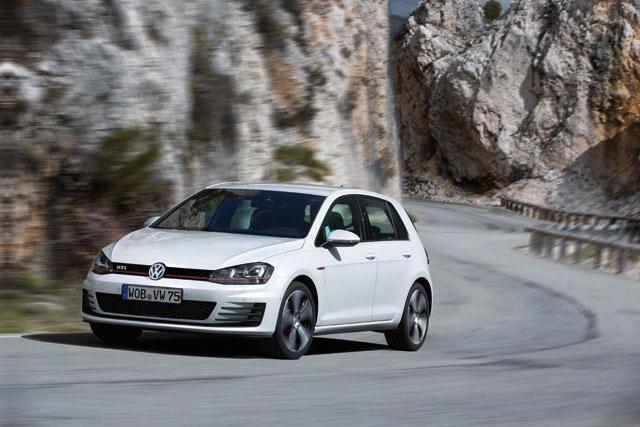 Jan 06,2014
The livelier and sportier version of Volkswagen's classy hot hatch, the Golf GTI Performance makes the best use yet of the Mk7 generation Golf's lighter partial aluminium construction with a 10BHP power hike over the regular Golf GTI. The more focused and driver-oriented edition of the new car, the Golf GTI Performance also features a mechanical limited-slip differential to complement the standard electronic XDS+ torque vectoring system.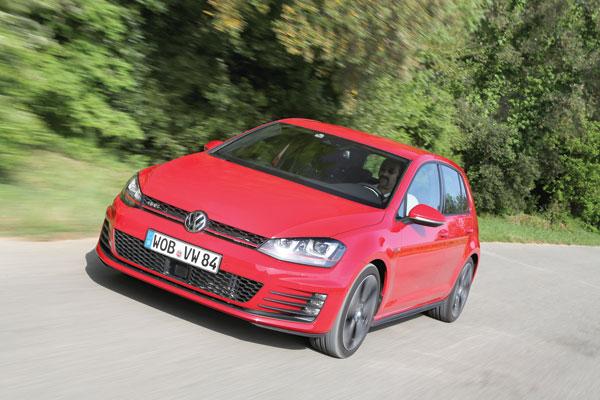 Mar 16,2015
The latest iteration of what is generally accepted as the first hot hatch when it first arrived in 1976, the Volkswagen Golf GTI is the car that has it all.
Newsletter
Get top stories and blog posts emailed to you each day.