You are here
The scent of jasmine spreads resistance
By Sally Bland - May 14,2017 - Last updated at May 14,2017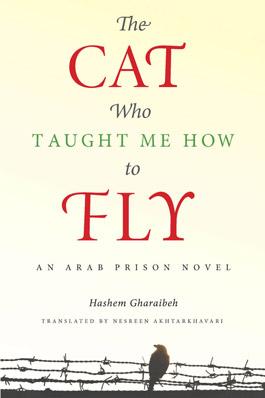 The Cat Who Taught Me How to Fly
By Hashem Gharaibeh
Translated by Nesreen Akhtarkhavari
US: Michigan State University Press, 2017
Pp. 150
Nothing about this novel is exactly what one expects. Such is the originality of Jordanian writer Hashem Gharaibeh's thinking and the prose in which he expresses himself in this fictionalised account of his own experience. "The Cat Who Taught Me How to Fly" is billed as a prison novel but has little of the heaviness usually associated with the genre.
As another noted Jordanian writer, Samiha Khreis, writes in a blurb on the back cover: "The author ignores his personal wounds to embrace the beauty of humanity inside the prison walls, forgiving society its transgression against him, and soaring free, celebrating his humanity and the humanity of others. He takes the prison novel to a new height."
The protagonist, Imad, is still a student at Yarmouk University, when he is arrested and imprisoned for being a communist in the late 70s. The novel covers a year and a half in Irbid Prison, not far from his native village, Hawara. At first, his daydreams centre on his university friends: their "optimistic thoughts of freeing Palestine, Arab unity, social justice, his strong belief in the right to free expression, and the freedom to change." (p. 18)
Soon, however, he turns his attention to his fellow prisoners, recording fascinating vignettes of thieves, murderers, drug dealers, gangsters and former government officials accused of corruption. Each has a tell-tale nickname, personality and story all their own — how they landed in prison, their dreams and idiosyncrasies, how they treat others. Most interesting is Gharaibeh's sketch of the hierarchy that exists among them, and how Imad felt most at home with the low-ranking prisoners. "Imad thought that this sinful group of people knew how to practise solidarity and advocacy and were able to stand their ground better than educated elites, frustrated politicians, and politicised party members." (p. 58)
Chief among them is "The Cat", a particularly agile thief whose "lightheartedness was contagious and transformed the ward" as he "entertained them with folksongs and tales." (p. 32)
He is also frequently punished for sneaking into the forbidden area by the gate for a glimpse of freedom: "How beautiful was Irbid, surrounded by its villages like a necklace. Hanging gardens, crimson roofs, walls of figs and olive trees, and a sea of wheat." (p. 46)
From "The Cat", Imad learns to free his mind and soul, to be as free as one can be in prison, to plot an escape. Together, they initiate a protest whereby the prisoners refuse to return inside after the Maghrib prayer. "Comrade Imad felt the cloud of fear inside him vanish, and felt the jasmine bloom in his soul." (p. 50)
The inner freedom he attains is the main factor in his stubborn refusal to renounce his communist affiliation, although this would secure his release. Despite initial confusion, Imad develops a rock-solid integrity, a combination of naiveté and wisdom that governs all his dealings.
If flying and the striving for freedom that it represents is the overarching theme of this novel, the major metaphor is jasmine. When arrested from his home on an early spring morning, Imad clutches a branch of jasmine plucked from the plant by his front door. "The scent of jasmine, embroidered with frozen dewdrop crystals, spread and filled his soul with a determination to resist." (p. 24)
Images of jasmine reoccur in the novel alluding to all that he misses, all that is soft, warm and welcoming — his mother, village life, the beauty of the bits of nature he can glimpse from the prison windows, a girl he falls in love with. "The fragrance of jasmine spreads with its astonishing simplicity. His mother's presence with her thick braids, dangling like a lifeline, appears." (p. 29)
The close connection between Imad's nostalgia for everyday things and his determination to resist attests to how firmly grounded his convictions are (and, by extension, those of the author). He is not so much committed to an abstract ideology as to life itself.
In this novel, Gharaibeh merges the universal with the local, paying tribute to humanity's striving for freedom and to all that he loves in Jordan, particularly the way of life in the North. The value of the book is greatly enhanced by translator Nesreen Akhtarkhavari's introduction about Gharaibeh's life, and by the author's essay on how he wrote "The Cat Who Taught Me How to Fly", which was first published in Arabic (Dar Fada'at, 2010). Gharaibeh concludes by saying: "I still dream of flying." (p. xxviii)
Related Articles
Sep 25,2016
You as of Today My Homeland: Stories of War, Self, and LoveTayseer Al SboulTranslated by Nesreen AkhtarkhavariEast Lansing: Michigan State U
Jun 19,2016
Desert SorrowsTayseer al-SboulTranslated by Nesreen Akhtarkhavari and Anthony A. LeeEast Lansing: Michigan State University Press, 2015Pp.
Jan 04,2015
"Shantaram" is more than a novel. It is an invitation to share in an unparallelled human experience of adventure and soul-searching which is, in essence, a true story. 
Newsletter
Get top stories and blog posts emailed to you each day.