You are here
Rolls Royce Phantom VIII EWB: Effortless, elegant, enormous and epic
By Ghaith Madadha - Jan 04,2021 - Last updated at Jan 04,2021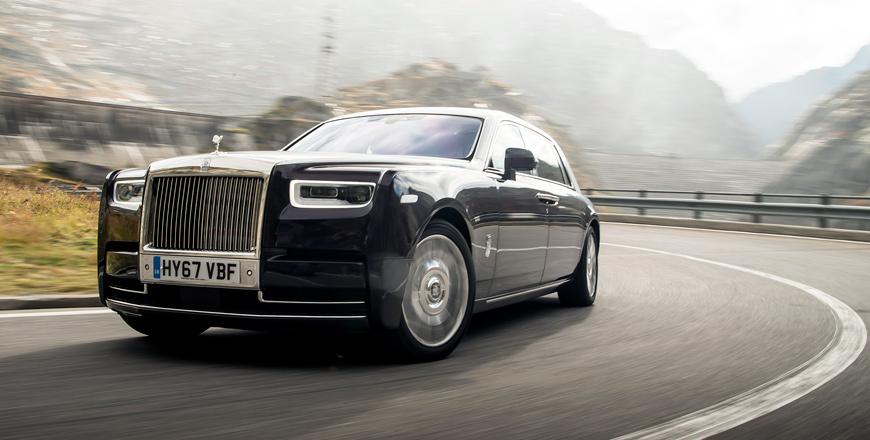 Photo courtesy of Rolls Royce
Probably the world's most luxurious regular production automobile, the Rolls Royce Phantom is a near peerless ultra-luxury car — especially in behemoth Extended Wheelbase (EWB) guise — after its direct Bentley Mulsanne rival's recent retirement. Launched in 2017, the Phantom VIII is Rolls Royce's second modern BMW group era flagship.
Retaining its long-serving 2003-17 predecessor's lightweight aluminium construction and vast traditional 6.75-litre displacement, it boasts epic luxury, safety, technology and comfort. With design and spirit much in line with its predecessor, the Phantom VIII, however, includes key improvements that make it quicker, more comfortable and better handling than ever.
Grace and grandeur
Arrogantly imposing in its sheer size, grandeur and tall upright dimensions, yet gracefully elegant in its lines, proportions and detail, the Phantom EWB is a thoroughly conservative evolution of its predecessor in terms of design. Featuring the same hallmark design cues from its vast upright hand-polished stainless steel grille, slim deep-set and heavily browed headlights to its short front overhang, long bonnet, rearwards cabin, long rear overhang, high roofline and gently sloped and tapered in boot, the new Phantom is an unmistakable Rolls Royce flagship.
That said, the new Phantom is subtly more modern and flowing in its design, and despite its Spirit of Ecstasy statuette sitting slightly higher on a raised bonnet line, the net effect is of a slightly sleeker aesthetic owing to a slight grille slant and slightly angled fascia flanking the centrepiece grille. Projecting a palpable sense of power and presence, the new Phantom EWB features subtle lines and creases to lend it a greater sense of momentum and design fluidity, and rides on enormous optional 22-inch alloy wheels, well-proportioned to its size.
Silky smooth
Glitzy and gargantuan with near 6-metre length and almost SUV-like 1.65-metre height, the Phantom EWB is powered by a similarly massive 6.75-litre direct injection V12-engine powering the rear wheels and sitting well-back in its long engine bay for near ideal weighting and balance. An enlarged incarnation of the twin-turbocharged V12 that first appeared on the slightly smaller Rolls Royce Ghost rather than a turbocharged version of the previous Phantom's naturally-aspirated engine, the Phantom VIII's V12 gains 109BHP and 133lb/ft over its predecessor for a total of 571BHP at 5,000rpm and 664lb/ft at just 1,700rpm.
Silky smooth and whisper quiet in operation, the Phantom's twin-turbo V12 seems to be lightly boosted, with virtually none of the low-end lag often associated with turbo engines, yet it spins eagerly towards its rev limit to a subtly rising yet meaningful purr. A relatively low revving engine that delivers 50 per cent more torque at its peak 1,700rpm than its predecessor, the twin turbo V12 is ideally suited to the Phantom's relaxed and wafting driving style. That said, the Phantom still packs quite the formidable top-end punch and deep, seemingly ever-present and indefatigable reservoirs of torque.
Comfortable and quick
Effortlessly flexible when cruising, overtaking or charging inclines, the Phantom VIII is both quicker and more efficient than its predecessor, and can sprint through the 0-100km/h benchmark in just 5.4-seconds and onto an electronically-governed 250km/h top speed, despite its enormous 2.6-tonne weight. Slightly heavier than its predecessor, the Phantom VIII nevertheless achieves better fuel efficiency at a comparatively moderate 13.9l/100km on the combined cycle. Channelling power through a smooth-shifting 8-speed automatic gearbox, the Phantom doesn't provide for manual mode shifting, but is very intuitive in gear selection.
A natural boulevard cruiser and continent shrinking luxury express, the Phantom EWB's emphasis is firmly focused on ride quality and comfort, and as such outdoes even its highly impressive predecessor in that department. Riding on new double wishbone front and 5-link rear suspension and sophisticated adaptive air dampers, the Phantom virtually glides over the road with supple fluency and forgivingly cushioned comfort, yet, remains reassuringly settled and steadfastly stable at speed. Fitted with Rolls Royce's Flagbearer system, the Phantom's windscreen-integrated stereo camera quite literally "reads" the road ahead to make preemptive suspension adjustments at up to 100km/h.
Unexpected agility
A seamlessly sumptuous ride despite its huge low profile staggered 255/45R22 front and 285/40R22 rear tyres, the Phantom EWB is certainly no sports car, but proved surprisingly adept when being hustled along at a brisk pace. A balanced car with excellent weight distribution and a classic front engine, rear drive dynamic, the Phantom turns quite tidily into corners. Managing its not insignificant weight transfer, the Phantom's adaptive self-leveling air suspension is aided by electrically operated adaptive anti-roll bars, which firm up to gently but effectively counteract cornering body lean.
Turing into corners with feather light, yet accurate steering and committed rear grip, the Phantom VIII EWB's agility and manoeuvrability are virtually transformed owing to the use of four-wheel-steering. Turning the rear wheels opposite to the front at lower speed to effectively and substantially slash its vast 3.77-metre wheelbase, the Phantom EWB proved more nimble through narrower roads and easier to park than expected, with its 13.77-metre turning circle and parking camera and sensors. At higher speed, the rear wheels, however, turn in the same direction for quicker, more stable and sure-footed direction changes.
Silent sanctuary
Some 30 per cent stiffer than its predecessor, the new Phantom both handles and rides better, and features 130kg of sound proofing material to enhance its excellent cabin refinement and quiet serenity by 10 per cent. The definition of automotive luxury, indulgence and splendour, the Phantom's tasteful cabin is meanwhile swathed with the finest leathers, woods, metals and deep lush carpeting. As relaxing and well-equipped as cars come, the Phantom EWB features an innumerable variety of creature comforts and infotainment, safety and driver assistance systems, including large fold down rear multi-media screens and umbrellas stowed within its doors.
Enormously spacious inside in every direction, the Phantom EWB provides an upright, well-adjustable and commanding position for the driver, and huge rear leg, head and shoulder room for rear passengers. Intended to be chauffeur-driven, the Phantom EWB's rear compartment features privacy-oriented rearward, recessed seats, footrests, privacy curtains and illuminated starry sky rooflining. Accessed through trademark rear-swinging 'suicide' doors, the driven example featured optional twin individual seats and full privacy divider. Changing from translucent to opaque at the press of a button, the centre divider transforms the rear into a separate private compartment, but slightly reduces front chauffeur legroom.
TECHNICAL SPECIFICATIONS
Engine: 6.75-litre, twin-turbo, in-line V12-cylinders
Bore x stroke: 92 x 84.6mm
Compression ratio: 10:1
Valve-train: 48-valve, DOHC, direct injection
Gearbox: 8-speed automatic, rear-wheel-drive
Power, BHP (PS) [kW]: 563 (571) [420] @5,000rpm
Specific power: 83.4BHP/litre
Power -to-weight ratio: 215.7BHP/tonne
Torque, lb/ft (Nm): 664 (900) @1,700rpm
Specific torque: 133.3Nm/litre
Torque-to-weight ratio: 344.8Nm/tonne
0-100km/h: 5.4-seconds
Top speed: 250km/h (electronically governed)
Fuel economy, combined: 13.9-litres/100km
CO2 emissions, combined: 319g/km
Length: 5,982mm
Width: 2,018mm
Height: 1,656mm
Wheelbase: 3,772mm
Boot capacity: 548-litres
Unladen weight: 2,610kg
Suspension, F/R: Double wishbones/five-link, adaptive air suspension, active anti-roll bars
Steering: Electric-assisted variable ratio four-wheel-steering
Turning circle: 13.77-metres
Brakes: Ventilated discs
Tyres, F/R: 255/45R22/285/40R22
Newsletter
Get top stories and blog posts emailed to you each day.