You are here
Mitsubishi Pajero 3.8 V6 GLS 5-Door: Attainable ability
By Ghaith Madadha - Jan 06,2020 - Last updated at Jan 06,2020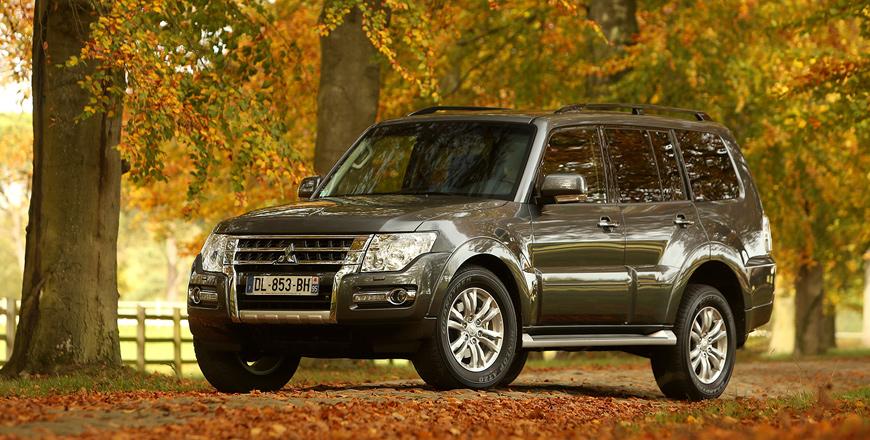 Photo courtesy of Mitsubishi
A long-running, practical, dependable and very attainable seven-seat SUV with genuine off-road ability, the Mitsubishi Pajero was one of the earlier players in the now hugely popular high riding vehicle segment, when it first appeared in 1982. Thoroughly tried, tested and proven on and off the road, and in competition variants on the gruelling Dakar rally raid series, where it holds several records, the Mitsubishi Pajero is one of the most recognisable and enduring names in the SUV segment, if not necessarily one that courted the limelight in recent years.
Popular presence
Introduced in its current generation way back in 2006 with revisions and updates since, the Pajero is expected to be replaced in the not too distance future by a new model that will probably share development and platform with the next version of its traditional Nissan Patrol rival now that the two companies are in a corporate alliance. However, for the time being, the current Patrol sits at smaller end of the broad more traditionally inclined large SUV segment and is one of the most affordable and popular such vehicles in Jordan and the Middle East.
An ubiquitous sight on Jordanian roads, the Pajero's proportions have a classic sensibility, with a short front and long rear overhang and near equal width to height proportions. Its comparatively low bonnet line elegantly combines with a tall glasshouse and upright roofline, while the bulk of its visual heft rests on the rear axle. Its design elements feature big swept backlights and grille, bulging wheel-arches and muscular flank mouldings. During its long tenure, its design has been subtly freshened, but it looks reassuringly pre-face-lift versions, and not particularly dissimilar to the previous generation model.
Tried and true
Offered with a choice of three naturally-aspirated V6 petrol engines not to mention turbo-diesel versions for certain markets, the range-topping variant is however the 3.8-litre petrol variant. Reliable, robust if less complicated or advanced as some more modern engines, the Pajero's 3.8-litre V6 features variable valve timing and multivalve technology, yet employs single overhead cams on each cylinder bank. Sold in the Middle East in a slightly detuned, less stressed and presumably more durable guise, the Pajero 3.8 produces 240BHP at 6,000rpm and 241lb/ft torque at just 2,750rpm, and can achieve a 200km/h top speed.
Responsive from standstill given its 2,165kg mass and employment of a 5-speed automatic gearbox rather than more modern gearboxes with more ratios, the Pajero may not be the quickest of more efficient of SUVs, but benefits from a very broad and near flat torque curve, with generous low-end and mid-range twisting force for confidence on inclines, when overtaking and off-road. Power delivery is meanwhile smoothly progressive and responsive to throttle inputs. As refined as need be if not the quietest of V6 engines, the Pajero's top engine however propels delivers respectably quick estimated 10.8-seconds 0100km/h acceleration.
Rugged off-roader
A somewhat traditional design with rugged ladder frame built into its monocoque body, and a front-mid engine, rear-drive layout for better weight distribution, handling and a short overhang with very generous 36.6 approach angle, the Pajero is well disposed for off-road driving. It also features 22.5-degree ramp and 25-degree departure angles and good 235mm ground clearance for inhospitable terrain. The Pajero's tough four-wheel-drive system meanwhile delivers good road-holding and generous ability in 4H mode, but one can also engage its centre differential lock in both high and low gear ratios for more difficult low traction off-road situations.
Highly capable off-road, the Pajero is also available with an optional rear differential lock that ensures both rear wheels keep turning for traction in extreme low traction conditions. Meanwhile, it rides on sophisticated fully independent double wishbone front and rear multilink suspension to provide good wheel travel and surface contact off-road, and a comfortable ride on road. With independent suspension and a front-mid engine layout focusing major weights near evenly within its wheelbase, the Pajero also delivers better than expected handling ability, with a tidy turn-in and is balanced through corners.
Everyman luxury
Adept for its height, weight and comfortably tuned suspension, the Pajero may lean somewhat through hard-driven corners and isn't as ultimately agile as a harder sprung, lower and more overtly "sporty" crossover SUV, but doesn't feel out of its depth and remains poised. Dispatching lumps and bumps with ease, its tall sidewall tyres well absorb shocks and can sustain more impact force than trendier low profile tyres. As stable and settled as necessary for reassuring highway driving, the Pajero can meanwhile be used in rear-drive mode for more efficient city and highway driving.
A sort of rugged, reliable and affordably accessible everyman's alternative to a Range Rover, the Pajero features spacious three-row seven-seat passenger capacity — albeit without third row headrests — and a generously configurable cargo volume capacity past its accessibly large but occasionally inconveniently long side-swinging tail-gate. Comfortable, hard-wearing and homely inside, it has a non-premium luxury feel with seemingly sturdy build, practicality, generous equipment levels and decent if not outright luxurious appointment. User-friendly controls meanwhile combine with big side mirrors, 11.4 metre turning circle and good in-segment visibility owing to its big glasshouse to make it comparatively easy to drive and manoeuvre.
TECHNICAL SPECIFICATIONS
EEngine: 3.8-litre, in-line V6-cylinders
Bore x stroke: 95 x 90mm
Compression ratio: 10.5:1
Valve-train: 24-valve, variable valve timing, SOHC
Gearbox: 5-speed automatic, four-wheel-drive
Drive-train: Locking rear differential, low gear transfer case
Power, BHP (PS) [kW]: 240 (243) [179] @6,000rpm
Specific power: 62.7BHP/litre
Power-to-weight: 110.8BHP/tonne
Torque, lb/ft (Nm): 241 (327) @2,750rpm
Specific torque: 85.4Nm/litre
Torque-to-weight: 151Nm/tonne
0-100km/h: 10.8-seconds (est.)
Top speed: 200km/h
Fuel capacity: 88-litres
Height: 1,870mm
Width: 1,875mm
Length: 4,900mm
Wheelbase: 2,780mm
Track: 1,570mm
Overhangs, F/R: 765/1,355mm
Ground clearance: 235mm
Approach/ramp/departure angles: 36.6/22.5/25 degrees
Kerb weight: 2,165kg
Gross vehicle weight: 3,765kg
Seating capacity: 7
Steering: Power assisted rack and pinion
Turning radius: 11.4-metres
Suspension, F/R: Double wishbone/multilink, with anti-roll bars
Brakes, F/R: Ventilated discs/discs
Brake calipers, F/R: 4-piston/1-piston
Tyres: 265/65R17
Newsletter
Get top stories and blog posts emailed to you each day.