You are here
Mitsubishi Outlander PHEV: Versatile performer
By Ghaith Madadha - Jun 22,2020 - Last updated at Jun 22,2020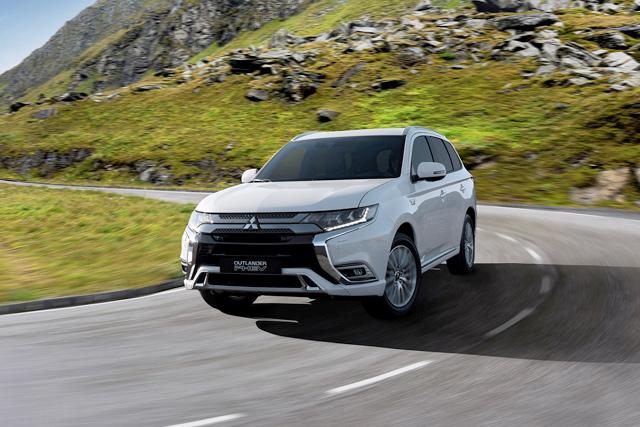 Photo courtesy of Mitsubishi
Winner of the 2020 Middle East Car of the Year awards' best Compact Crossover Hybrid prize, the Mitsubishi Outlander PHEV is the sort of practical and fuel-efficient crossover SUV that is particularly relevant and popular in Jordan's hybrid- and EV-friendly market.
A good value proposition with plenty of tech and convenience features, the Outlander PHEV ticks the right boxes as a modern daily drive family vehicle, but proved to be a more interesting drive than expected of its segment, and especially impressed with its unexpectedly sporty and versatile hybrid drive system.
An assertive looking compact crossover with a gently rising waistline and sharp side decorative crease lines running along its length, the Outlander embraces the segment's standard 5-door wagon body style rather than downplay it too much, to offer good visibility and cabin room. Thus, it retains a contemporary aesthetic that well reconciles practicality with design expression. From front views it features slim, strongly browed and dramatic lights. Meanwhile, a blacked out front bumper section is framed by outwards facing C-shaped chrome elements and a wide lower intake to lend a snouty and hungry persona.
Sophisticated system
Under the skin, the Outlander PHEV is powered by a combination of a transversely-mounted front four-cylinder petrol engine developing 126BHP and 147lb/ft torque, both peaking at 4,500rpm, and two 300V electric motors. Developing 81BHP and 101lb/ft, the Outlander PHEV's front electric motor is complemented by a 94BHP and 144lb/ft rear-mounted motor, which provides the Outlander's four-wheel-drive capability. Producing an effective system output of 221BHP and an undisclosed — but clearly generous — amount of combined torque, the Outlander PHEV delivers estimated 10.5-second 0-100km/h acceleration, yet returns estimated 2l/100km combined cycle fuel economy and 46g/km CO2 emissions.
Significantly more impressive than its outright headline acceleration figure is just how versatile, smooth and brisk the Outlander is on the road, and how its hybrid system operates. Featuring several driving modes that hone the Outlander PHEV for performance, efficiency or pure EV driving, its hybrid system operates with sophistication and near seamless fluency as it alternates between different modes, including pure EV driving for up to 56km and up to a speed of 135km/h. The Outlander PHEV's petrol engine can meanwhile operate as an electric generator when on the move.
Hunkered down handling
Acting as a generator or shutting down as necessary, the Outlander PHEV's combustion engine can also directly drive the front wheels, with support from the front and rear electric motors for best performance. Flexible, versatile, smooth and aided by seamless continuously variable transmission, the Outlander PHEV lunges with a long-legged torrent instant torque-rich immediacy. Futuristic in how its gains speed for overtaking or how near silent it can operate, the Outlander PHEV's under floor battery pack and comparatively low centre of gravity however keep it level, settled and hunkered down during on the move acceleration.
With a conspicuous absence of front lift and rear squat, the Outlander PHEV accelerates hard yet remains flat. Through corners however, its 1.9-tonne weight is well-controlled, but some body lean is naturally evident. Turning in tidy into corners with its quick and light electric-assisted steering, the Outlander PHEV delivers high levels of road-holding, and well-resists its instinct to under-steer if pushed beyond its high grip limit. Confident and stable at speed and comfortable over most road imperfections, the Outlander PHEV is rather agile and nimble through narrow winding roads when driven briskly rather than aggressively.
Comfort and control
Versatile in performance and operation, the Outlander PHEV offers good control over its driving character, including manual EV mode selection and adjustable regenerative brake lift-off resistance level for what is more suitable to a given situation. If not a dedicated off-roader, the Outlander PHEV nevertheless features Snow and 4WD Lock modes, and benefits from useful 21° approach, 19° break-over and 22.5°departure angles, and good 190mm ground clearance. Plug-in charging times meanwhile are four-hours for a full charge using a domestic wall charger and 25-minutes for an 80 per cent charge using a high capacity charger.
Stylishly clinical and business-like inside, the Outlander PHEV's cabin has a more up-market feel than most of its segment and features user-friendly controls, driver-oriented layouts and good materials, driving position and passenger room. Practical and manoeuvrable, it benefits from good visibility and a tight turning circle. Well-equipped with creature comforts, safety systems and infotainment features, the Outlander PHEV provides plenty of detailed hybrid system driving information, features dual zone climate control, and comes with Apple Carplay and Mitsubishi Remote Control App to activate and monitor various functions and info.
TECHNICAL SPECIFICATIONS
Engine: 2.4-litre, transverse 4-cylinders
Bore x stroke: 88 x 97mm
Valve-train: 16-valve, variable valve timing, DOHC
Gearbox: Continuously variable transmission (CVT) auto, four-wheel-drive
Combined power, BHP (PS) [kW]: 221 (224) [165]
Combustion engine, power, BHP (PS) [kW]: 126 (128) [94] @4,500rpm
Front electric motor, power, BHP (PS) [kW]: 81 (82) [60]
Rear electric motor, power, BHP (PS) [kW]: 94 (95) [70]
Combustion engine, torque, lb/ft (Nm): 147 (199) @4,500rpm
Front electric motor, torque, lb/ft (Nm): 101 (137)
Rear electric motor, torque, lb/ft (Nm): 144 (195)
Battery: 300V, lithium-ion
Battery capacity: 13.8kWh
Charging time, wall charger (full) / high capacity charger (25-80 per cent): 4-hours / 25-minutes
0-100km/h: 10.5-seconds (estimate)
Top speed, EV mode: 135km/h
EV range, combined / city: 45 / 56km (estimate)*
Fuel efficiency, combined: 2-litres/100km (estimate)*
CO2 emissions: 46g/km (estimate)*
Fuel capacity: 45-litres
Length: 4,695mm
Width: 1,800mm
Height: 1,710mm
Wheelbase: 2,670mm
Track: 1,540mm
Ground clearance: 190mm
Approach / break-over / departure angle: 21° / 19° / 22.5°
Kerb weight: 1,880kg
Gross vehicle weight: 2,390kg
Towing capacity, braked: 1,500kg
Seating capacity: 5
Luggage volume, min: 463-litres (+35l under floor)
Steering: Electric-assisted rack and pinion
Turning radius: 10.6-metres
Suspension, F/R: MacPherson strut / multi-link, anti-roll bars
Brakes, F/R: Ventilated discs / discs
Tyres: 225/55R18
*Worldwide Harmonised Light vehicles Test Procedure (WTLP)
Newsletter
Get top stories and blog posts emailed to you each day.