You are here
Lada 4x4 Urban: Russia's rugged off-roader returns
By Ghaith Madadha - Mar 05,2018 - Last updated at Mar 05,2018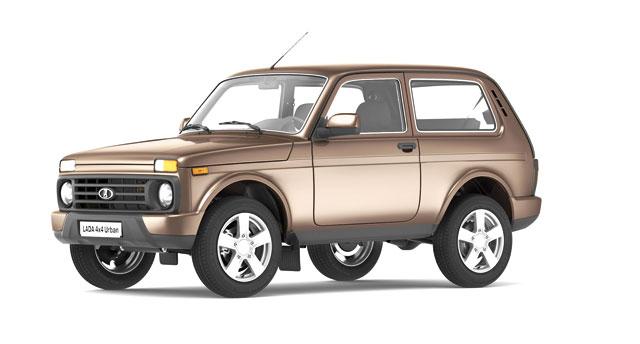 Coinciding with Russia's resurgence as a world power and it's emerging role in the region, Lada is also making a comeback to certain Middle East Markets, including Jordan, as of late last year.
The right car at the right time for Jordanian motorists, Lada's affordable model range is an antidote to rising prices. Star among the Russian carmaker's line-up, however, remains its long-serving, compact, rugged and iconic 4x4.
Ditching the familiar Niva nameplate, the Lada 4x4 is improved but little changed since it was first launched 40 years ago, it does make slight concessions to comfort and convenience in Urban trim level, as driven.
Attainable icon
Though mildly refreshed cosmetically and with more comfort than before, the Lada 4x4 oozes authenticity, and is a product of Soviet times that remains relevant today. Engineered for rugged off-road ability in harsh rural Russian conditions, the 4x4 is however also designed to be comfortable and manoeuvrable on city streets, and in that regard was ahead of its time and long predated the now wildly popular crossover SUV segment. Uncomplicated, unpretentious and easily maintainable, the 4x4 was both a "people's car" and Russian answer to Land Rover and Jeep when launched, and is now one of the most affordable, manoeuvrable and off-road capable cars available.
An affordable and utilitarian daily car for many, the Lada 4x4 is for others an attainable second or third occasional, dedicated or hobby vehicle like a Caterham for trackday enthusiasts or a Harley-Davidson for weekend bikers.
Ideal for mechanical and aesthetic customisation and off-road adventuring, the 4x4 offers extensive ability and peace of mind over inhospitable terrain, next to "precious" SUVs costing multiples more. Iconic and honest, the petite 4x4's features boxy, uncomplicated styling and surfacing, with distinctive low-slung headlights and revised vertical rear lights. The Urban version driven additionally features new integrated body colour bumpers and more road-friendly 16-inch alloy wheels and 185/75R16 tyres.
Engaging driver
Powered by a proven, uncomplicated and lower revving naturally-aspirated 1.7-litre 8-valve SOHC 4-cylinder petrol engine mounted in-line, the Lada 4x4 develops 83HP at 5000rpm and 95lb/ft at 4000rpm. With aggressive gearing, light 1210kg weight and little sound deadening, the 4x4 feels quicker than the 17-seconds it takes from standstill to 100km/h. Meanwhile, its engine is responsive and eager in lower and mid-range, delivering perky city and confident motorway driving. Progressive in delivery but with good low-end pull, the 4x4 accumulating speed well on motorway, but sounds strained and gruff as revs rise toward the redline, while acceleration trails off somewhat as it nears its 142km/h top speed.
Available exclusively with a 5-speed manual gearbox with long and angled gear lever, the Lada 4x4, however, shift action is shorter than one imagines. Crisp, clean and satisfyingly firm, mechanical and precise through ratios, and with intuitive clarity to its clutch biting point, the 4x4's manual gearbox adds immensely to its uncorrupted and engaging driving experience. Driving the rear wheels in normal on-road conditions and moderate dirt roads, the Lada's 4x4 system is, however, engaged with a separate lever for more demanding off-road driving. The Lada's off-road hardware also includes low-ratio four-wheel-drive to drive with full power at crawling pace for yet more extreme off-road conditions and inclines.
Agile adventurer
An innovative and genuine dual-use vehicle for off-road and practical daily driving when first launched, the Lada 4x4 is built on a unibody frame underpinned by independent double wishbone front and live-axle, coil-spring rear suspension for comfort and ability. If not as insulated from noise as more modern crossovers, the Lada rides with refined and forgiving fluency over Jordan's lumpy, bumpy roads and on rugged unpaved roads. With supple suspension absorbent high profile tyres and small wheelbase, the Lada 4x4, however, felt surprisingly more buttoned down in vertical travel over crests and dips, and better damped and settled on rebound than quite a few more modern cars.
Small and light with short wheelbase, big footprint and balanced chassis and weighting, the Lada 4x4 is unexpectedly engaging and fun on road, especially given its primary reputation for off-road ability. Weaving through winding county switchbacks in rear-drive mode, the Lada like to be pushed hard, with its slim tyres and well-weighted hydraulic-assisted steering providing decent road feel and its accurate throttle control allowing one to gradually dial in power out of corners. Confident through corners and seemingly immune to under- or over-steer in most situations, and while body lean is more pronounced than with a stiffer more modern car, it remains nevertheless delivers reassuringly committed road-holding.
Affordable ability
Stable at motorway speeds for so small a car, the Lada 4x4 is also agile and manoeuvrable. Turning on the proverbial dime through corners, it is easily manoeuvrable through narrow country and city roads, and can access narrow off-road trails that larger SUVs can't. Ruggedly effective, the 4x4's off-road ability is extensive, and includes excellent 213mm ground clearance and approach, break-over and departure angles owing to its size and short overhangs. In addition to estimated 510-600mm water fording and 1,000mm snow fording capability, the Lada 4x4 also features a locking rear differential keep it moving over steep inclines, low traction surfaces and extreme off-road conditions.
A victory of engineering minimalism over excess, the 4x4's boxy design and small 3,640mm long and 1,680mm wide dimensions provide excellent visibility and manoeuvrability in tight confines, and terrific space efficiency and packaging. Accommodating four adults, the 3-door 4x4 features good headroom front and rear, and 263-litre cargo volume that expands to 982-litre.
Relatively minimalist inside, the 4x4's comfortable cabin features tough hard plastics and clear instrumentation, but now includes conveniences like electric windows and two-speed A/C. Meanwhile, upright seating and driving position are good, but better side and lumbar support, steering reach adjustment and rear head restraints would be welcome features.
Among the most affordable and accessible cars available in Jordan presently at JD13,500 on the road with a recently advertised down payment of JD999, the Lada 4x4 Urban comes with a 3-year warranty inclusive of a 60,000km parts and labour service package and unlimited mileage roadside assistance, and a 6-year paint warranty.
TECHNICAL SPECIFICATIONS
Engine: 1.7-litre, in-line 4-cylinders
Bore x stroke: 82 x 80mm
Compression ratio: 9.3:1
Valve-train: 8-valve, SOHC
Gearbox: 5-speed manual, four-wheel-drive
Driveline: low gear transfer, locking rear differential
Final drive: 3.9:1
Power, BHP (PS) [kW]: 82 (83) [61] @5000rpm
Specific power: 48.5BHP/litre
Power-to-weight: 63.8 (kerb)
Torque, lb/ft (Nm): 95 (129) @4,000rpm
Specific torque: 100.4Nm/litre
Torque-to-weight: (kerb)
0-100km/h: 17-seconds
Top speed: 142km/h
Fuel consumption, combined: 9.9-litres/100km
Fuel capacity: 50-litres
Length: 3,640mm
Width: 1,680mm
Height: 1,640mm
Wheelbase: 2,200mm
Overhang, F/R: 650/780mm
Track, F/R: 1,440/1,420mm
Minimum ground clearance: 213mm
Cargo volume, min/max: 263-/982-litres
Water fording: 510-600mm (est.)
Snow fording: 1,000mm (est.)
Slope angle 58° (est.)
Unladen/kerb weight: 1,210/1,285kg
Gross weight: 1,610kg
Towing capacity, braked/unbraked: 600/300kg
Suspension, F: Independent, Double wishbones, coilovers
Suspension, R: Trailing arm, Panhard rod, coil springs
Steering: Power-assisted recirculating ball
Turning circle: 11-metres
Brakes, F/R: Discs/drums
Tyres: 185/75R16
Price, on the road: JD13,500
Related Articles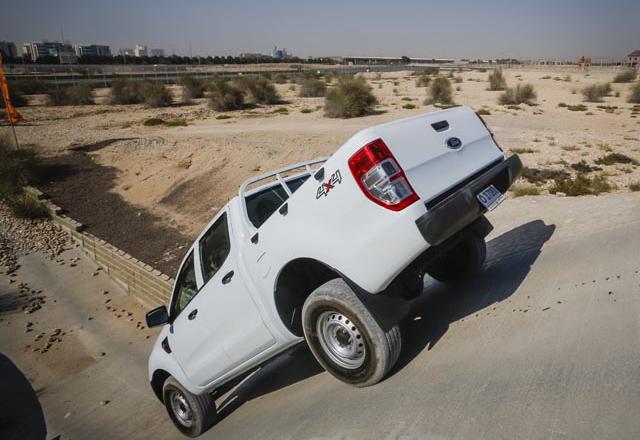 Jul 22,2014
Replacing both American and global market predecessors bearing the same badge, the new Ford Ranger light pick-up is a larger, more refined and more capable successor.
Jun 19,2017
That from afar and to the untrained eye, the new Jeep Compass seems uncannily similar to the iconic off-road brand's largest Grand Cherokee
Sep 18,2017
Fiat-Chrysler Automotive's (FCA) latest offering into the ever more popular and competitive compact SUV segment from its consistently popula
Newsletter
Get top stories and blog posts emailed to you each day.