You are here
Infiniti QX50 AWD: Sporting instincts
By Ghaith Madadha - Jan 16,2017 - Last updated at Jan 16,2017
Photo courtesy of Infiniti
Longer, aesthetically revamped and better equipped than ever for 2016, the Infiniti QX50 was first launched in 2007 as the EX model line and rebranded as the QX50 by 2013 as part of the sporty premium Japanese brand's revised nomenclature and model line-up. An early inductee into the increasingly popular compact premium crossover (CUV) segment, the updated QX50 retaining a longer version of the same platform and driveline as the outgoing model but also remains among the most rewarding and engaging drives in its class, even among more recently developed competitors.
Swooping silhouette
A rare and authentically sporting vehicle in the crossover segment, the QX50's sports saloon derived credentials in this regard include its powerful high revving naturally aspirated engine, balanced front-mid engine position and rear drive based four-wheel drive and sophisticated double wishbone front and multilink rear suspension. Coupe inspired in design with long swooping bonnet, short front overhang, rearwards cabin position, descending roofline, wavy design lines and urgent, pouncing and alert silhouette, the QX50 well complements the brand's shark like QX70 — formerly the trendsetting FX — sports SUV and has been revised to better integrate with Infiniti's sharper and more assertive contemporary familial styling.
If not as dramatically moody and menacing as its larger QX70 stablemate, the revised QX50 is, however, now more assertive and notably features Infiniti's new doublearch grille frame with weaving design, and a restyled front bumper with bigger, deeper and hungrier intake. Sitting slightly higher off the ground, it also receives new sills, rear bumper and fascia, side mirrors with integrated indicator lights and 19-inch alloy wheels with 245/45R19 tyres. Distinctively sporty with rear window kink and L-shaped headlights with LED running lights, the QX50 also features a tailgate spoiler and dual chrome tailpipes.
Intuitively incremental
Velvety smooth, long legged, eager and willing, the QX50's fondly familiar and well regarded VQ-series 3.7 litre naturally aspirated V6 is the sort of engine that is becoming ever rarer in a landscape becoming dominated by smaller displacement turbocharged units. Sweeping through towards its 7,500rpm rev limit with progressive fluency, it unleashes its impressive output in precise increments and with pin point throttle control accuracy, to allow one to dial in exact amount of torque and power to not overpower tyre grip or unnecessarily set off electronic stability control intervention. Its accuracy and progressive character lend themselves to more fluent and intuitive driving and handling.
Responsive and willing from tick over, the QX50 pulls confident and hard from low-end with good versatility throughout. Building urgently, it develops its maximum 266lb/ft torque by 5,200rpm and its full 326BHP by a haughty 7,000rpm. Peaky and precise, the QX50's sublime engine sends power through a smooth, slick and swift shifting 7-speed automatic gearbox with manual mode shifting available and downshift rev matching automatically blipping the throttle for more fluent driving. Refined and quiet at low rev and load, the QX50's engine note develops from thrusting, whirring and whining and hardens to a more intense and urgent wailing as revs rise.
Eager and fluent
Capable of 0-100km/h in 6.4 seconds or less, and of a 240km/h maximum, the QX50's fuel consumption is moderate when driven so, but rises somewhat when one succumbs to the temptations of its high rev thrills. Power is normally sent to the rear wheels, with up to 50 per cent redirected to the front wheels as and when added traction and grip are necessary. Through narrow winding hill climbs, the QX50's traction control can be disabled for more driving fluency, and at which point one can feel the four-wheel drive system actively clawing back traction when oversteering, to make brisk, fluid and intuitive progress.
With rear-wheel drive instincts and four-wheel drive security mated to a balanced and sophisticated chassis and natural and quick hydraulic assisted steering with better feel than most electric systems, the QX50 drives as close to a sports car as a high riding and somewhat heavy 1,873kg crossovers can. Agile, tidy and eager into corners, the QX50's firm front grip give way to slight understeer at the limit. One can, however, correct this by pivoting weight rearwards for slight oversteer, which is corrected by its four-wheel drive as it digs into the tarmac and launches out onto a straight.
Smooth and sophisticated
Adept and agile through switchbacks, the QX50's weight is evident, but body lean is for the most part very well suppressed. Riding firm and smooth but uncomfortable, the QX50 fluently processes most road texture imperfections. Pitching slightly on crests, the QX50 is, however, buttoned down and confidently settled on rebound, while at speed is reassuringly committed, stable and refined. Thoroughly impressive during test drive on Jordanian roads, one considered whether firmer damping would further enhance the QX50's vertical control, body lean and keep tyres yet more firmly pressed down. Meanwhile, perhaps more forgiving tyres and smaller alloys would further improve ride suppleness.
Classy and with a welcoming ambiance inside — especially with darker tones — the QX50' cabin has quality feel to it in terms of construction, materials and textures. Highly adjustable seating is comfortable and supportive for long hours on end, while driving visibility is good for the most part, but is assisted by bird's eye and reversing view monitors. Rear leg and headroom was, however, surprisingly generous even for larger passengers, while boot space is also accommodating. Well equipped, the QX50 features numerous safety, convenience, infotainment and driver assistance systems.
TECHNICAL SPECIFICATIONS
Engine: 3.7-litre, in-line V6 cylinders
Bore x stroke: 95.5x86mm
Compression ratio: 11.1:1
Valve-train: 24-valve, DOHC, variable timing
Gearbox: 7-speed automatic, four-wheel drive
Ratios: 1st 4.923 2nd 3.193 3rd 2.042 4th 1.411 5th 1.0 6th 0.862 7th 0.771
Reverse/final drive ratio: 3.972/3.133
0-100km/h: 6.4 seconds
Maximum speed: 240km/h
Rev limit: 7,500rpm
Power, BHP (PS) [kW]: 326 (330) [243] @7,000rpm
Specific power: 88.2BHP/litre
Power-to-weight: 177.4BHP/tonne
Torque, lb/ft (Nm): 266 (361) @5,200rpm
Specific torque: 97.67Nm/litre
Torque-to-weight: 192.73Nm/tonne
Fuel consumption, combined: 10.6 litres/100km
Fuel tank: 80 litres
Track, F/R: 1,535/1,550mm
Approach/break-over/ departure angles: 17.9°/16°/20.8°
Aerodynamic drag co-efficiency: 0.33
Minimum boot capacity: 526 litres
Kerb weight: 1,873kg
Weight distribution, F/R: 54/46 per cent
Steering: Variable-assisted, rack and pinion
Lock-to-lock: 2.85 turns
Turning circle: 11.9 metres
Suspension: Double wishbone/multi-link, anti-roll bars
Brakes, F/R: Ventilated discs, 330mm/308mm
Tyres: 245/45R19
Related Articles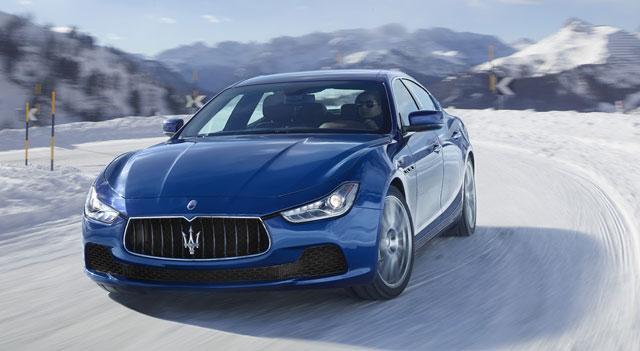 Feb 24,2015
Resurrected in 2013 after a 15-year absence, the Ghibli is among the exotic Italian carmaker's most exotic nameplates and like many Maseratis, is named after a wind. Bearing the hot dust-bearing North African wind's Libyan moniker, the Ghibli nameplate first arrived as a curvaceously sultry 1967-73 sports car and then muscularly angular 1992-98 four-seat coupe.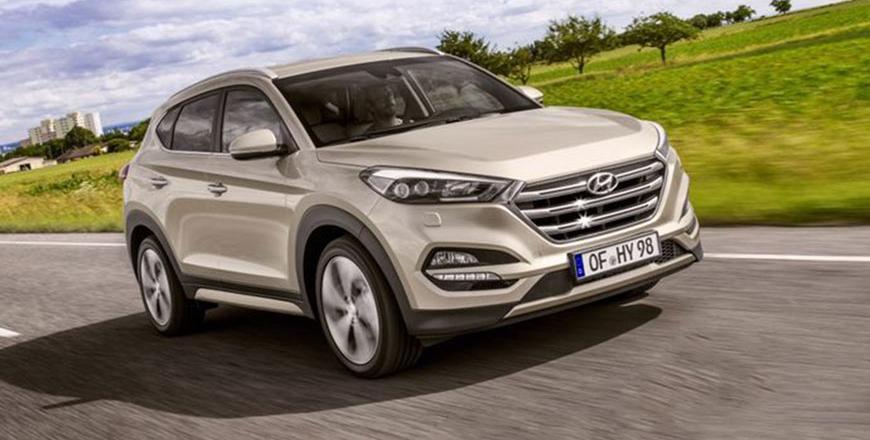 Dec 28,2015
Having made huge sales and brand equity gains following the 2008 financial crisis as other automotive brands suffered, Hyundai are now at th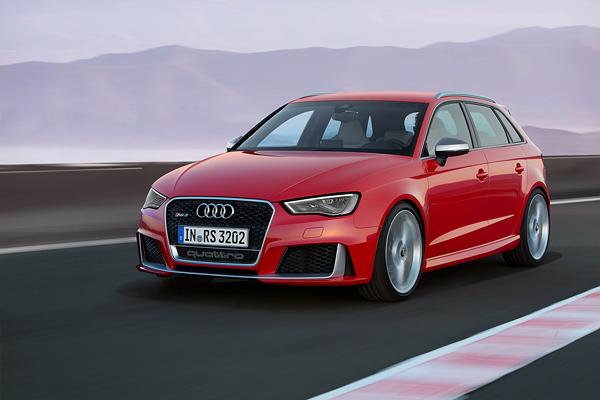 Jul 18,2016
A practical high performance brute with turbocharged 5-cylinder engine and resolute four wheel-drive roadholding, the Audi RS3 Sportback is
Newsletter
Get top stories and blog posts emailed to you each day.