You are here
Hi-ho Silverado!
By Ghaith Madadha - Jun 03,2014 - Last updated at Jun 03,2014
Depending on one's location, persuasion and occupation, the large American pickup truck is loved and loathed in equal measure. A polarising vehicle segment, such trucks are loved for their spaciousness, comfort, ability, power and value by fans. Detractors see them as inefficient, heavy, excessive and crude road hogs that are potentially more dangerous to other road users when in the wrong hands. Hugely popular in the US and segments of the Middle East, the Chevrolet Silverado, its GMC Sierra sister, Ford F-Series and Ram rivals are utilitarian and indulgent, and are often put to use as dual purpose work and personal vehicles.
Representing about the best value for money in terms of comfort, equipment and size for buyers, large American pickups have also benefited from low development costs, less restrictive fuel efficiency, emissions and safety regulations — and lower levies in Jordan — and have provided manufacturers with healthy profit margins. In a changing world where customers are looking for more luxury, safety and efficiency, the latest crop of American pickups have had to learn new tricks. Of the latest two such trucks the Ford F150 has opted for a more radical approach, while General Motors have instead chosen to significantly and convincingly refine the Chevrolet Silverado.
Boxy brute
While its Ford F150 rival — launched earlier this year – has adopted a stylised and somewhat futuristically bullish design and the use of extensive lightweight aluminium construction, the Chevrolet Silverado doesn't mince its intentions, and instead plays to its predecessors' bluntly angular and upright design language. The Silverado also employs a rugged and rigid boxed hydroformed steel frame and steel body, but utilises lightweight aluminium engine construction, suspension components and hood panel. Its 1,761mm long pick-up bed is built from roll-formed — rather than stamped — steel for reduced weight and added strength, and can carry a payload of up to 887kg and accommodate a 1,512-litre capacity.
An unreconstructed brute in appearance — just like its fans would prefer — the Silverado's macho, broad, squared-off and level fascia has a Duplo-brick sense of uncomplicated accessibility and cinder-block solidity. With a broad, oversized and chromed split-level rectangular grille that is flanked by smaller stacked and chrome-ringed rectangular headlights, Chevrolet would have done well had they carried over the Silverado's well-resolved fascia to its Tahoe SUV sister. With almost nary a curve or angle apart from its A-pillars and windscreen, the Silverado's decidedly boxy style features slight flat-topped twin bonnet bulges, chromed running boards, squared-off bulging wheel-arches and functional straight-cut pickup bed lines.
Brawny efficiency
Under its substantial bonnet, the mid-range Silverado is powered by a rugged and reliable large displacement V8-engine with 16 valves and overhead valves, as opposed to the Ford F150 median model, which features a 365HP and 420lb/ft modern 3.5 litre twin-turbo V6-cylinder EcoBoost engine. Though old-school in valve-train configuration, the Silverado's 5.3 litre EcoTec engine is contemporary interpretation of a long tried and tested formula, and is built from aluminium and uses variable valve timing and direct fuel injection for enhanced efficiency and power. The Silverado also features on-the-fly automatic cylinder de-activation for enhanced cruising efficiency, with the dormant four-cylinders seamlessly firing up on meaningful throttle input.
If not exactly frugal in absolute terms, the Silverado's 14.7l/100km city and 10.7l/100km highway fuel consumption ratings are however surprisingly modest for such a massive, upright and heavy 2,367kg truck. Developing 355HP at 5,600rpm and 383lb/ft at 4,100rpm the Silverado can also be hustled along at brisk pace when a firm right foot is applied, with unofficial 0-97km/h acceleration estimated at below seven seconds. With decent low-end torque and generous mid-range output, the Silverado 5.3 is muscularly flexible, with its considerable twisting force underwriting a progressive climb to maximum power. Smooth at cruising speeds, the Silverado' roar is relatively subdued even when pushed hard.
Remarkably refined
With a six-speed automatic gearbox the Silverado up-shifts smoothly, and best driven with downshifts summoned by kick-down, rather than sequentially through the steering column shifter's small up/down shift button. With rear- or four-wheel-drive modes, the Silverado can however send power to the front wheels when extra traction or grip is required in 4x4 auto mode, or alternatively drive the rear wheels for better performance and efficiency. Low-gear ratios aid off-road driving and low-traction towing, up to 4,,354kg. For off-road driving, the Silverado Z71 usefully features a locking rear-differential, 226mm clearance, 17.9° approach, 19° break-over and 23.3° departure angles for traversing obstacles and ruts.
With front independent and rugged rear live-axle and leaf-spring suspension the Silverado isn't designed to be an agile, nimble corner carving hero, but is predictable, steers easily and grips well. Comfortably sprung, heavy and tall, the Silverado wallows a bit over big bumps and through sharper corners, but should feel more settled when carrying a load. The Silverado is however remarkably smooth, refined, comfortable, stable and quiet on highways and ideal partner for long-distance cruising and commutes. With numerous noise vibration and harshness isolation improvements including acoustic-laminated windows triple door seals and other measures, the Silverado's highway cabin refinement is comparable to a Lexus LS460.
Spacious and well-equipped
Going straight from driving a small, light and perky Peugeot 208 to the Silverado, one quickly has to change driving styles. Wary of other drivers' bad driving in the compact hatchback, one becomes vigilant of one's own maneuvers lest they inconvenience other motorists, owing to much greater size and mass and lesser maneuverability and visibility. While one can't just zip through traffic and nip into tight parking spots, the top-spec Silverado LTZ is however equipped with seat-vibrating lane departure and front collision warning systems, and parking aids include sensors and reversing camera. Safety features include numerous dual-stage airbags, electronic traction/stability controls and other equipment.
A tough workhorse and indulgently refined and extensively well-equipped subpremium luxury chariot, the Silverado's cabin space is the envy of even luxury saloons, while cabin access and storage compartments are generous. Comfortable, high-set and 10-way electrically adjustable leatherette seats and adjustable pedals and steering reach and height accommodate almost any size. Front and side visibility are good, rearview mirrors are large. Snazzier than before, the Silverado feels better built and features softer textures and user-friendly layouts. Generous and practical equipment includes dual-zone climate control, six-speaker Bose stereo, electric power sockets, keyless entry and a Bluetooth, streaming and USB-enabled touchscreen infotainment system, and numerous other creature comforts.
Specifications
Chevrolet Silverado LTZ ZL1 5.3 Crew Cab
Engine: 5.3 litre, in-line V8-cylinders
Bore x Stroke: 96mm x 92mm
Compression ratio: 11:1
Valve-train: 16 valve, variable timing, OHV, direct injection
Gearbox: six-speed automatic, four-wheel drive
Drive line: Low ratio transfer case, locking rear differential
Gear ratios: 1st 4.03:1; 2nd 2.36:1; 3rd 1.53:1; 4th 1.15:1; 5th 0.85:1; 6th 0.67:1
Reverse / final drive: 3.06:1 / 3.42:1
Power, BHP (PS) [kW]: 355 (360) [265] @ 5,600rpm
Torque lb/ft (Nm): 383 (519) @ 4,100rpm
Redline: 5,800rpm
Fuel consumption, city / highway: 14.7 / 10.7l/100km
Fuel capacity: 98 litres
Length: 5,843mm
Width: 2,032mm
Height: 1,879mm
Wheelbase: 3,645mm
Track, F/R: 1,745 / 1,716mm
Minimum ground clearance: 226mm
Load floor height: 872mm
Step-in height: 564mm
Kerb weight: 2,367kg
Weight distribution, F/R: 58%/42%
Payload: 887kg
Gross vehicle weight rating (GVWR): 3,266kg
Trailoring: 4,354kg
Approach / break-over / departure angles: 17.9° / 19° / 23.3°
Headroom, F/R: 1,087 / 1,029mm
Legroom, F/R: 1,150 / 1,040mm
Shoulder room, F/R: 1,647 / 1,670mm
Cargo volume: 1,512 litres
Cargo floor length: 1,761mm
Cargo floor width, min/max: 1,296/1,642mm
Steering: Electric-assisted rack & pinion
Turning circle: 14.4 metres
Lock-to-lock: 3.03-turns
Suspension, F: Independent coil-over, mono-tube dampers
Suspension, R: Solid axle, leaf springs, monotube dampers
Brakes, F/R: Ventilated discs 330 x 30mm/345 x 20mm
Tyres, standard (optional): 265/65R18 (275/55R20)
Related Articles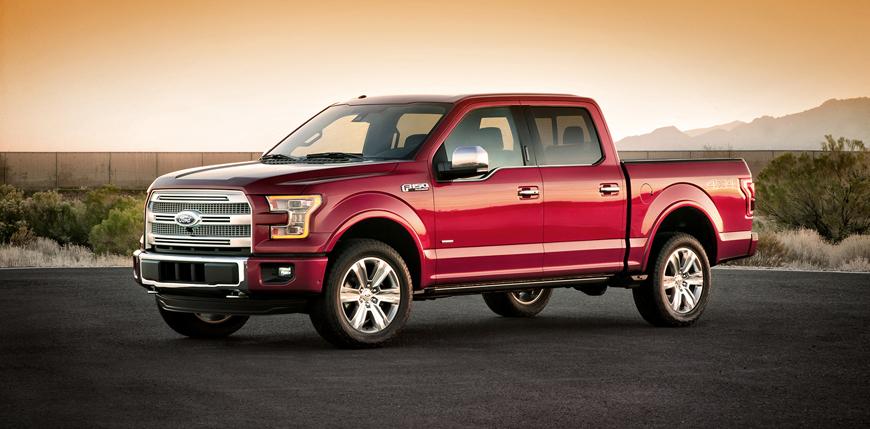 Feb 08,2016
Much awaited and launched last, the 13th generation of America's most iconic and best-selling pickup truck is the most advanced in its segme
Dec 19,2016
Purveyor of America's consistently best-selling model line, Ford took somewhat of a calculated — and ultimately successful — gamble with the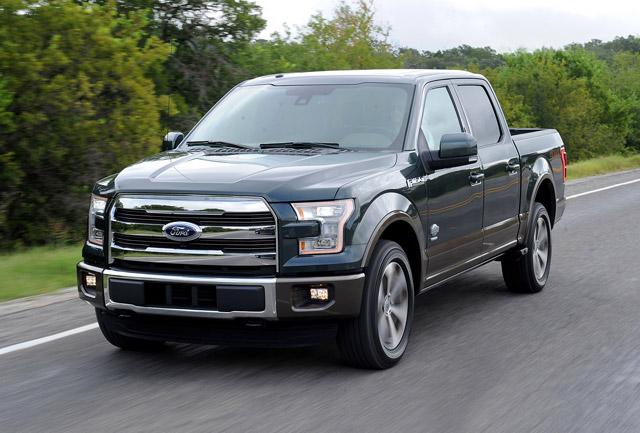 Jul 24,2017
A rugged, well equipped, workhorse and spacious daily driver, the large American pick-up truck segment and its most popular Ford F150 model
Newsletter
Get top stories and blog posts emailed to you each day.