You are here
Glass ceiling for dogs? Males win Westminster almost twice as often
By Reuters - Feb 10,2018 - Last updated at Feb 10,2018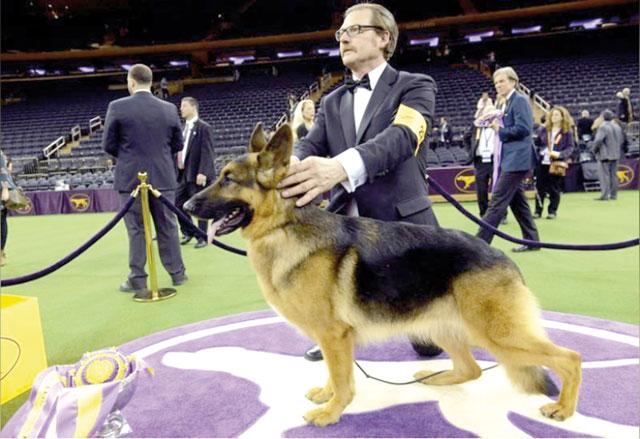 Rumour, a German shepherd and winner of Best In Show at the 141st Westminster Kennel Club Dog Show, poses for photographers with her handler Kent Boyles at Madison Square Garden in New York, on February 14, 2017 (Reuters photo by Stephanie Keith)
NEW YORK — After the German shepherd Rumour won the top prize at last year's Westminster Kennel Club Dog Show in New York, she had her first litter of puppies and retired from competition, like many female show dogs.
By contrast, most top male show dogs can keep competing for years, and it is no coincidence that they also win "Best in Show" in the prestigious annual competition far more often than females, breeders and handlers said as they prepared for this year's show, which opens on Monday, February 12 in New York.
"Now she won't show again, she's done," said Gail Miller Bisher, a spokeswoman for the Westminster Kennel Club, referring to Rumour. "But males can keep going. They can be used as stud and continue showing and keep their coat and keep their shape of body and all that."
Female dogs, known in pure-bred circles as "bitches", have snared Best in Show at Westminster 39 times since the award was first given in 1907. Males, known simply as "dogs", have been victorious 71 times, almost twice as often.
A dog's peak age for competition is three to five years old, which also happens to be prime breeding age for females, said Kimberly Calvacca, a professional handler and breeder from Westbury, New York.
The Best in Show winner crowned on Tuesday night takes home a trophy. But the real reward is the increased value on the breeding circuit, which is one reason victory can end a female's competitive career.
"People don't like to campaign females because they don't like to jeopardise their breeding programme," said Calvacca. "Males can be used to stud anytime, and still show and breed at the same time."
As a consequence, females are less likely to compete at Westminster, the second-oldest US sporting event after the Kentucky Derby. Ahead of this year's opening day on Monday, there were 1,220 female competitors and 1,699 male challengers enrolled in most categories, including vying to be named top dog on Tuesday at Madison Square Garden.
A female competitor's "heat" cycle brings changes in temperament and hormones that can also hurt its chances of winning the world-renowned show for pure-bred canines.
Many handlers and owners will not show a female during its cycle, which comes about every six months, because "they're moody", said Wendy Kellerman, a handler and breeder from Hauppauge, New York.
Depending on the breed, a female dog in season will shed her coat, leaving her less impressive looking than male peers. Those kinds of changes can knock her out of competition for months.
"Some people say, 'I don't want to be bothered with that, I'll go with a male," said Calvacca.
Betty-Anne Stenmark, the sole judge of this year's Best in Show competition at Westminster, said appearance was important when it comes to picking a world champion. But she denied that the cards are stacked in favour of males.
Stenmark said each sex has a "50-50 chance" of winning and judging can be highly subjective, depending on a judge's experience.
In the end, a male Best in Show winner can bring a bigger payoff than a female because a male can breed many times, and even have its sperm frozen, while females can produce only so many litters and puppies, said WKC's Bisher.
"The males obviously have an easier go of it, whereas the girls having a litter is stressful for everybody," she said.
Related Articles
Jul 14,2016
PARIS — When a female praying mantis bites the head off her sexual partner, it is probably not out of anger. According to a recently pu
Feb 18,2015
The world of artist Emily Jacir is that of depth, intensity, dogged determination, serious questions and also a tinge of dark humour.
May 13,2018
By Silvia ZayadinVeterinarian Senior pets are such a delight and these sweet old souls deserve the best of everything.
Newsletter
Get top stories and blog posts emailed to you each day.