You are here
Chevrolet will debut next plug-in Volt in January
Aug 11,2014 - Last updated at Aug 11,2014
USA Today (MCT)
ACME, Michigan — The next-generation of the Chevrolet Volt, one of the first plug-in cars of the modern age, will get a load of new technology and will make its world debut in January at the North American International Auto Show in Detroit, says Tim Mahoney, chief marketing officer for Chevrolet,
Mahoney, speaking at the annual industry Management Briefing Seminars here near Traverse City,did not provide any details for the extended-range plug-in hybrid. But Automotive News reports that the next version will trade its 1.4-litre four-cylinder engine for a 1-litre three-cylinder engine. It will also get a fifth seat.
Mahoney also showed a photo that hints at the look of the new car — a sculpted rear deck lid and a new emblem for the Volt.
After sales for the first-generation Volt underwhelmed, GM is under pressure to deliver significant advancements. California-based Tesla Motors will introduce a pure-electric vehicle in the Volt's price range by the end of 2017.
"The overall general value proposition for the consumer has to improve and that means basically increasing the benefit and reducing the cost," IHS Automotive analyst Tom Libby said. "It's very important to Chevrolet and GM because it gets so much visibility."
Former GM CEO Dan Akerson once projected annual Volt sales of 60,000, but even after cutting the price by $5,000 a year ago to about $35,000, Volt sales fell 9 per cent in the first seven months of 2014 to 10,635 units. Chevy says it has sold 65,000 since Volt went on sale in 2010.
One encouraging sign: 69 per cent of Volt sales are people trading in vehicles from competing brands, including the Toyota Prius, Mahoney said.. But though sales rose 13 per cent last month, it is now outsold in most months by the smaller all-electric Nissan Leaf, and faces competition from the more expensive all-electric Tesla Model S.
"The Volt has done what it is supposed to do," Mahoney said. But he expects greater sales with the second generation. "It is easier to explain because it is a known commodity.".
GM has always felt that having a plug-in with a back-up gas engine would be a key advantage of the Volt compared to the pure electrics like Leaf and Tesla. It says that Volt drivers use the car's electric range for 65 per cent of their miles driven, yet have peace of mind that they don't have to find an electric charger to keep driving.
GM is trumpeting customer satisfaction ratings of the car. It just needs more customers. The Volt has had few quality problems, but it hasn't struck a chord with the masses and GM is losing money on the car. Tesla, by contrast, has gained momentum on small volume of the Model S sedan, an ultra-luxury all-electric car with a range up to 480 kilometres per charge, and prices that range between $80,000 and $115,000.
GM is also racing to develop a pure-electric car with a range of about 321km in the price range of the current Volt, that would compete directly with Tesla.
"The Volt and Model S are not apples-to-apples for a number of reasons, but eventually what I want to see from GM is to have a pure electric vehicle with range comparable to Tesla's Gen-3 vehicle," said David Whiston, a Morningstar analyst.
Dave Sullivan, an analyst with AutoPacific, said he does not consider the current Volt a flop. But he said GM needs to deliver substantial improvements for the new one, including a longer-range gas generator and more appealing interior design.
For example, the current version of the Volt has only four seats because the 1800-kg T-shaped battery pack takes up the space that would otherwise be used for the middle of the back seat.
"This was kind of uncharted territory for most automakers, and definitely it got people noticing that GM is not just a pickup truck and SUV company, but they're very capable of doing other things as well," Sullivan said.
Related Articles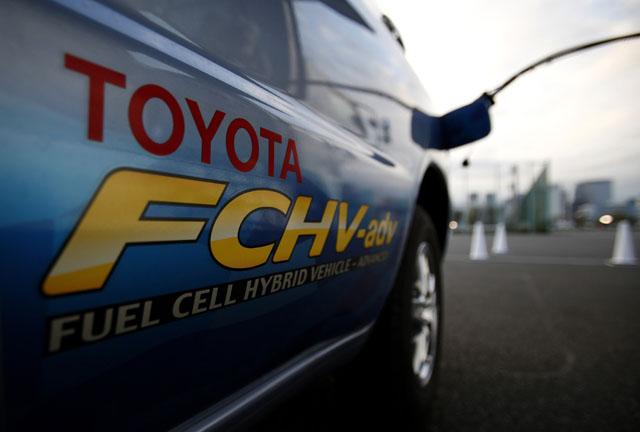 Apr 17,2014
In 1997, Toyota caught its competitors by surprise with the revolutionary Prius, the first commercially successful gasoline-electric hybrid car. Now, the Japanese firm is trying to do the same with a technology that seems straight out of science fiction.
Oct 31,2016
TOYOTA CITY, Japan — Engineers at Toyota Motor Corp.
Oct 29,2014
Owners of electric vehicles have already gone gas-free. Now, a growing number are powering their cars with sunlight.
Newsletter
Get top stories and blog posts emailed to you each day.