You are here
Brilliant borage
By Sheela Sheth , Family Flavours - Oct 07,2018 - Last updated at Oct 07,2018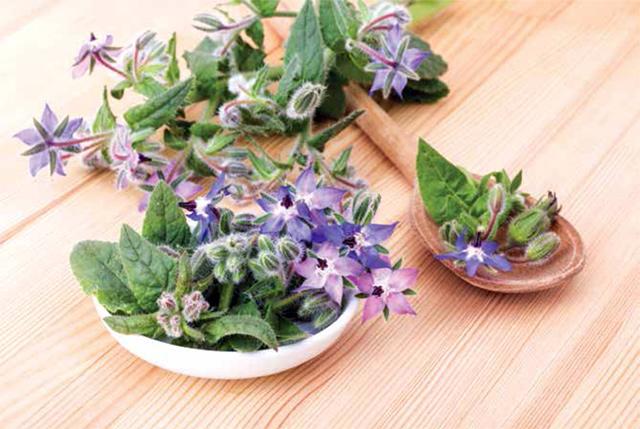 Photo courtesy of Family Flavours magazine
By Sheela Sheth
Food Expert
In my home country India, Borage, an annual brilliant blue bloom also known as a starflower, is used as a tea. This herb grows all over the world as an ornamental plant that attracts beneficial insects to preserve precious gardens. Let me share with you some of the uses and benefits of Borage, which I have discovered over the years.
Borage has popularly entered the herbal classification due to its rich aroma and cosmetic and curative properties. In India, we use Borage for consumption as the leaves are less fuzzy and its flavour resembles thyme and oregano. We use it to protect, nurse and enhance flavours and texture in plants like legumes, spinach, strawberries and tomatoes. The plant grows to a height of 60 to 100 centimetres tall, and its flowers turn from pink to blue when fully grown.
Flavourful herb: traditionally Borage was cultivated for culinary and medicinal purpose but today, it is commercially grown as an oilseed. I use it is either as a fresh or a dry herb and it has the freshness of cucumber and aroma of oregano, sage, thyme and mint. I often use it in cocktails, desserts and salads to complement taste and presentation. The flowers are often used for infusing teas due to its minty flavour. The Indian Borage is sharper in taste and its aroma could be mistaken for thyme or oregano, which is used for flavouring meat and fish. In South East Asia, it is used as a soup condiment.
Curative property: The Indian Borage has a host of health benefits which are a little different in appearance and taste than its counterparts. The fuzzy flowering plant adorned with purple blue vibrant colour is often mistaken for weed and pulled out by most gardeners. Its rich medicinal property has been known to be helpful for respiratory and gastrointestinal disorders. It also aids in overcoming cramps, colic and diarrhoea. The pulp of the leaves is often used to cure sores, psoriasis, herpes, insect bites, nail fungus, eczema to relieve itching and skin irritation. It is known to be rich in Omega 6 fatty acids.
Borage oil in cosmetics: Borage seed oil is one of the richest sources of gamma linoleic acid and is used in high-end cosmetic formulation. It is known to nourish and hydrate the skin besides being perfect for mature skin where regeneration of new skin cells is required. Borage leaves are used for making soap and are added to nourishing creams. At home, the paste can be used externally for skin conditions and a rejuvenating bath.
Borage oil is not recommended for pregnant and breastfeeding women. Be sure to consult your a doctor before attempting any herbal remedies.
Reprinted with permission from Family Flavours magazine
Newsletter
Get top stories and blog posts emailed to you each day.