You are here
Beast of a feast
By Nickunj Malik - May 16,2018 - Last updated at May 16,2018
Unlike the African continent — where I live right now — being vegetarian in my home country, India, is no big deal. However, in South Africa, Tanzania and Mauritius (the other nations where I have resided briefly) people eat so much of meat that they even have a chain of eateries called "The Carnivore'. Here, the flesh of every kind of animal you can think of, is seasoned, marinated and roasted on a skewer, and presented to you. On a platter, that is.
The restaurant's tagline is "Beast of a Feast" and true to its word, all the four-legged creatures that pass through its kitchens are converted, from beasts to feasts. When we were invited there for an official dinner once, my husband told me to keep a sharp eye on our crawling baby. "Don't let her get past your sight even for a moment," he cautioned. "One can never be too careful with these enthusiastic chefs," he grumbled. I thought he was joking, of course. But his protective fatherly instinct made him position the infant-chair next to us and he would not allow our child to climb down from it, for the entire evening.
So, like I was saying, in India, being vegetarian is a very normal lifestyle choice. There are various reasons that can compel people to not eat meat. Some consider it unhealthy, others think it is unhygienic and still others imagine the pain the animal goes through while being butchered and therefore avoid it. Religious sentiments could be a deciding factor too though I personally know enough high caste Brahmins — that section of society which is supposed to be preoccupied with all things sacred and holy — who cannot function without eating mutton curry everyday. When confronted, they claim that none of our ancient religious texts categorically state that one must shun meat.
In Hinduism, food is simply categorised into Tamasic, Rajasic, Sattvic, or a combination of all three of them. Tamasic food is the type that supposedly has a sedative effect on the individual and is considered harmful to health. It can cause mental dullness and physical numbness. It is found in meat, fish, eggs, onion, garlic, mushroom and alcoholic beverages.
Rajasic food is considered to be neither beneficial nor injurious, but its consumption can result in aggressiveness and irritability. An example of this category is: coffee, tea, aerated drinks, brown or black chocolate, spicy and salty cuisines. Sattvic, on the other hand, is supposed to be super food and eating it regularly leads to clarity of the mind and exceptionally good physical health. It is obtained without harming another organism and includes everything that is produced organically such as coconut water, cereals, grains, legumes, vegetables, fruits, nuts, milk, butter, cream, yoghurt, and honey.
Personally, my husband is a vegetarian but when we eat out, in almost all the instances, the non-vegetarian dish is placed in front of him.
This is exactly what happened last week.
"That one is mine," I said, watching the waitress make the same mistake.
"It's a helping of jumbo prawns," she stated.
"He is a vegetarian," I pointed at my spouse.
"What?" the waitress cried out.
"You don't look like a vegetarian," she exclaimed.
"What is that supposed to mean?" my husband asked firmly.
The waitress dropped a spoon in nervousness.
"She means you don't have a lean and hungry look," I pacified.
"Also, you won't bite the hand that feeds," I informed.
"Literally or figuratively," he agreed.
Related Articles
Jun 11,2014
Women who often indulge their cravings for hamburgers, steaks and other red meat may have a slightly higher risk of breast cancer, a new study suggests.
Oct 27,2015
PARIS — Bacon, hot dogs and cold cuts are under fire: The World Health Organisation (WHO) threw its global weight behind years of experts' w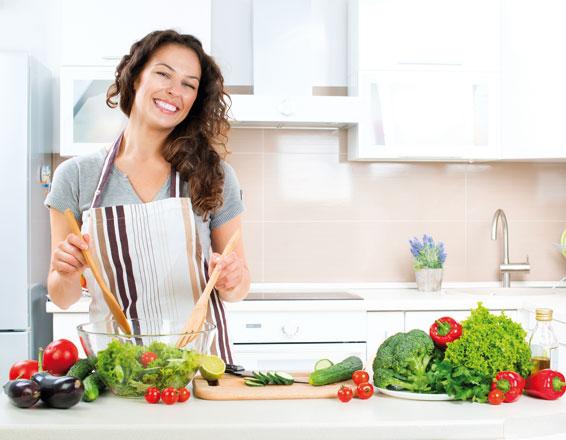 Feb 28,2018
Healthy dieters reduced their risk factors for heart disease like weight and body fat equally when they followed a vegetarian diet that incl
Newsletter
Get top stories and blog posts emailed to you each day.