You are here
Audi summit unveils a four-ringed future
By Ghaith Madadha - Jul 17,2017 - Last updated at Jul 17,2017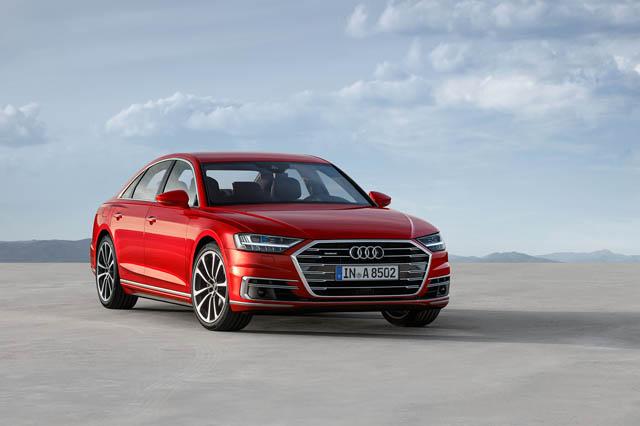 Audi's fourth generation A8 (Photo courtesy of Audi)
With its long-standing motto of Vorsprung durch Technik — or 'Advancement through Technology' — as a background theme or inspiration, Audi unveiled the world's most advanced self-driving car at an extravaganza event showcasing the brand's direction and technologies for the near future. Taking centre stage at the one-brand Audi summit exposition in Barcelona, Spain, Audi's fourth generation A8 luxury flagship saloon is slated to hit showrooms later this year as a 2018 model. Spearheading the Ingolstadt manufacturer's drive towards a highly advanced automotive future, the A8 leapfrogs systems currently offered by Audi's traditional premium German rivals.
With Audi AI (artificial intelligence) technology and zFAS central vehicle assistance control unit premiering with this model, the Audi A8 is the first series-production car with level three autonomous driving capability — measured on a scale of zero, with no assistance, to full self-driving cars at level five. A hallmark feature of the new A8, Traffic Jam Pilot allows for self-driving ability at 60km/h or less in certain situations. Autonomously starting, accelerating, braking, steering and handling situations where other vehicles cut in close in front, Traffic Jam Pilot requires the driver to be ready to re-take control when necessary rather than to be monitored with by the driver, as with rival systems.
Capable of self driving and remotely self parking, the A8's autonomous abilities leverage ultrasound and radar sensors, laser scanners, camera-based systems, high performance data processor and rapid Internet connectivity. A significant step towards a "surely autonomous" future of driving, as predicted by Audi Board of Management Member for Technical Development Peter Mertens, Audi AI in future will encompass a broader range of self-learning functions, and along with My Audi connectivity platform and Audi E-tron electrified drive, will be what Audi stands for in the future, as elaborated by Mertens in his opening remarks at the Barcelona event.
Currently utilising supervised learning development methods for application in the A8, Audi AI is also evaluating deep reinforcement methods in artificial intelligence, and had scale models displayed at Barcelona, which could, through trial and error, navigate obstacles and self-park. However, for future, Audi AI is expected to develop into a broader system integrating and interplaying various technologies that will be able to interact with other vehicles and infrastructure. Audi AI will thus become a "thinking, empathetic assistant" able to anticipate driver wishes and "proactively support them", whether suggesting and booking services or independently carry out tasks (parking, refuelling, charging and car wash) at specifically designated Audi AI Zones, according to Audi literature.
In addition to driving efficiency and safety improvements that AI and autonomy is anticipated to eventually yield, Audi also highlights time-saving as another benefit, with its 25th Hour project looking at ways to adapt a fully piloted car's interior and systems for optimal time-management for work or leisure during a journey. However, with fully automated driving still a way off into the future, Audi has founded the Beyond initiative, which takes a multi-disciplinary approach to research the legal, ethical and acceptance issues related to automotive AI. In the meantime, the introduction of the A8's Traffic Jam Pilot system will be conducted in a step-by-step approach as and when the statuary framework in individual markets is clarified.
Much to the crowd's pleasure during the opening spectacular, Audi's iconic 1980s Pike's Peak winning Quattro S1 racer and legendary driver Walter Rohrl were reunited on stage. With is distinctively viciously five-cylinder acoustics and angular, be-winged body, the S1 was a reminder of Audi's past and a then-crucial moment in the brand's development, much as the A8 stands to become yet another transformative moment. The loud and proud Quattro S1 was juxtaposed with Audi's latest stealthy and silent Formula E racer. The first of the German brands to enter Formula E, Audi's commitment to an electric future is already beginning to bear fruit.
Adopting certain hybrid electric technologies across the A8 model range, Audi will also introduce a dedicated A8 L E-tron Quattro hybrid model soon after, and is set to launch an all-electric series-production SUV in 2018, based on the E-tron Quattro Concept from the 2015 Frankfurt motor show. Committed to sustainability and efficiency in electric and combustion engine drivelines, Audi's AI systems look to reducing urban pollution from drivers looking for parking spaces, while the company also plans to convert its Brussels E-tron plant, where its first electric cars are being built, into a CO2 neutral facility.
Audi A8: Technological tour de force
Set stands to become the most technologically sophisticated luxury car when it goes on sale, the Audi A8 was publically unveiled at the Audi summit days ago, but selected media had an opportunity to view the car in more detail and appreciate its design detail and expression the day before. Seemingly sitting on all four wheels with an authoritative stance to emphasise its Quattro four-wheel-drive, the A8 also features a flowing roofline and optional laser headlights. Dominated by its vast and upright hexagonal grille, the A8 detailed and fluent body surfacing and crisp ridges were of particular interest when viewed in a studio setting.
Under its sculpted bonnet the A8 will initially be offered with a turbocharged 3-litre V6 engine, with V8, W12 and full hybrid versions soon to follow. However, all models will feature a 48v hybrid technology, which utilises regenerative braking to charge. This system allows for significantly enhanced efficiency by allowing the car to coast with the engine switch off when coming to a stop, and for more extensive and smoother operation of the fuel-saving stop/start system. It will also power the A8's innovative AI-integrated fully active suspension, which uses cameras to ''read'' the road and electromechanical to control each wheel for enhanced, ride comfort, handling and safety.
In addition to highly autonomous driving and parking and extensive safety and assistance technologies, the A8 features all-wheel steering across the range for enhanced agility, stability and manoeuvrability. Inside its plush leather and open-pore wood trimmed cabin, the A8 features a reductive horizontally-orientated design, with tactile buttons and 10.1-inch infotainment screen blending almost invisibly with high gloss black trim when off. From the screen and glass-look buttons and touchpad, one accesses vast infotainment features, including self-learning navigation system. Additionally, its touch pad is highly responsive to written input, while voice control recognises natural speech patterns.
Related Articles
Jan 17,2016
DETROIT – Tesla's swift rise to both create and dominate the luxury all-electric car market has stunned Detroit. To hold that lea
Dec 05,2017
Set to join the already available entry-level V6-powered version of Audi's all-new and high tech fourth generation flagship the A8 L 60 TFSI
Mar 12,2018
Launched late last year, the latest iteration of Audi's luxury flagship A8 model promises cutting edge technology, comfort and safety.
Newsletter
Get top stories and blog posts emailed to you each day.