You are here
All BTS members renew contracts with HYBE — agency
By AFP - Sep 22,2023 - Last updated at Sep 22,2023
A mural in Goyang depicts BTS member RM. The K-pop juggernaut are on 'hiatus' due to members doing military service but all have renewed their contract (AFP photo)
SEOUL — All seven members of K-pop sensation BTS have renewed their contracts with agency HYBE, the company said on Wednesday, with the group currently on "hiatus" as some of them perform South Korea's mandatory military service.
Since their debut in 2013, BTS have been credited with generating billions of dollars for their country, as well as boosting the image and soft power of South Korea — now a global cultural powerhouse.
The K-pop juggernaut announced a "hiatus" from group activities last year and two members are currently undertaking their some 18 months of military duty.
Local reports have said the band could reunite around 2025, when all of its seven members will have completed their service in the army.
"Our company has completed the Board of Directors' resolution to renew the exclusive contracts of seven BTS members," the band's agency, HYBE, said in a regulatory filing on Wednesday.
"This fact was judged to be a management matter that could affect the company's financial status and investor decision-making, and was therefore disclosed," it added.
Since their debut 10 years ago, the band had previously renewed their contracts with HYBE in 2018, which would have expired in 2024.
The company did not disclose details of how long the new contracts were or when they would expire, but the latest announcement indicates that all seven members of the group will likely remain with the label even after they have completed their military service.
Some male K-pop stars have faced challenges in resuming their careers after fulfilling their duties, in an intensely competitive industry where artists can be easily replaced.
In March, Bang Si-hyuk, chairman of HYBE and the mastermind behind BTS, said making BTS do their military service was slowing the global growth of K-pop.
All able-bodied men in South Korea must serve at least 18 months in the military and, after a years-long debate about whether BTS deserved an exemption, Jin, the oldest member of the group, enlisted last year.
His bandmate J-Hope started his mandatory service in April.
A third member, SUGA, will begin his service on Friday.
HYBE shares closed down 0.82 per cent in Seoul on Wednesday.
K-pop contract renewals can be complex, with shares of BLACKPINK's agency YG Entertainment tumbling last week, after local media reports claimed member Lisa had rejected a renewal offer.
They subsequently bounced back, although the agency has yet to announce details of new contracts for BLACKPINK — one of K-pop's most successful girl groups.
Related Articles
Nov 23,2023
SEOUL — The last four members of South Korean mega-group BTS who have yet to undertake their mandatory military service have begun the proce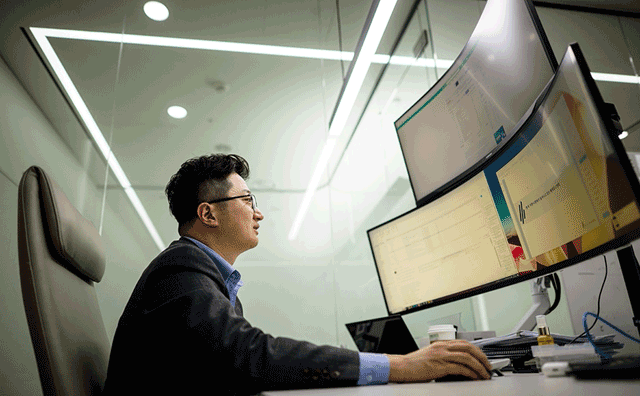 Mar 09,2023
SEOUL, South Korea — It is the kind of K-drama that rivets millions of viewers — bitter boardroom battles, expensive lawyers, hostile takeov
Mar 09,2022
SEOUL — South Korean supergroup BTS return to the stage in Seoul to play for their adoring home-grown fans for the first time since 2019 on