You are here
All about a samosa
By Nickunj Malik - Dec 17,2014 - Last updated at Dec 17,2014
In Amman, all that my Jordanian friends want to do is eat Indian food, especially when they visit me. I try and accommodate their choice of selection but once in a while if I serve any other cuisine, I end up getting reprimanded. By the vociferous set, that is.
Most of them have not been to my home country and the only exposure they have of it is through the curries they have consumed in London. Chicken Tikka Masala, that phenomenal Indian curry has now become the national dish of Great Britain, after all. But, like people from my motherland will tell you, there is more to Indian food than this gravy laden fare.
I belong to a large nation and we have an overwhelming array of diverse dishes that are cooked across the length and breadth of our land. But our snacking habits draw us together into one cohesive undivided unit, especially our collective weakness for the "samosa".
What is that? To the uninitiated, it is just another salty Indian savoury but to us, it is a wonder of creation. Firstly, it is three dimensional in shape, so it has a length, width and height associated with it, quite unlike the two dimensional flat "samosa" that has surfaced in some parts of the world which has a flaky, crisp sort of exterior. We can spot a fake even with our eyes closed.
Secondly, though it can have any type of filling, the classic samosa is stuffed with bits of potato, green peas, peanuts, raisins and freshly ground spices. It is deep fried to a golden brown colour and supplied with dollops of mint and tamarind chutney. Usually an evening snack, it is an accompaniment to "chai", that incredibly sweetened and aromatic Indian tea. But anytime is a goodtime to gorge on a samosa.
It has three pointy edges and some people prefer to eat the outer covering of the patty first, while others scoop out the stuffing, before attacking the jacket.
But several thoughtless folks actually squish it inside a dinner roll, smear large quantities of tomato sauce on it and gobble it like a burger. I consider this to be a cruel gesture because according to me it's a gastronomical sin to flatten a symmetrically majestic samosa into crumbly morsels and call the concoction, bun-samosa. I have no quarrel with fusion cuisine, but this version of it, makes me want to stamp my feet in irritation.
Recently a persistent vendor sold me a samosa making device. It was a triangular shaped container that looked like a cookie cutter with a lid. He put invisible ingredients into it, and asked me to imagine how perfectly the shape would turn out when I opened the box. He even pointed at the picture of a smiling lady about to bite into an impeccable samosa that was printed on the carton. I bought it immediately.
Once home, I struggled with it from the word go. Either the potato would spill out or the green-peas got entangled at the edges. When I tried to fry it in the wok, it disintegrated into tiny pieces. So I simply placed it inside two slices of bread and tried to pass it off as a sandwich.
"You crushed the samosa?" my husband was horrified.
"Seems like it," I mumbled.
"But I thought you hated it this way," he said.
"That new cutter is faulty," I insisted.
"Blaming your tools?" my spouse asked.
"The salesman too," I confessed.
Related Articles
Jun 15,2017
It is often difficult for me, an honourary Jordanian, to explain to foreigners who visit Amman, why "shawarma", the most delicious of Levant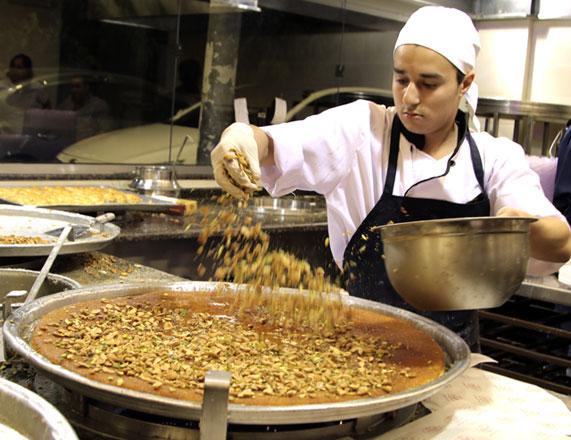 Jul 04,2016
AMMAN — India got a taste of Jordan as a month-long food festival and photo exhibition showcasing the Kingdom's cuisine and culture came to
Sep 16,2015
After landing in Amman five years ago, the first thing I noticed while grocery shopping was that all the supermarkets here sold Ghee.
Newsletter
Get top stories and blog posts emailed to you each day.