You are here
'This place was my soul's home'
May 19,2019 - Last updated at May 22,2019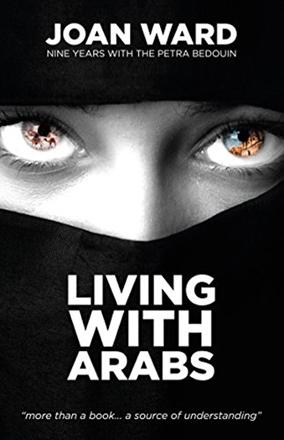 Living with Arabs: Nine Years with the Petra Bedouin
Joan Ward
Um Peter Publishing, 2014
Pp. 190
Many in Jordan probably know the author of this book, UK citizen Joan Ward, for she was Head of English at the International Community School (ICS) in Amman from 2006 until 2008, before deciding to settle in Um Sayhoun, the housing built for the bedouin who were relocated from Petra's caves.
In "Living with Arabs", she relates her experience with open-mindedness, compassion, humour and a critical eye. At first, Ward spent weekends in the Petra area, but her decision to live there began with an epiphany that occurred on her first visit as a tourist in 2004. On a hike north of Petra, it hit her: "my heart lurched with the realisation that this place was my soul's home. I wanted to stay here forever". (p. 7)
Her way of expressing this reflects her deep spirituality, which is further revealed in later parts of the book.
After securing a job at the ICS, she began spending as much time as possible in the Petra area: "Those early holidays and the weekends of the two years that I taught in Amman, were spent on donkey back in the Petra mountains, accompanied by a wonderful guide, whose family were to become my closest friends and neighbours." (p. 8)
By summer 2006, building began on the house for her guide's family with separate accommodations for her. "Over the years our lives were to become intermingled in many different ways. In the course of my life, I have battled cancer, injustice, unhappy marriages and physical pain, but nothing was to make me dig as deep into my reserves as the life that lay ahead of me in Um Sayhoun." (p. 74)
One might imagine that Ward had found a quiet, peaceful retreat, but the noise and confusion of her neighbours and their animals was her biggest problem in the beginning. One remedy for this was long hikes alone. "The luxury of uninterrupted time on my own, to sit and think was such a rarity back in the village that, on my days out, knowing that I would be a source of interest, I tried to stay hidden." (p. 92)
This is not to say that she always avoided social contact, on the contrary. One chapter of the book consists of a journal she kept after her friends in the UK asked her what she did all the time. Its entries attest to how much time and effort she devoted to social relations with her neighbours and helping the women of the community in particular, by driving them on errands or to the doctor. If the doctor was in Aqaba, it gave excuse for a fun excursion.
Through Ward's eyes and eloquent prose, one meets dozens of people and hears their stories. She is a keen observer of human behaviour, attune to the significance of small gestures and body language. As her Arabic improved, she gained more and more insight into the Petra bedouins' lives, how families and the community functioned, and what was meaningful to them. There are also beautiful descriptions of nature and graphic accounts of her adventures in the mountains. Ward was especially admiring of the matriarchs but found all the women delightful: "They are lovely. They are kind and sensitive. They are welcoming and accepting. They have, on average, eight children each. They are old before their time… They are the salt of the earth and I love them." (p. 47)
Ward also expresses admiration for the ability of the bedouin to make a life wherever they are, despite poverty and marginalisation. "The bedouin are extremely resourceful and are masters of improvisation. No hammer? Use a disused engine part. No tea-glass? Cut the top or bottom off a plastic water bottle. No tripod for the pot? Use stones?" (p. 19)
It is interesting to compare Ward's book to Marguerite van Geldermalsen's "Married to a Bedouin" (2006), because presumably it is the same community in which they lived. However, Marguerite's book covers seven years of living in a cave, while Ward came later, when the Petra bedouin were resettled in Um Sayhoun. Both women seem to have struck a balance between integrating in the community and being themselves, but there is one surprising difference in their narratives: Marguerite does not mention instances of cruelty, whereas Ward, though essentially positive about the community, is deeply disturbed by the instances of cruelty to animals and women's subordination which she observes. Did the people change after they relocated? Why are the two women's perspectives on this so different? One wonders if they ever met.
The only disconcerting thing about this book is the cover which shows a woman who resembles a Gulf Arab more than a Jordanian bedouin, evoking a stereotype that is otherwise completely absent in Ward's narrative. "Living with Arabs" is available at [email protected], Redwan bookstore in Aqaba, and the Crown Plaza gift shop in Wadi Musa.
Sally Bland
Newsletter
Get top stories and blog posts emailed to you each day.