You are here
VW scandal threatens 'Made in Germany' image
By Agencies - Sep 22,2015 - Last updated at Sep 22,2015
BERLIN — Until last Friday, the mighty Volkswagen (VW) brand symbolised German engineering prowess and reliability.
In just four days, that has changed radically. A scandal over cheating on US diesel emission tests has engulfed the company and many Germans worry it will have a domino effect on their businesses, eroding the cherished "Made in Germany" label.
Following a series of other blows to Germany's reputation, from repeated delays in Berlin's new airport to a string of financial misdeeds at flagship lender Deutsche Bank, Germany's business image looks tainted.
"Made in Germany is quality and trust. Now that trust is lost," said Ferdinand Dudenhoeffer of the University of Duisburg-Essen. "No one could have imagined the scale of this and the damage it will cause for German industry will go on and on. This is just the tip of the iceberg."
Top-selling Bild daily described VW as the crown jewels of German industry and said its success must not be gambled away.
The reality, however, is that VW has been caught deliberately misleading the US environmental watchdog and US consumers over emissions from its diesel engines.
Its shares have tumbled 33 per cent in the last two days. Earlier on Tuesday, the Wolfsburg-based firm said it would set aside some 6.5 billion euros in provisions this quarter to cover costs related to the scandal. Media are reporting that Chief Executive Martin Winterkorn will go.
The impact of such a scandal is especially great in Germany, Europe's biggest economy, because of its reliance on exports which make up more than 45 per cent of the gross domestic product.
"The great success of the export nation of Germany rests on the quality label 'Made in Germany'," said Marcel Fratzscher, head of the DIW economic institute in Berlin. "VW stands for this German quality — for perfection, reliability and trust."
"Even if we don't know how much the VW case will affect the German economy, the risk is high due to a reliance on exports," he added.
Germany's auto industry accounts for roughly one in five jobs. It accounted for 17.9 per cent of Germany's 1.1 trillion euros in exported goods last year, according to Deutsche Bank, and has enjoyed above-average export growth since 2009.
German Economy Minister Sigmar Gabriel has also expressed concern about the reputation of the car industry overall, although VW rivals Daimler and BMW were quick to say the accusations against VW do not apply to them.
Wealthy brands
According to brand consultancy Interbrand, VW is worth 10 billion euros and is one of the most valuable German brands.
The top 50 German brands are worth more than 170 billion euros, says Interbrand, and carmakers dominate the top ranking, with Mercedes-Benz, BMW, Volkswagen and Audi taking first, second, fifth and sixth position respectively.
Highlighting the public relations battle it faces, German television has been showing a frequently aired US television commercial in which VW not only boasts that it is the top diesel car brand in America, but also asks: "Isn't it time for German engineering?"
The scandal undermines VW's whole push into clean diesel which has been the pillar of its efforts to develop environmentally friendly technology, a strategy shared by other German carmakers BMW and Daimler.
Volkswagen's US chief Michael Horn said the company had "totally screwed up" and promised to make amends.
Part-owned by the state of Lower Saxony, VW has shaken off a 2005 corruption scandal involving prostitutes and luxury trips for members of the company's works council. Earlier this year it overtook Toyota as the world's biggest carmaker by sales.
Its path, from its creation in 1937 when it was tasked with building an affordable "people's car" in Hitler's Germany, came to epitomise the country's post-war regeneration thanks to models from the Beetle to the ubiquitous Golf and Passat.
Politicians frequently fete its expansion into the United States and China as contributing to Germany's export strength.
Some experts say VW now needs to apply a strategy like Mercedes did after the 1997 "elk test" when a Swedish motor magazine found Mercedes' new A Class tended to flip over when undergoing an evasive manoeuvre test.
Mercedes responded by recalling the cars and adding new safety features but it took time for the brand to recover.
Dirtier image
Yet, this scandal is different to the "elk test" and other car recalls as it exposes not incompetence but a deliberate attempt to mislead.
After a spate of scandals at German firms and organisations, it is starting to look as if malpractice is not limited to a handful of isolated cases, although Germany is no laggard in international rankings.
Corruption watchdog Transparency International gives VW a relatively high score of 5.5 out of 10 in its ranking of global corporate transparency, a score that put it just outside the top 10 companies.
But Germany's image is getting dirtier.
Last year, ADAC, Europe's largest car club, was found to have falsified the results of its coveted annual car award, which had gone to VW's Golf. The order of results had not been tampered with, said ADAC, only the total number of votes but it still caused an uproar in Germany and in the auto world.
Such practices are not confined to the auto industry, which has in the last few years been criticised for wielding its economic clout to exert influence in Berlin and Brussels, for example over European Union (EU) green legislation.
Engineering giant Siemens has sought to recover damages from 11 top managers and supervisory board members for failing to stop illegal practices and bribery that forced it to pay more than $1.3 billion to settle corruption probes in the United States and Germany in 2008.
The German auto giant revealed Tuesday that 11 million diesel cars worldwide are equipped with devices that can cheat pollution tests, a dramatic expansion of a scandal that immediately sent its shares plummeting by another 20 per cent.
Authorities from France to South Korea to the United States announced investigations and threatened legal action, prompting Volkswagen to announce that it was setting aside 6.5 billion euros ($7.3 billion) in provisions for the third quarter to cover the potential costs of the scandal.
VW shares, which dived 17 per cent on Monday, plunged by another 23 per cent to a low of 101.30 euros during trade on the Frankfurt Stock Exchange as the automaker's new revelations, including a warning that it will have to lower its profit outlook, sent investors fleeing.
"Further internal investigations have shown that the software concerned is also installed in other diesel vehicles," VW indicated in a statement. "Anomalies have shown up in around 11 million cars worldwide that are equipped with a specific engine type."
"In order to cover the necessary service and other measures to win back customer confidence, VW plans to set aside 6.5 billion euros in provisions in the third quarter. The group's earnings targets for 2015 will be adjusted accordingly," he added
The spiralling scandal has led to France calling for a Europe-wide probe into the revelations, South Korea summoning Volkswagen officials, and the US Justice Department reportedly launching a criminal investigation.
The scandal went public Friday when US regulators ordered Volkswagen, the world's largest automaker by sales, to fix the defect and said they were launching a probe.
The German firm halted all diesel vehicle sales in the United States during the US investigation, which could lead to fines of more than $18 billion.
The shockwave immediately hit stock markets, with VW shedding more than a quarter of their value — or more than 20 billion euros — since last week.
Other automobile stocks were also dragged lower with Daimler shares down 7.03 per cent and BMW shedding 7.17 per cent on Tuesday.
'Europe-wide probe?'
French Finance Minister Michel Sapin on Tuesday requested a Europe-wide probe, telling French radio that it seemed necessary to check cars manufactured by other European carmakers in order to reassure the public.
"This is not a minor subject, it's not about speed or the quality of leather," Sapin told Europe 1 radio station. "What we are dealing with is making sure people avoid being poisoned by pollution."
South Korean officials summoned VW representatives for explanations on Tuesday. "We will start conducting tests no later than next month," said a senior official at the environment ministry.
In addition to the environmental probe already under way, the US Department of Justice has launched a criminal investigation, US officials told the Bloomberg news agency. The Justice Department and Volkswagen declined to comment on the report.
According to the US authorities, VW has admitted that it had equipped about 482,000 cars in the United States with sophisticated software that covertly turns off pollution controls when the car is being driven and turns them on only when it detects that the vehicle is undergoing an emissions test.
With the so-called "defeat device" deactivated, the car can spew pollutant gases into the air, including nitrogen oxide in amounts as much as 40 times higher than emissions standards, said the US Environmental Protection Agency (EPA), which announced the allegations Friday along with California authorities.
Blow to reputation
"Using a defeat device in cars to evade clean air standards is illegal, and a threat to public health," said Cynthia Giles, enforcement officer at the EPA.
In Germany, the government has already launched an investigation into whether Volkswagen or other carmakers are doing anything similar in Germany or Europe.
The German daily Frankfurter Allgemeine Zeitung reported that the national supervisory authorities had alerted VW to discrepancies in the emissions data in May 2014 and some cars were even recalled.
Transport Minister Alexander Dobrindt told the Bild daily that he had asked Germany's Federal Motor Transport Authority "to immediately have specific and extensive tests conducted on all Volkswagen diesel models by independent experts".
Beyond the potential fines and lawsuits, the company faces a potentially crippling blow to its reputation.
So far the scandal has been restricted to Volkswagen.
But the EPA said Monday that it will screen for defeat devices in other manufacturers' diesel vehicles now on the road, though it declined to identify the automakers whose vehicles will be tested.
Environment protection groups, particularly in Germany, suspect other carmakers may be using similar technology.
Related Articles
Sep 23,2015
WOLFSBURG – Volkswagen Chief Executive Officer Martin Winterkorn resigned Wednesday over a pollution cheating scandal that has sparked a US
Sep 29,2015
BERLIN – Volkswagen announced plans on Tuesday to refit up to 11 million vehicles and overhaul its namesake brand to try to move on from the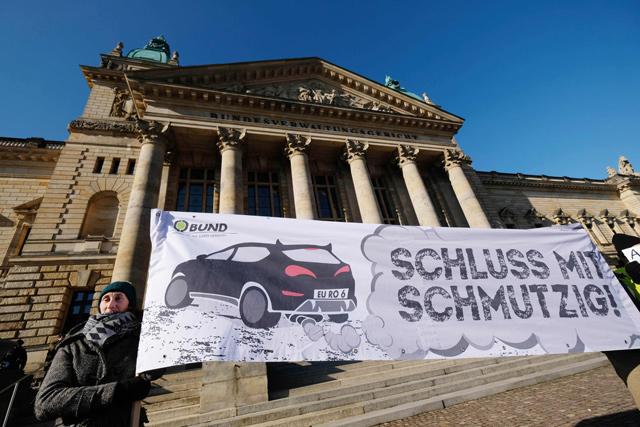 Feb 22,2018
LEIPZIG, Germany — A German court on Thursday delayed a ruling on whether major cities can ban heavily polluting diesel cars, which could hi
Newsletter
Get top stories and blog posts emailed to you each day.