You are here
US regulator, Amgen reach deal to unblock biopharma acquisition
Amgen to proceed with its $28b takeover of Horizon Therapeutics
By AFP - Sep 02,2023 - Last updated at Sep 02,2023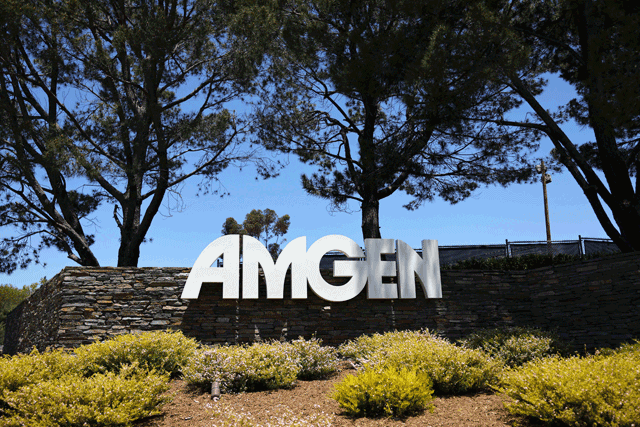 The Amgen logo is displayed outside the drug manufacturer's headquarters on May 17, in Thousand Oaks, California. The US Federal Trade Commission announced an agreement on September 1, allowing Amgen to proceed with its $28 billion takeover of Horizon Therapeutics (AFP photo)
NEW YORK — The US Federal Trade Commission (FTC) announced an agreement on Friday allowing American drug manufacturer Amgen to proceed with its $28 billion takeover of Horizon Therapeutics.
The agreement addresses "potential competitive harm" posed by the takeover and will be subject to a 30-day comment period, the FTC said in a press release.
Under the deal, "Amgen will be prohibited from leveraging its drug portfolio to disadvantage rivals and will be required to seek prior approval before acquiring related products," the FTC said.
The US regulator had filed suit in May to block the purchase, arguing it would entrench the monopoly positions of Horizon's drugs to treat thyroid eye disease and chronic refractory gout respectively.
The agreement settles the FTC suit as well as one filed by six US states, the statement said.
Some of the requirements under the consent order will be valid until 2032, while others must be maintained for fifteen years after the agreement is finalised, said the FTC.
A monitor will be appointed to provide regular updates on Amgen's compliance to the FTC and the states.
Founded in 2005, Dublin-based Horizon develops and markets drugs to treat rare, autoimmune and inflammatory diseases.
Its flagship product is Tepezza, a treatment for thyroid eye disease sold in the US since 2020. It generated $1.7 billion in 2021, more than half of Horizon's sales.
Another major Horizon drug is Krystexxa, used in the treatment of chronic gout. The agreement with the FTC includes specific conditions for Tepezza and Krystexxa.
In a statement, Horizon and Amgen said they "anticipate being able to close the acquisition in early fourth-quarter 2023 and look forward to the opportunity to serve patients around the world suffering from rare diseases".
Shares of both companies jumped as US markets opened on Friday.
Near 2:30pm (1830 GMT), Amgen shares were up .27 per cent at $257.02, while Horizon shares were up 2.27 per cent to $115.30.
Related Articles
Jul 26,2021
WASHINGTON — US antitrust enforcers have asked a federal court for extra time in refiling a monopoly abuse case against Facebook which could
Jul 02,2021
SAN FRANCISCO — Amazon on Wednesday petitioned a key US regulatory agency to have its leader left out of any antitrust matters involving the
Nov 02,2016
AMMAN — The Royal Health Awareness Society is partnering with Merck, a science and technology company, to advance health awareness and educa