You are here
UN president calls on developed countries to invest in climate-friendly technologies to kick-start equitable recovery
By JT - Nov 23,2021 - Last updated at Nov 23,2021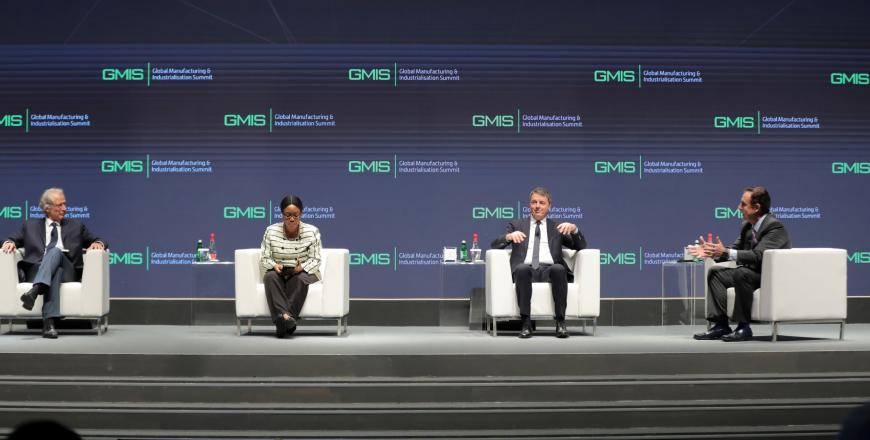 Speakers during a panel discussion on the second day of the Global Manufacturing and Industrialisation Summit in Dubai on Tuesday (Photo courtesy of GMIS)
DUBAI — United Nations General Assembly (UNGA) President Abdulla Shahid at the Global Manufacturing and Industrialisation Summit (GMIS) on Tuesday in Dubai called on developed countries to invest in climate-friendly technologies while also assisting in the technological advancement of more vulnerable nations.
Speaking at a session titled "Government of the future: A new roadmap to global prosperity", Shahid highlighted the stark discrepancies in technological capacity between the global north and south, which has exacerbated the challenges faced by developing nations in their attempts to recover from the pandemic, according to a GMIS statement.
In what he described as his "presidency of hope", the UNGA president said: "I will do my best to ensure that we not only recover fully and sustainably, but we do so equitably with no nation left behind. I call upon countries to invest in climate-friendly technologies that will spur global recovery efforts and to share these technologies with developing countries," he said.
"The disruption in manufacturing and supply chains was on the horizon before COVID-19 and was mainly driven by the fourth industrial revolution, climate change and the reconfiguration of globalisation. The good news is 4IR technologies are playing a major role when it comes to cutting emissions, water and material consumption and the optimisation of waste management"he said.
In the panel discussion that followed, Prime Minister of Namibia Saara Kuugongelwa-Amadhila discussed equitable development and the role of technology.
She highlighted the issue of delivering government services in a country of just 2.5 million people and how technology can provide both a solution and a challenge.
"For Namibia, the need to use digital platforms didn't only come with the COVID-19 pandemic, it was amplified by it because we needed to provide services online after going into lockdown. But because of the large size of Namibia (824,000 sq.km), it is quite expensive to reach out and provide government services to some communities. We had already decided to automate government services to improve government administration", said Kuugongelwa-Amadhila.
For Matteo Renzi, former prime minister of Italy, the COVID-19 pandemic provided a stress-test for governments and for health systems — and that in many countries in the world, especially those considered liberal democracies, they were found wanting.
"Don't believe people who say leadership is the same everywhere. With good leadership, you will have very a good response to the pandemic, with bad leadership you risk too much," Renzi said.
He does see the positives from the last year and a half and acknowledges that technology can emerge as a driver.
"I think it's important we use new technology with a different approach", he said.
"I often joke that my generation uses the mobile as a phone. Then then we arrive with a phone used for pictures, for video, for surfing the internet. The new generation uses the device not with a click, but with a zoom. They enlarge the screen and understand well what has happened," he continued.
"That's my final message from this pandemic, we have to pass from click to zoom. Manufacturing 5.0, new technology, these new ideas are the future of my country – and they could be helped by COVID. COVID was a tragedy that destroyed a lot of life, but we could come back stronger than before," he added.
Finally, Dominique de Villepin, former prime minister of France, touched upon how technology has immense potential for governments, but in Western societies, trust and consensus is a huge component that needs to be respected.
"The citizens in liberal democracies do have a say. And they must be a part of the decision-making process. And that's where technology must always deal with the question of trust. We cannot impose technology on people without their consent. They need to understand why it is being applied. You need to be able to discuss and convince," he said.
Under the theme "Rewiring Societies: Repurposing Digitalisation for Prosperity," the second day of the summit jump-started with success, bringing together key global leaders from government, business, and civil society to discuss how data and connectivity are shaping the future of the manufacturing sector.
GMIS was established in 2015 to build bridges between manufacturers, governments and NGOs, technologists, and investors in harnessing the Fourth Industrial Revolution's (4IR) transformation of manufacturing to enable the regeneration of the global economy, the statement said.
A joint initiative by the United Arab Emirates and the United Nations Industrial Development Organisation (UNIDO), GMIS is a global platform that presents stakeholders with an opportunity to shape the future of the manufacturing sector and contribute towards global good by advancing some of the United Nations Sustainable Development Goals, according to the statement.
up
11 users have voted, including you.
Newsletter
Get top stories and blog posts emailed to you each day.