You are here
Tunisia to lay off 16,500 public sector workers in 2017 and 2018
Demanded by its international lenders, the layoffs will come from public sector workforce
By Reuters - Oct 26,2017 - Last updated at Oct 26,2017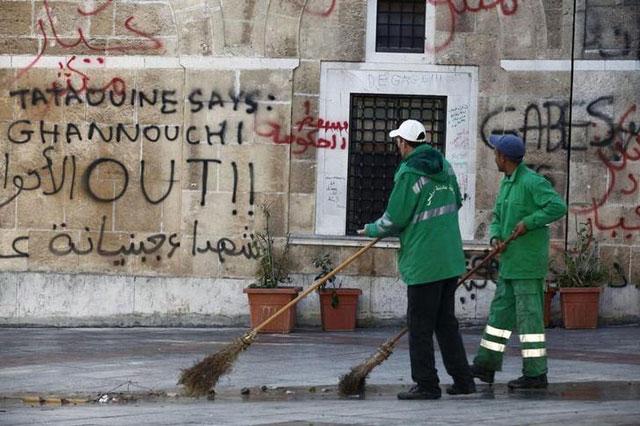 Sanitary service workers clean a street in the Kasbah district in Tunis on January 29, 2011 (Reuters file photo)
TUNIS — Tunisia will ask the United States for a $500 million loan guarantee as it seeks to lay off about 16,500 public sector workers in 2017 and 2018, a senior government official told Reuters.
The layoffs, which the government aims to make voluntary but which are demanded by its international lenders, come from a public sector workforce of around 700,000.
Tunisia will ask this new guarantee loan as it prepares to issue bonds on financial markets next year. It will need about 7.4 billion dinars ($3 billion) in foreign loans including 1.4 billion dinars from the sale of bonds.
Since the 2011 uprising that ended the rule of former president Zine Al Abidine Ben Ali, the United States has guaranteed about $1 billion in loans to Tunisia to support its democratic transition.
"We will ask US for a $500 million guarantee loan. Tunisia is counting on US support to support its economic transition", the official, who asked not to be named, said.
Tunisia is under pressure from the International Monetary Fund (IMF) and its partners to speed up reforms to create jobs and cut its deficit after its tourism sector was hit by militant attacks in 2015.
In April, the IMF agreed to release a delayed $320 million tranche of Tunisia's $2.8 billion in loans, on condition that it raise tax revenue, reducing the public wage bill and cut popular energy subsidies.
"Six thousand five hundred public sector workers are already applying to leave this year and we aims to lay off 10,000 others voluntary with financial incentives next year," the official said.
"We hope Tunisia's public sector wage bill will reach 12 per cent of GDP in the next three years versus 14.5 per cent now with these reforms", he added.
Six years after the uprising against Ben Ali's autocratic rule, Tunisia has made progress towards democracy. But successive governments failed to push through some of the painful reforms needed to overhaul public spending.
A delegation from the IMF will be in Tunis by the end of this month to discuss the progress of reforms before deciding on a new tranche of the $2.8 billion loan.
Under the 2018 budget, the deficit will fall to 4.9 per cent of gross domestic product (GDP) in 2018, from about 6 per cent expected in 2017. Tunisia also seeks to raise GDP growth to about 3 per cent next year against 2.3 per cent this year.
Related Articles
Apr 12,2018
AMMAN — Jordan is expected to receive $175 million from the International Monetary Fund (IMF) after the completion of the second review of t
Feb 27,2017
AMMAN — Jordan is expected to receive $70 million from the International Monetary Fund (IMF) after the completion of a mission scheduled to
Nov 12,2016
WASHINGTON — The International Monetary Fund (IMF) on Friday approved a three-year, $12 billion loan for Egypt to help the country recover f
Newsletter
Get top stories and blog posts emailed to you each day.