You are here
Saudi Aramco finalises IPO options and plans global expansion
By Reuters - May 10,2016 - Last updated at May 10,2016
Aramco President and CEO Amin Nasser chats with colleagues before addressing visiting journalists at the company headquarters on Tuesday (AFP photo)
DHAHRAN, Saudi Arabia — Saudi Arabia's state-owned oil giant is finalising options for its partial privatisation and will present them to its Supreme Council soon, its chief executive said about the centrepiece of the kingdom's efforts to overhaul its economy.
The company has a huge team working on the proposals for the initial public offering (IPO) of less than 5 per cent of the company's value, which include a single domestic listing and a dual listing with a foreign market, CEO Amin Nasser said on Tuesday.
They will be presented "soon" to Aramco's Supreme Council, headed by Deputy Crown Prince Mohammed Bin Salman, who is leading an economic reform drive to address falling oil revenue and sharp fiscal deficits by boosting the private sector, ending government waste and diversifying the economy.
Nasser also said Aramco was seeking to expand globally via joint ventures in Asia and North America.
"We are looking at the current market status that, even though challenging, is an excellent opportunity for growth," Nasser said, adding that he was looking at opportunities in the United States, India, Indonesia, Vietnam and China.
The CEO was speaking to reporters during a rare media visit to the company's extensive, well-guarded Dhahran headquarters, located near where American oilmen first struck the Arabian Peninsula's enormous crude reserves at Well Number 7 in 1938.
Besides proposing to sell a stake in the company, which would require it to release sensitive reserves data, Riyadh has asked Aramco to play a big role in developing industrial projects aimed at stimulating non-oil economic sectors.
Last month, Prince Mohammed said he expected the IPO would value Aramco at at least $2 trillion, but that he thought the figure might end up being higher. Any valuation would account for both oil price expectations and the size of Saudi Arabia's proven oil reserves.
Company officials said Saudi Arabia had discovered a total of 805.6 billion barrels of oil, of which 141.5 billion had already been produced and 260 billion barrels were considered "proven", the industry term for reserves that can definitely be extracted.
Aramco also had 403 billion barrels of reserves it could probably extract, they said, adding that it hoped to add another 100 billion barrels to total reserves by 2025 by increasing the recovery rate by 50-70 per cent using new technology.
Growing demand
Aramco expects global crude oil demand to grow by 1.2 million barrels per day this year, he said, and has seen increasing demand in the United States and India.
"We will meet the call on Saudi Aramco," Nasser said, adding that the company will increase capacity in future if needed, but that for the time being its maximum sustainable capacity would stay at 12 million bpd, with total capacity of 12.5 million bpd.
Saudi Arabia produced an average of 10.2 million bpd of crude in 2015, he said, adding there had been a big drop in oil output among non-conventional and even other conventional producers.
The expansion of the Khurais oilfield will come on stream in 2018, he said, adding that the latest stage of its expansion project at the southeastern Shaybah oil field would be finished "in a couple of weeks".
The increased capacity of 250,000 bpd, taking Shaybah's total production capacity to 1 million bpd, is aimed at rebalancing Saudi Arabia's crude oil quality and at compensating for falling output at other fields as they mature.
The immense Saudi Aramco complex in Dhahran resembles a small city, with its large residential complex, its own hospital, sports stadium and parks.
Inside a sleek control room, technicians monitored huge screens that showed via digital graphics the core elements of the business, from the progress of oil tankers across the oceans to the available crude grades and refining facilities.
At Aramco's research centre nearby, officials showed reporters "the cave", a colourful virtual representation on wraparound screens of drilling operations under the Shaybah oil field.
Industrialisation
Aramco's continued investment in downstream industry is seen as a crucial element of economic diversification plans. One example of this is its plans to sign an agreement soon with Saudi Basic Industries Corp. (Sabic), the state-run petrochemical and metals conglomerate, to jointly develop an oil-to-chemicals project, an official said in a briefing to reporters.
The project, likely to cost up to $30 billion, would chime with efforts to better integrate the kingdom's energy and industrial sectors. On Saturday, a new energy, industry and mineral resources ministry was created in place of the old oil ministry.
Another example is its huge ship repair and shipbuilding complex that it is developing at Ras Al Khair on the kingdom's east coast to be fully operational by 2021, Nasser said.
The first part of the shipbuilding complex will be ready by 2018, and it will eventually make oil rigs and tankers, Nasser said.
A presentation by the company said the complex would create 80,000 jobs and allow Saudi Arabia to reduce its imports by $12 billion, while increasing the country's gross domestic product by $17 billion.
Related Articles
Mar 21,2015
As the global energy industry stares transfixed at a spectacular drop in US rigs, Saudi Arabia is ramping up the number of machines drilling for oil and gas despite a sharp fall in the price of crude.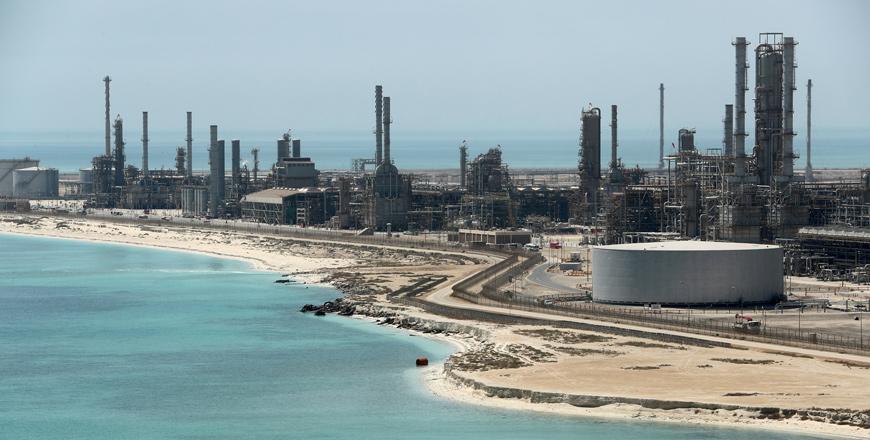 Jul 23,2018
DUBAI — A proposed reshuffle of state assets would allow Saudi Arabia to delay the listing of national oil giant Aramco until 2020 or beyond
Apr 29,2018
DUBAI - State run Saudi Aramco, the world's top oil company, said on Sunday it has appointed five new members to its board including a femal
Newsletter
Get top stories and blog posts emailed to you each day.