You are here
S.Arabia announces investment deals at Arab-China summit
$10b in investment agreements includes $5.6b MoU between Saudi investment
By AFP - Jun 12,2023 - Last updated at Jun 12,2023
RIYADH — Saudi Arabia announced on Sunday billions of dollars in investment deals between China and the Arab world, on the first day of the China-Arab business conference in Riyadh.
The meeting comes amid growing commercial and diplomatic ties between Beijing and Middle Eastern countries, including a recent landmark Chinese-brokered rapprochement between powerhouses Iran and Saudi Arabia that has shifted regional relations.
The oil-rich kingdom is hosting the conference, now in its 10th edition, for the first time. Over two days, it brings together more than 3,500 government and business officials from China and Arab countries, the Saudi investment ministry said in a statement.
The event "marked its first day with the signing of $10 billion in investment agreements", the statement said — the vast majority of which are for projects in Saudi Arabia or by Saudi firms and government entities.
This figure includes a $5.6 billion memorandum of understanding between the Saudi investment ministry and Human Horizons, a Chinese maker of electric and self-driving cars.
More than half of the total sum is in the memorandum of understanding, as well as a separate "cooperation agreement" and a "framework agreement" involving other companies, according to the statement.
It detailed agreements in various fields, including technology, agriculture, renewable energy, real estate, natural resources and tourism.
At the launch of the conference, Saudi Foreign Minister Prince Faisal Bin Farhan highlighted the potential in increased trade and economic ties between China and Arab countries.
"[This] meeting is an opportunity... to build a shared future towards a new, beneficial era for our peoples," he said.
According to the Saudi statement, a $533 million deal was concluded between AMR ALuwlaa Company and Zhonghuan International Group (Hong Kong) for the establishment of an iron factory in Saudi Arabia.
Saudi ASK Group and the China National Geological & Mining Corp inked a $500 million cooperation agreement on copper mining in the kingdom, the statement added.
Chinese President Xi Jinping in December visited Saudi Arabia — the world's largest crude exporter — prompting criticism from Riyadh's longtime ally the United States.
Asked about the US criticism, Saudi Energy Minister Prince Abdulaziz Bin Salman said: "I actually ignore it".
He added that business people "will go where opportunity comes your way".
During a trip to Riyadh last week, US Secretary of State Antony Blinken said Washington was "not asking anyone to choose between the United States and China".
Related Articles
Mar 27,2023
RIYADH — Saudi Aramco on Monday unveiled plans to acquire a 10 per cent stake in a Chinese petrochemicals firm, a deal the Gulf energy giant
Apr 08,2023
RIYADH — A Saudi Arabian diplomatic delegation arrived on Saturday in Tehran to discuss the reopening of its diplomatic missions after a sev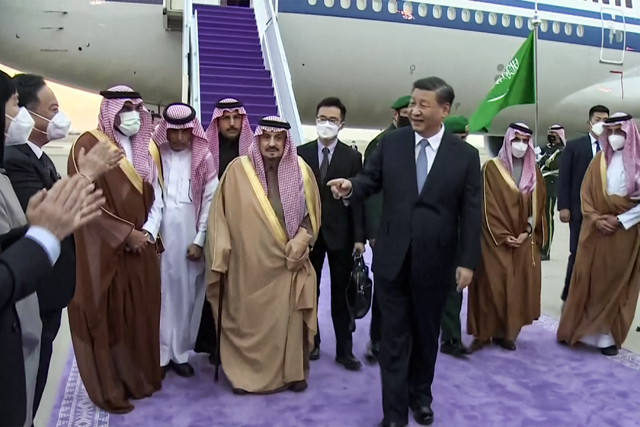 Dec 07,2022
RIYADH — Chinese President Xi Jinping touched down in Saudi Arabia on Wednesday for a visit that is likely to focus on energy ties but also