You are here
Ramadan rush brings business windfall to London
By AFP - Jun 17,2015 - Last updated at Jun 18,2015
A doorman at Harrods department store puts a customer purchases in the boot of a Dubai registered car in London on Wednesday (AFP photo)
LONDON — Inside an upmarket London department store a genteel Middle Eastern woman glides by, trailing flowing robes and the distinctive smell of oud, a perfume popular with Arab women.
Outside, petrol fumes fill the air and motors roar, as young Arab men rev the engines of some of the world's most expensive cars at a stop light.
Welcome to London's Ramadan rush, when thousands of wealthy Arabs descend on the British capital in the weeks before and after the Muslim fasting month, packing hotels and fuelling a shopping frenzy.
"It's a prestige thing. This is a place to show off your wealth, super car or your clothes. You want to go where you'll be seen, and London is where all the Arabs are," indicated Fahad Al Ajmi, a 32-year-old Kuwaiti. "I know Kuwaitis who take out loans just to come to London and show off. How crazy is that?"
Qatari shoppers spend an average £1,432 ($2,237, 1,992 euros) per transaction, the top amount among Middle Eastern visitors, closely followed by tourists from the United Arab Emirates (UAE) at £1,120.
'Part of the retail calendar'
Premium department stores and top brands have been quick to accommodate Britain's most well-heeled shoppers.
At Selfridges, the number of women wearing hijabs almost outnumbers other customers.
The premier London department store is one of several to adjust opening hours or specially train staff to serve Arab customers.
Global Blue, which provides British shops and hotels with cultural training, has a list of Dos and Don'ts. Among those: Do address the oldest man when speaking to a group. Don't give them a thumbs up, the gesture is interpreted in some Arab countries as obscene.
The company says Middle Eastern consumers are the top-spending foreign shopper group in Britain, representing 32 per cent of total international outlays to date this year, with Kuwait, Saudi Arabia, Qatar and UAE occupying four of the top five national spending slots.
Ramadan, which follows the lunar calendar and ends with the Eid Al Fitr celebration, this year starts on Thursday, with many Gulf Arabs holidaying before or after to stock up on gifts and outfits and escape searing temperatures back home.
"Much like the January sales and Christmas rush, Middle Eastern visitors celebrating Eid are now part of the retail calendar for many luxury brands," said Dave Hobday, the managing director of Worldpay UK, a payment processing company.
London, with its extensive transport links, global language, relative proximity, mild climate and historical ties to Gulf states, has become the destination of choice for many Ramadan tourists.
Several Gulf countries were former British protectorates, and their citizens have for decades come to London to shop, study, receive medical treatment and invest, most prominently in the city's booming property market.
"We like the English. As someone from the Gulf, we're used to them. We even like their food," laughed Khaled Abdullah Ghanem, 42, a Kuwaiti on holiday, noting that Britain is generally more welcoming towards Arabs than France or the United States.
Supercars and 'carparazzi'
The economic boom Arabs create isn't restricted to high-end shopping and hotels, with firms that hire super cars or transport them to London from the Gulf reporting brisk business.
Young Arabs driving around London's most exclusive shopping streets in Ferraris, Lamborghinis, and other ultra-expensive vehicles, often bearing Middle Eastern number plates, have become an annual fixture.
The cavalcades of costly automobiles are a nuisance to some, but are welcomed by car enthusiasts, or "Carparazzi", who stalk the streets around posh department stores like Harrods and Harvey Nichols for rare vehicles, and share videos and photos of them online.
"Ramadan is a busy time for us... Quite often the whole family will travel, sometimes with security too. We have used Rolls Royce and Bentleys for some individuals and often use Mercedes Vianos for the security team," indicated a spokesperson for Signature Car Hire, which offers prestige vehicles to clients including the UAE and Qatari royal families.
The Lamborghini Aventador, one of the world's most expensive super cars, rents for £1,995 pounds a day. However, many Gulf visitors prefer to bring their own vehicles, paying as much as £12,000 for return shipping, according to media reports.
Related Articles
Aug 21,2014
London police on Thursday tried to reassure UAE tourists that the city's main shopping streets were safe to visit, after the Gulf state's foreign ministry warned visitors to avoid certain areas.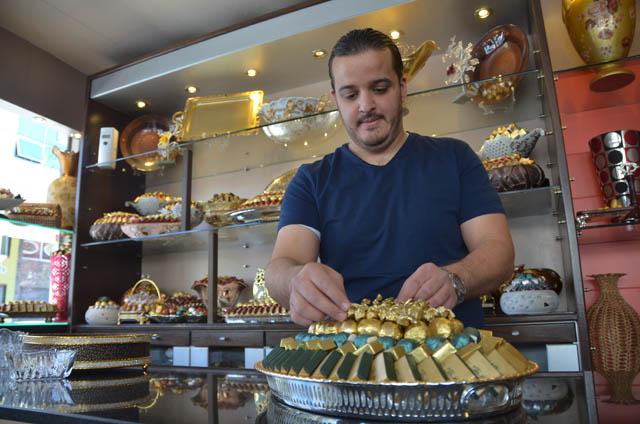 Jul 26,2014
With the approach of the Eid Al Fitr holiday, consumers' demand for sweets, especially mamoul and chocolate, has increased significantly.
Aug 30,2014
A government plan to combat Venezuela's food shortages by fingerprinting shoppers in grocery stores has sparked a backlash ranging from violent street protests to social media campaigns ridiculing the idea.
Newsletter
Get top stories and blog posts emailed to you each day.