You are here
Pound, FTSE slide on latest Brexit tensions
Oil prices fall more than 6 per cent
By AFP - Sep 08,2020 - Last updated at Sep 08,2020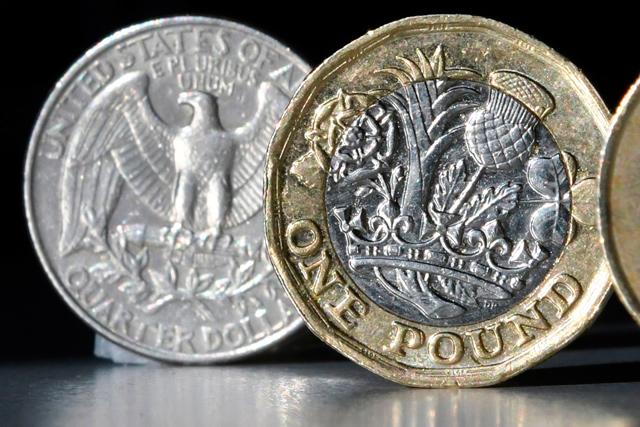 A British one pound sterling coin and a US quarter dollar coin are arranged and photographed in central London, on October 5, 2017 (AFP file photo)
LONDON — Sterling slumped close to a one-month low against the dollar on Tuesday as investors fretted over heightened Brexit tensions ahead of crunch trade talks between London and Brussels.
In midday deals, the pound dropped more than 1 per cent versus the greenback to $1.3022 — a level last seen on August 12 — before edging back slightly. It also lost ground against the euro to extend a four-day losing streak.
The pound began its fall on Monday after Prime Minister Boris Johnson revived the prospect of a no-deal Brexit, saying if an EU trade deal is not struck by October 15 then there would not be one.
On Wall Street, coming off a long Labour Day holiday weekend, US tech stocks took a battering, with Tesla slumping more than 15 per cent while oil prices plunged more than 6 per cent as the coronavirus pandemic weighed on the outlook for demand.
About 10 minutes into trading, the Dow Jones Industrial Average was down 1.6 per cent while the tech-rich Nasdaq Composite Index lost 3 per cent for a third straight decline.
Sterling fell on confirmation that the head of the UK government's legal department has resigned over Johnson's last-minute changes to Britain's EU Withdrawal Agreement.
Northern Ireland Secretary Brandon Lewis admitted that the changes break international law in "tightly defined circumstances".
The eighth round of negotiations resume this week, with both sides talking tough as the end of a transition period approaches.
'Brexit wheels fall off?'
"It looks like the wheels of the Brexit bus are finally falling off, as news of the head of UK government legal [department]resigns," said analyst Sebastien Clements at international payments company OFX.
"Whilst we should caution that this indicates disharmony, it is also possibly an overreaction by the market to a negative headline, and does not necessarily make a deal with the EU less likely than it was before," Markets.com analyst Neil Wilson added.
Asia ticks higher
Asian stocks had ticked higher following steep drops last week, as investors brushed off US President Donald Trump's latest anti-China salvo.
Despite continued uncertainty about the timetable for economic recovery — and with no Covid-19 vaccine yet available — investors remain convinced central banks around the world are willing to play backstop and keep monetary policy supportive for years to come.
Meanwhile, Fitch Ratings indicated it expected global gross domestic product (GDP) to fall by 4.4 per cent in 2020, a small upward revision from the 4.6 decline forecast in June with China regaining its pre-virus level of GDP and US, French and British retail sales bouncing back.
"But we doubt this will become the much-lauded 'V'-shaped recovery," Fitch warned in its latest Global Economic Outlook.
Newsletter
Get top stories and blog posts emailed to you each day.