You are here
OPEC fails to agree production ceiling after Iran pledges output boost
By Agencies - Dec 05,2015 - Last updated at Dec 05,2015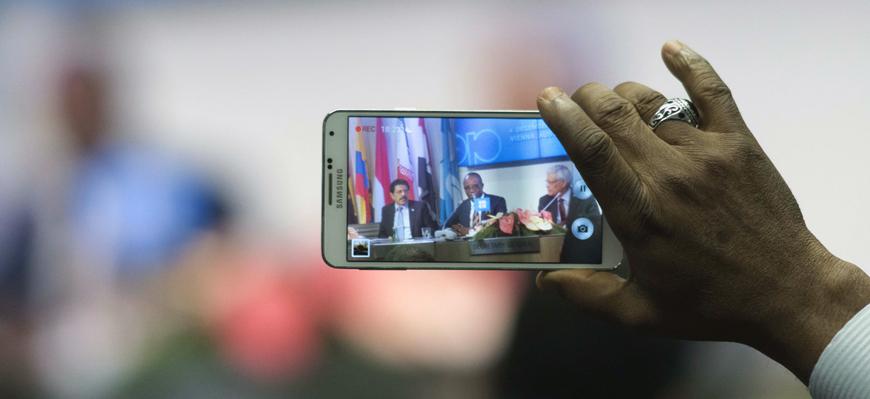 A journalist is recording with a smartphone Nigeria's Minister of State for Petroleum Resources and President of the OPEC Conference Emmanuel Ibe Kachikwu and OPEC's Secretary General Abdullah Salem Al Badri of Libya speaking during a news conference after a meeting of the Organisation of the Petroleum Exporting Countries (OPEC) at OPEC headquarters in Vienna, on Friday (AFP photo)
VIENNA — Members of the Organisation of Petroleum Exporting Countries (OPEC) failed to agree an oil production ceiling on Friday at a meeting that ended in acrimony, after Iran said it would not consider any production curbs until it restores output scaled back for years under Western sanctions.
Friday's developments set up the fractious group for more price wars in an already heavily oversupplied market.
Oil prices have more than halved over the past 18 months to a fraction of what most OPEC members need to balance their budgets.
The hands-off decision pushed US oil back below $40 a barrel on Friday, after closing at the level Wednesday for the first time since August.
US benchmark West Texas Intermediate tumbled $1.11, or 2.7 per cent, to $39.97 a barrel on the New York Mercantile Exchange.
Brent North Sea crude for January delivery, the international benchmark for oil, fell to $43 a barrel in London, down 84 cents (1.9 per cent) from Thursday's settlement.
"The market did not take the announcement out of OPEC very well today as OPEC appears to really be in disarray among its members and they took the path of least resistance, which was to do nothing and wait to see if things get better," said Andy Lipow of Lipow Oil Associates.
James Williams at WTRG Economics said the prolonged interval before the next OPEC meeting indicates "they do not seem to think that there will be an agreement this spring."
"By then, they have a better feel for Iranian production; how much damage has been done to shale production; and how many offshore and oil sands projects have been delayed or scrapped," Williams added.
Banks such as Goldman Sachs predict they could fall further to as low as $20 per barrel as the world produces more oil than it consumes and runs out of capacity to store the excess.
A final OPEC statement was issued with no mention of a new production ceiling. The last time OPEC failed to reach a deal was in 2011 when Saudi Arabia was pushing the group to increase output to avoid a price spike amid a Libyan uprising.
"We have no decision, no number," Iranian Oil Minister Bijan Zangeneh told reporters after the meeting.
OPEC's Secretary General Abdullah Al Badri said OPEC could not agree on any figures because it could not predict how much oil Iran would add to the market next year, as sanctions are withdrawn under a deal reached six months ago with world powers over its nuclear programme.
"We cannot put a number now because Iran is coming, we don't know when Iran will come, and we will have to accommodate Iran one way or the other," said Al Badri.
"We decided to postpone this decision to the next OPEC meeting [in June] until the picture will be more clearer for us to decide on a number," he added.
Most ministers left the meeting without making comments.
Badri tried to lessen the embarrassment by saying OPEC was as strong as ever, only to hear an outburst of laughter from reporters and analysts in the conference room.
'Everyone welcome'
A year ago, Saudi Arabia pushed through an OPEC decision to defend market share instead of cutting output, ultimately hoping to drive high-cost producers such as US shale firms out of the market.
Many poorer OPEC members have said the group's largest producer was effectively twisting their arms, prompting Saudi Oil Minister Ali Al Naimi, to say he would listen to everyone this time.
Iran has made its position clear ahead of the meeting with Zangeneh saying Tehran would raise supply by at least 1 million barrels per day (bpd), or 1 per cent of global supply, after sanctions are lifted. The world is already producing up to 2 million bpd more than it consumes.
Naimi earlier had said he hoped growing global demand could absorb an expected jump in Iranian production next year: "Everyone is welcome to go into the market."
He made no comment after the meeting.
At the meeting, OPEC welcomed back returning member Indonesia, its 13th member. The group accounts for about a third of world oil output and does not include Russia or the United States, which rival Saudi Arabia as the world's biggest producers.
"The pressure will build on OPEC and oil prices. At this rate of overproduction we will run out of onshore storage in the first quarter," indicated Gary Ross, a veteran OPEC watcher and the founder of PIRA think tank.
'Dysfunctional family'
Initially on Friday there was no indication of a repeat of the 2011 meeting, which Naimi had called the "worst ever".
OPEC sources told Reuters the ministers had agreed to roll over existing policies during the first couple of hours of deliberations. That involved raising the collective ceiling, excluding new member Indonesia, to 31.5 million bpd from the previous 30 million, effectively bringing it in line with real production numbers.
But later, all decisions appeared to have been overturned, leaving the group with no official policy. It was not immediately clear what happened behind closed doors.
"Now the Viennese OPEC family gathering is over, the music has stopped and they're sweeping up, but nothing has changed," said Christopher Wheaton, energy fund manager and analyst at Allianz Global Investors
"The oil production remains unchanged, the oil production quota remains divorced from real-world oil production, and the slightly dysfunctional OPEC family, like most families, has gone its separate ways," he added.
OPEC President and Nigerian Oil Minister Emmanuel Ibe Kachikwu said a reduction "is not going to make much of an impact in the market".
"We have said on more than one occasion that we are willing to cooperate with anyone that will help balance the market with us," Naimi told reporters gathered at OPEC headquarters in Vienna.
"Everyone is concerned about... the prices, no one is happy," said Iraq's Oil Minister Adil Abd Al Mahdi.
Indonesia's re-entry will "simply acknowledge the reclassification of Indonesian output from non-OPEC to OPEC production", said Julian Jessop, analyst at Capital Economics research group. "It would not amount to an increase in overall global supply."
OPEC, whose members face pressure from cleaner fuel technologies, also had a word for the Paris climate summit.
OPEC's final communique stated that "climate change, environmental protection and sustainable development are a major concern for us all".
Related Articles
Jun 06,2015
VIENNA — The Organisation of the Petroleum Exporting Countries (OPEC) agreed to stick by its policy of unconstrained output for anothe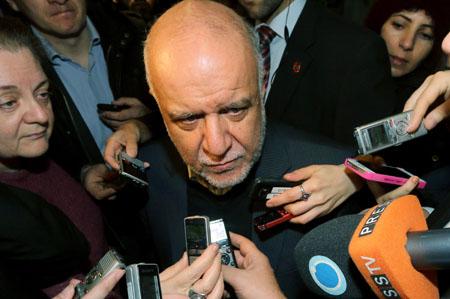 Nov 26,2014
Organisation of Petroleum Exporting Countries (OPEC) Gulf oil producers will not propose an output cut on Thursday, reducing the likelihood of joint action by OPEC to prop up prices that have sunk by a third since June and raising the prospect of a global oil price war.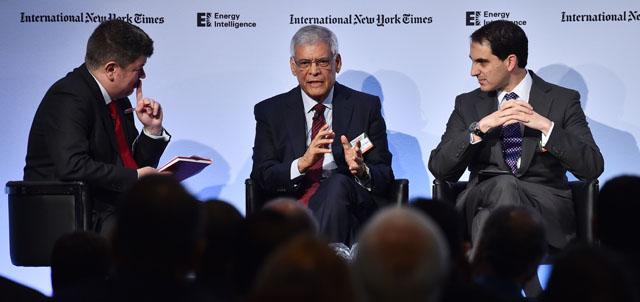 Oct 29,2014
Oil production by members of the Organisation of Petroleum Exporting Countries (OPEC) is unlikely to change much in 2015 and there is no need to panic at the crude price drop, OPEC's secretary general said on Wednesday, adding to indications the exporter group is in no hurry to cut output.
Newsletter
Get top stories and blog posts emailed to you each day.