You are here
Mexico's attorney general vows to crack down on money laundering
Report says prosecution has not been effective in fighting illicit finance
By Reuters - Jan 07,2018 - Last updated at Jan 07,2018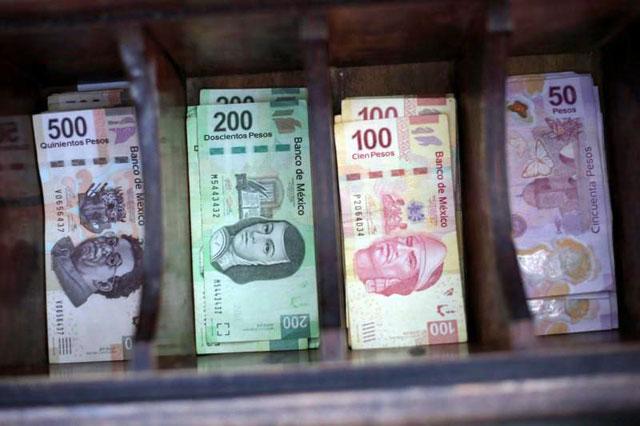 Mexican peso banknotes are pictured at a currency exchange shop in Ciudad Juarez, Mexico, November 10, 2017 (Reuters file photo)
MEXICO CITY — Mexico's acting attorney general said on Thursday prosecutors were already working to improve investigations and cooperation with other countries following an international report that blasted the country for failing to punish money launderers.
Alberto Elias Beltran, Mexico's acting attorney general, told Reuters in an interview that the country was seeking to work better with the United States and Colombia to target financial networks of multinational drug gangs.
Earlier this week, the Financial Action Task Force (FATF), an international organisation based in Paris that sets global standards for fighting illicit finance, criticised Mexico for not systematically prosecuting money launderers.
"There are important findings of opportunities for improvement at the attorney general's office," Elias said, noting in particular the room to improve the quality of money laundering investigations and the seizure of assets.
The FATF report highlighted that Mexico has been slipping in successful convictions. The country already lagged regional peers such as Colombia and Brazil, both of which have made strides in setting up independent prosecutors.
The report also noted the "low level of effectiveness" in prosecutions and seizures and an "extremely low level of effectiveness" in punishing corruption.
"We are working with the specialised offices [that target money laundering] where we are strengthening protocols," Elias said, adding that government agencies were also working to implement so-called parallel investigations.
The FATF report underscored that Mexico was largely failing to carry out parallel money laundering investigations to match probes of organised crime, drug trafficking and corruption.
The FATF recommends such parallel investigations, and its report on Mexico underscored haphazard, uneven results of current investigations, noting low conviction rates and tiny seizures of assets compared with the amount of illicit proceeds that are generated in Mexico.
Related Articles
Jan 11,2018
WASHINGTON — The US Justice Department announced Thursday creation of a special task force to investigate what it called "narcoterrorism" by
Dec 17,2017
DUBAI — Saudi Arabia has high hopes that a campaign of arrests to crack down on corruption will improve its chances of joining the Financial
Aug 02,2016
AMMAN — Jordan was ranked third among Arab countries and 35th internationally on the 2016 Basel Anti-Money Laundering (AML) Index.The curren
Newsletter
Get top stories and blog posts emailed to you each day.