You are here
Merkel's conservatives promise full employment by 2025
By Reuters - Jul 03,2017 - Last updated at Jul 03,2017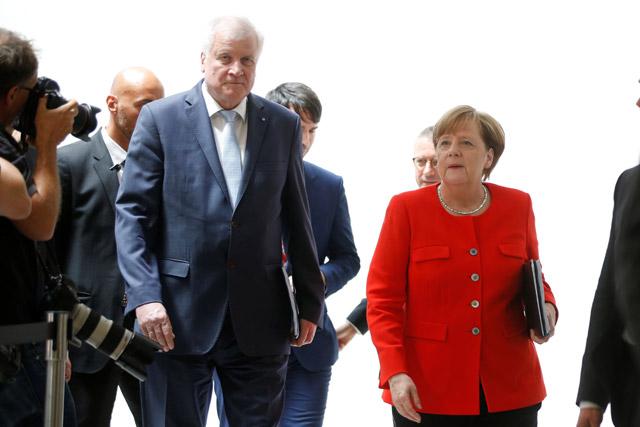 German Chancellor and head of the Christian Democratic Union Angela Merkel (right) and head of Christian Social Union Horst Seehofer leave the room after a news conference after a meeting of their conservative bloc to discuss their election programme in Berlin, Germany, on Monday (Reuters photo)
BERLIN — Chancellor Angela Merkel's conservatives promised Germans more police, more homes and full employment within eight years when they presented their programme on Monday for an election in which she will seek a fourth term in office.
With Europe's biggest economy growing robustly, Merkel's Christian Democrats (CDU) and their Bavarian sister party, the Christian Social Union (CSU), are able to offer voters tax relief and more investment after the September 24 ballot. The allies have put aside their differences over migrants - the CSU wants a cap to which the CDU will not agree - and German media have reported that conservative lawmakers now refer to Merkel and CSU leader Horst Seehofer as the "twins".
The conservatives hold a clear opinion poll lead over the centre-left Social Democrats (SPD), but would still need to team up with another party to govern.
On Monday they added the goal of full employment — which they define as a jobless rate of less than 3 per cent — by 2025 to their list of campaign pledges.
"We think we can do this," Merkel told a news conference with Seehofer convened to present the election programme, adding that jobs were central to the quest for "prosperity and security for all''.
Germany's jobless rate is currently at a post-reunification low of 5.5 per cent. A level of 3 per cent has not been seen since the "Economic Miracle" boom of the mid-1970s.
The conservative parties want to add 15,000 police officers in the 16 federal states, build 1.5 million homes during the next parliamentary term, and expand Germany's broadband network.
This responds to pressure from the International Monetary Fund and European Commission, which have said Berlin has room to lift investment infrastructure, which would help reduce its huge current account surplus and benefit weaker euro zone peers.
Related Articles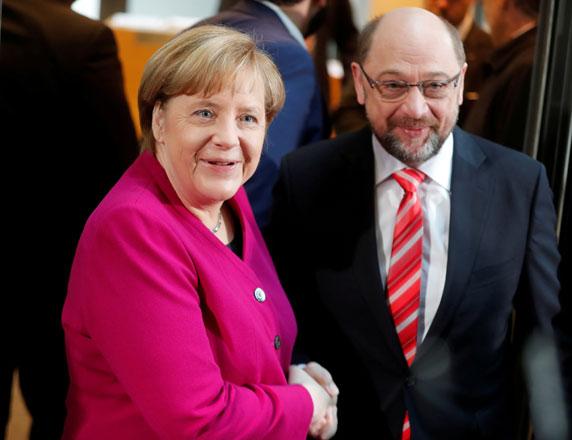 Jan 07,2018
BERLIN — Chancellor Angela Merkel said on Sunday she was optimistic her conservatives and the Social Democrats (SPD) could cut a deal as the
Oct 08,2017
BERLIN — Two weeks after winning elections with a reduced majority, German Chancellor Angela Merkel took a first step on Sunday toward formi
Sep 25,2017
BERLIN — Chancellor Angela Merkel said Monday she would talk with all mainstream parties about trying to form a "good, stable" government af
Newsletter
Get top stories and blog posts emailed to you each day.