You are here
Isuzu doubles market share, eyeing up No.1 commercial vehicle spot
By Ghaith Madadha - Nov 09,2017 - Last updated at Nov 12,2017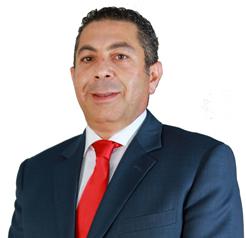 AMMAN — It is not quite often that Isuzu changes official distributers, but when it does so it seems to yield a big difference as it is the case in Jordan.
The market share of Isuzu, the Japanese commercial vehicle manufacturer, has risen dramatically in Jordan since a new dealership was installed two years ago, Isuzu Motors International Vice President Waleed Noubani said.
Interviewed by The Jordan Times in Tokyo, Japan, Noubani said restructuring the company's operations in the country after "some difficulties", and having assigned Qudra Automotive as a new sole distributor in the Kingdom, its market share has doubled from 8 per cent in less than two years.
Currently hovering between "second and third in market share", Isuzu's "target is to be number one", according to Noubani.
With Isuzu's support and Qudra's market activity, he said he expects Isuzu to "take a leading position in Jordan… by the end of 2018, or early 2019".
The region accounts for 17 per cent of Isuzu's global business, featuring two knock-down kit assembly facilities for the Saudi and Egyptian markets, however, Noubani believes that is still further scope for expansion in the Middle East, and Syria, in particular.
Hopeful that a resolution to the Syrian conflict comes through "within the next 12 months", Noubani said "Syria is a big country, and needs huge infrastructure investments, so we see a lot of growth coming our way," adding that he is confident that the opening of Jordanian borders with Syria and Iraq will help the Jordanian economy.
Noubani also highlighted Isuzu's drive towards greater efficiency, including Compressed Natural Gas powered vehicles (CNG) and hybrid models, both already available in Japan. "Commercial vehicles will need more time than passenger cars in terms of electrification [and that] due to the size and power, these batteries would need to haul over 10-tonnes," he elaborated.
Producing less pollutants than petrol- and diesel-powered vehicles CNG trucks are already in service in Japan, with plans afoot to introduce such vehicles to the UAE which is "the leader in CNG infrastructure" in the region with CNG available more regularly at filling stations.
Asked whether Isuzu will be looking to introduce CNG to other Middle East countries, Noubani said that Isuzu will "start lobbying government officials, country by country. We've already started with the UAE, and other countries will follow shortly."
Noubani said that Isuzu has been consulting local dealers about what they want to introduce and are "working hand-in-hand with them, and… are also relying on our local dealers in each country to lobby government officials to start building infrastructure".
In the case of Jordan, where hybrid and electric vehicles already benefit from government incentives in terms of duties and partnerships, he underscored Qudra's position, adding that "they have over 27 per cent market share in the automotive segment. as a whole," as part of a wider automotive import network.
In addition to CNG, hybrids and an electric prototype, Isuzu offers an Eco-drive seminar to fleet operator drivers.
Related Articles
Oct 30,2017
Unlike any other experience in 15-years as a motoring writer, driving a fully-loaded Isuzu Giga E-Series articulated lorry — or tractor trai
Dec 21,2017
AMMAN — Automobile agents on Thursday urged the government against increasing custom duties on small-engine hybrid vehicles, warning that su
Sep 29,2015
AMMAN – As authorities are pushing to promote the use of electric cars in the Kingdom, the Vocational Training Corporation (VTC) has started
Newsletter
Get top stories and blog posts emailed to you each day.