You are here
India pledges billions for farmers in 'populist' budget
By Agencies - Feb 29,2016 - Last updated at Feb 29,2016
Indian workers carry a bag containing copies of the federal budget for the year 2016-17, that were distributed later to lawmakers at the parliament house in New Delhi, India, on Monday (AP photo)
NEW DELHI — India's government pledged billions of dollars to help struggling farmers and boost the rural economy as it unveiled its annual budget on Monday, with an eye on kickstarting growth and boosting its flagging popularity.
India is now the world's fastest-growing major economy, but two years of drought and a failure to create jobs for a burgeoning young population has left millions of rural Indians struggling and led to deadly protests in recent weeks.
The government came to power nearly two years ago promising to transform India's economic fortunes, but has been hampered by the global economic slowdown and a failure to push much-needed reforms through parliament.
Finance Minister Arun Jaitley acknowledged the challenges as he presented the budget in parliament, but said he had a "vision to transform India".
"We have a desire to provide socio-economic security to every Indian, especially the farmers, the poor and the vulnerable," he added. "We have a dream to see a more prosperous India and a vision to transform India."
Jaitley pledged to spend 359 billion rupees ($5.2 billion) on doubling the income of India's estimated 120 million farmers over the next five years through measures including a crop insurance scheme and better access to markets.
India also plans to raise credit available to farmers to 9 trillion rupees for 2016-2017, and has pledged to ensure all the country's villages would have electricity within two years.
It will increase spending on the National Rural Employment Guarantee Scheme, which guarantees 100 days of employment on public works each year for any household that requests it.
Stalled reforms
Analyst Samir Saran said the ruling Bharathiya Janata Party (BJP) was "responding to the political reality" ahead of crucial state elections this year and next.
"The BJP has to lay greater emphasis on social policy, it has to deliver a more populist budget," added Saran, a senior fellow at the Observer Research Foundation think tank. "The government is also responding to the fact that farmers have suffered two bad monsoons and there is great stress in the rural sector."
The BJP needs to perform well in those elections in order to push stalled economic reforms through the national parliament, where it lacks a majority.
These include Prime Minister Narendra Modi's flagship plan to introduce a national Goods and Services Tax (GST) to replace myriad complex state and national levies seen as deterring much-needed investment.
India is seen as a relative bright spot in the world economy, but feeble global demand has caused its exports to shrink for 14 months in a row and investment remains weak.
On Friday, the government forecast gross domestic product (GDP) would expand between 7 per cent and 7.75 per cent in the next financial year, marking little change from this year's levels.
The main Sensex index on the Bombay Stock Exchange fell 300 points during Jaitley's presentation of the budget, which included a hefty 23 per cent pay rise for millions of civil servants and a pension scheme for retired soldiers.
The two schemes will add billions of dollars to the government's spending bill over the next year, but Jaitley said it would stick to its ambitious target to cut the fiscal deficit to 3.5 per cent of the GDP in 2016-2017.
He also pledged to spend 2.21 trillion rupees on improvements to its creaking roads and other infrastructure seen as key to attracting investment for manufacturing.
The government will also inject 250 billion rupees into India's ailing public sector banks, which are weighed down by bad loans.
Despite a major push to boost manufacturing, farming remains by far the biggest employer in India and the sector is struggling after two years of weak monsoon rains.
This month the Jats, traditionally a farming caste, sparked riots in northern India to press their demands for better access to government jobs and education. They say they are struggling to make a living in farming.
The BJP performed poorly in elections in the impoverished eastern state of Bihar last year and faces polls in other major farming states this year and next.
According to activists, a complete overhaul of credit and subsidies to farmers is needed as government action to increase spending on irrigation and crop insurance is not enough to end a cycle of indebtedness that has led to thousands of farmer suicides.
Drought in many parts of the country has hit rice, cotton and other crops, and lower world commodity prices have added to the farmers' plight.
More than half India's farming households are in debt, owing banks and moneylenders hundreds of millions of rupees, despite numerous loan write-offs by successive governments.
Tens of thousands of farmers across the country have killed themselves over the past decade, several farmers' lobbying groups said.
Farmers' groups have been demanding better monsoon forecasts, bigger fertiliser subsidies and a state-funded insurance scheme for all crops, to help farmers improve yields and help prevent crop failures.
"The need of the hour is a focus on the dying farmer community," said activist Kishor Tiwari, who heads a task force set up to recommend action to tackle farmer suicides in western Maharashtra state, which accounted for more than half of all suicides among Indian farmers in 2014.
"Debt is a core issue, and it needs a long-term plan to resolve it," he added.
While inter-generational bonded labour in the farming community is no longer as common as before, the number of poor and landless workers who are in debt bondage is rising, particularly in agriculture, brick kilns and stone quarries, activists say.
Indian farmers seldom own the land they cultivate, and often take loans to buy seeds and fertilisers. Only about one-tenth of India's 263 million cultivators take out crop insurance because of the high premiums.
Unpredictable weather and low crop yields have made farming unviable for many. Financial assistance provided by the government usually doesn't cover the losses, and some farmers have migrated to urban areas for low-paid jobs, even selling their blood to make ends meet.
Tiwari, in a plan submitted to the Maharashtra government, has recommended direct cash subsidies for farmers instead of the current indirect agriculture credit.
He also suggested the central and state governments help underwrite full crop insurance cover and promote the adoption of organic farming methods in drought-prone districts, to help restore soil quality and benefit from the higher price of organic produce, even though yields are lower.
A total of 5,650 farmer suicides were recorded in India in 2014, more than half of them in Maharashtra, according to the National Crime Records Bureau. The states of Madhya Pradesh, Telangana, Chattisgarh and Karnataka also had large numbers of farmer suicides.
The Cabinet in January cleared a proposal for the country's first major crop-damage insurance scheme. The government has said it will reduce premiums to be paid by farmers, and ensure faster settlements.
Delays in estimating crop damage and paying claims are a big challenge, said Sunita Narain, director of non-profit Centre for Science and Environment in New Delhi.
The government must encourage the use of new technologies, including remote sensing and mobile-based image capturing systems to improve yield data and claims processing, she added.
"Insurance coverage has to be universal and payouts enough to cover losses," she wrote in a blog.
Farm output contributes about 15 per cent to India's $2 trillion economy, and farmers and rural communities are a large and powerful vote bank.
Politicians have often promised to waive farmers' loan repayments, but have not addressed the underlying reasons for their chronic indebtedness, Tiwari said.
"Loan waivers are not the solution; it is like a simple dressing for a cancer tumour. You need to excise the tumour and address the cause of the disease," he added.
Related Articles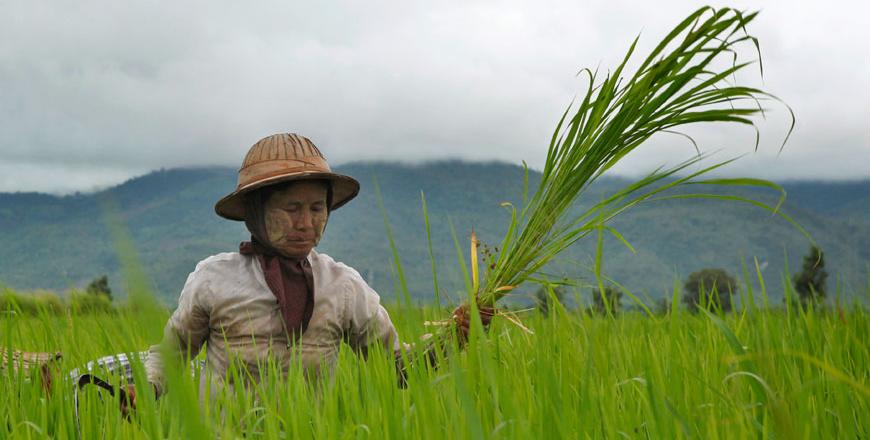 Oct 07,2015
PARIS — Poor farmers the world over are increasingly falling prey to natural disasters, droughts and torrential rain largely due to climate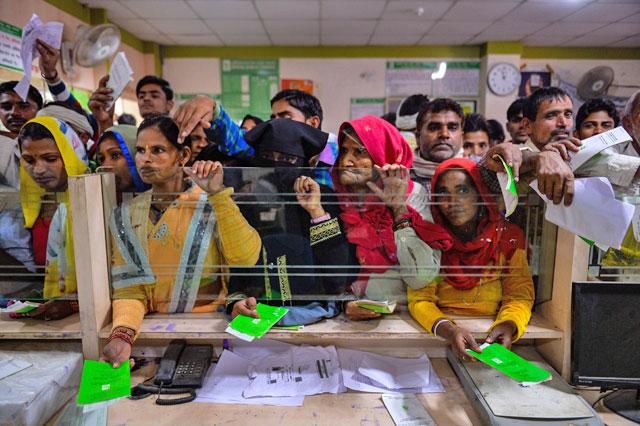 Jan 30,2017
NEW DELHI — Limits on ATM withdrawals will be partially lifted from February 1, India's central bank said Monday, as a cash crunch sparked b
Dec 20,2014
India's finance minister appealed to opposition parties Saturday to cooperate in passage of economic reform legislation, warning otherwise Asia's third largest economy "will miss the bus" again.
Newsletter
Get top stories and blog posts emailed to you each day.