You are here
Gold demand hits eight-year low — industry body
By AFP - Aug 03,2017 - Last updated at Aug 03,2017
Customers crowd around a jewellery showroom during Akshaya Tritiya, a major gold-buying festival, in Kochi, India, April 28 (Reuters file photo)
LONDON — Gold demand slumped 14 per cent in the first half of 2017 to hit the lowest level in eight years as US traders exited the haven investment, the World Gold Council (WGC) said on Thursday.
Global demand dropped to 2,004 tonnes in the first six months of the year compared with the first half of 2016, the WGC said in its latest quarterly report.
"The last time H1 demand was lower... was in 2009 when it totalled 1,853 tonnes," a spokeswoman confirmed to AFP.
Most of the drop in demand came in the second quarter, with it sliding 10 per cent to 953.4 tonnes compared with the April-June period in 2016, the WGC added.
John Mulligan, a council director, noted US investors had exited exchange-traded funds (ETFs) for gold at a greater extent than their European peers, as the Federal Reserve embarks on a course of raising interest rates.
"The European ETF investor is a lot less volatile, a lot more stable and a lot less likely to to-and-fro in terms of liquidation than their US counterparts," he said.
ETFs allow investment without trading on the futures market.
"Demand for the first half of 2017 was down 14 per cent compared to last year, but in some respects the market was in better shape," added Alistair Hewitt, the WGC's head of market intelligence.
Last year's growth was solely down to record ETF inflows, while consumer demand slumped.
"So far this year, we have seen steady ETF inflows in Europe and the US. Jewellery demand has recovered with good growth in India, while retail investment and technology demand is up too," Hewitt said.
Gold demand had slumped 18 per cent in the first quarter from a year earlier as US investors abandoned the precious metal after Donald Trump's presidential election win.
Gold is viewed as a haven investment in times of economic uncertainty, but there is now less market focus on Trump's ability to pass through reforms compared with a few months ago.
A stronger dollar, thanks in part to higher US rates, has also led investors to move away from gold and into the greenback.
Related Articles
Apr 19,2014
China's annual demand for gold could jump around 20 per cent by 2017 as more of its increasingly wealthy population seek new ways to make money, the World Gold Council (WGC) predicted last week.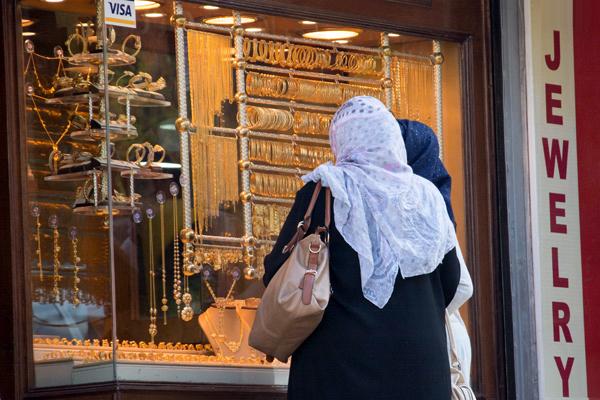 Feb 14,2016
LONDON — Gold prices glistened last week, striking one-year highs as the precious metal benefitted from its status as a haven investment in
Feb 18,2014
China overtook India as the biggest consumer of gold in the world last year, ramping up its demand by 32 per cent from the 2012 level, the World Gold Council (WGC) reported on Tuesday.
Newsletter
Get top stories and blog posts emailed to you each day.