You are here
Global volatility shaking up worldwide living costs
By AFP - Mar 12,2016 - Last updated at Mar 13,2016
People sit in a cabin on the Singapore Flyer observatory wheel overlooking the skyline of the central business district in Singapore in this July 16, 2015 file photo (Reuters photo)
SINGAPORE — Yo-yoing currencies, spiralling inflation and plunging commodity costs are shaking up the rankings of the world's most expensive cities, with Tokyo sliding and Shanghai shooting up.
Political uncertainty and global economic volatility have up-ended the list of pricey places, according to a cost of living index compiled by the Economist Intelligence Unit (EIU).
"Only eight cities of the 133 surveyed have seen their ranking position remain unchanged in the last 12 months," the EIU said.
Perennially expensive Japan, whose capital was the planet's costliest city for much of the last two decades, has dropped against global peers, thanks to a much weaker yen.
Tokyo, in 11th place globally, is now only as expensive as Shanghai, where rising prices are hitting consumers in the pocket.
The collapse of the Brazillian real has sent the relative cost of living in Rio De Janeiro down 52 places to 113th, making it half as costly as New York.
"In nearly 17 years of working on this survey I can't recall a year as volatile as 2015," said Jon Copestake, an EIU survey editor.
"Falling commodity prices have created deflationary pressures in some countries, but in others, currency weakness caused by these falls has led to spiralling inflation," he added.
Singapore retains the top spot in the list, thanks chiefly to the eye-watering cost of owning a car in the city state, with Zurich and Hong Kong tied in second place.
Hong Kong's currency peg to the US dollar was propelling the former British colony up the rankings, the EIU said, with the value of the greenback pushing New York into the top 10 and to its highest place since 2002.
Asian cities tended to be the priciest locations for general grocery shopping, with Seoul the most expensive for everyday food, while recreation and entertainment was a big drain for European locations.
Resource-backed currencies like the Australian dollar also weakened because of lower commodities demand from China, edging cities like Sydney and Melbourne out of this year's top 10 list.
List of the 10 most expensive cities in the EIU survey:
1- Singapore
2- Zurich
3- Hong Kong
4- Geneva
5- Paris
6- London
7- New York
8- Copenhagen
9- Seoul
10- Los Angeles
Related Articles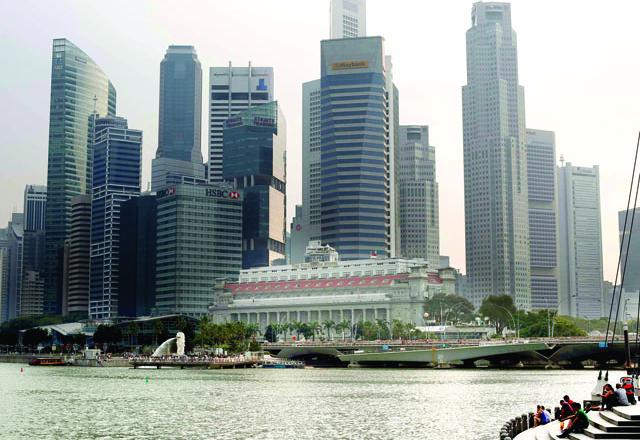 Mar 04,2014
The soaring cost of cars and utilities as well as a strong currency have made Singapore the world's most expensive city, toppling Tokyo from the top spot, according to a survey published on Tuesday. 
Apr 07,2017
AMMAN – Jordan ranked 65th globally in terms of the average net salary, with the monthly income standing at around $637, according to Numbeo
Mar 23,2017
AMMAN — Amman, together with Milan, ranked 29th internationally in the Worldwide Cost of Living Report 2017, which also ranked the capital a
Newsletter
Get top stories and blog posts emailed to you each day.