You are here
Dow crosses 23,000 for 1st time after strong earnings
By AFP - Oct 17,2017 - Last updated at Oct 17,2017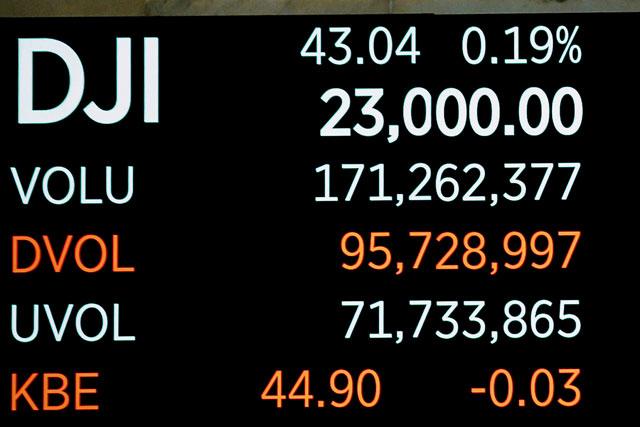 A screen shows the Dow Jones Industrial Average as it briefly traded at 23,000 on the floor of the New York Stock Exchange in New York, US, on Tuesday (Reuters photo)
NEW YORK — The Dow Jones index hit 23,000 for the first time on Tuesday, boosted by a spate of solid earnings reports from blue-chip companies and extending a Wall Street rally.
Near (15:40 GMT), the Dow Jones Industrial Average was at 22,977.91, up 0.1 per cent from Monday's closing price, after earlier hitting 23,002.20.
The broad-based S&P 500 lost less than 0.1 per cent at 2,556.64, while the tech-rich Nasdaq Composite Index was flat at 6,624.08.
The two biggest gainers in the Dow were Johnson & Johnson, up 2.2 per cent after earnings topped analyst expectations, and United Healthcare, which surged 4.9 per cent after lifting its full-year profit forecast.
US stocks have broken numerous records since President Donald Trump last month released an outline of his tax cut plan. Other key factors behind the boom include relatively low interest rates and solid earnings.
Still, analysts are cautious about the market's ability to rise further in the coming weeks.
A note last week from Wells Fargo Investment Institute predicted the S&P 500 would experience a "modest pullback" by the end of the year, while Goldman Sachs said the trajectory would depend on the fate of the tax cut plan.
Goldman projected the S&P 500 would fall to 2,400 without tax reform, but could rise to 2,650 if the plan is enacted.
Netflix dropped 2.1 per cent after reporting that quarterly profits jumped to $129 million, more than double that of the year-ago period. The streaming company announced plans to boost spending on original content to $7 to $8 billion in 2018, up from $6 billion in 2017.
Boeing shed 0.4 per cent following news that archrival Airbus took a stake in an airliner programme of Canadian plane manufacturer Bombardier that had been mired in a US-Canada trade dispute. Some analysts said the tie-up would sharpen competition for Boeing in the narrow-body market.
Procter & Gamble slid 0.6 per cent after disclosing that preliminary vote results showed shareholders rejected activist Nelson Peltz'S board election by a scant 0.2 per cent. Peltz'S firm Trian said it would await the final results and that the outcome still cannot be determined.
Related Articles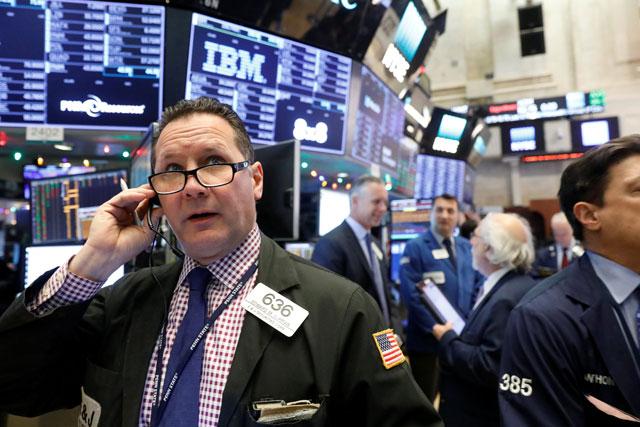 Dec 13,2017
NEW YORK — Wall Street stocks rose early on Wednesday ahead of an expected Federal Reserve (Fed) interest rate increase and amid signs Repub
Apr 25,2017
BENGALURU — The Nasdaq breached the 6,000 mark for the first time ever on Tuesday, spurred by a raft of strong corporate earnings and Presid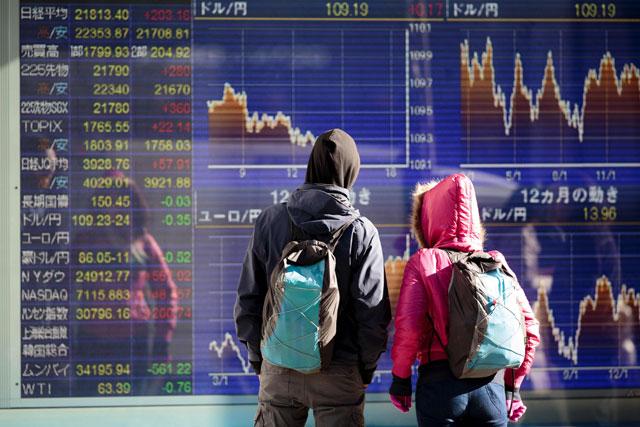 Feb 07,2018
US stocks overturned early losses to trade higher on Wednesday as some buyers returned to a market still shaking from a record fall for the
Newsletter
Get top stories and blog posts emailed to you each day.