You are here
China inflation stays low as growth sputters
By AFP - Jun 10,2023 - Last updated at Jun 10,2023
BEIJING — Chinese inflation came in flat again in May, official figures showed Friday, as the country's economy sputters owing to softening demand and falling exports, leading to calls for a rate cut and a bigger government stimulus.
The consumer price index (CPI) rose 0.2 per cent on-year, from 0.1 per cent in April, the National Bureau of Statistics (NBS), said.
The figure was in line with expectations of analysts polled by Bloomberg.
Beijing has kept interest rates low compared to other major economies, but the near-zero inflation highlights challenges faced by policymakers as they try to stimulate the economy.
Top economist and government adviser Liu Yuanchun on Thursday called for regulators to cut borrowing costs further to ease the financing burden of small and medium-sized private businesses.
Private companies' borrowing costs exceeded that of large state-owned enterprises, Liu said, according to Bloomberg News.
Large state-owned enterprises enjoyed loan rates lower than 1.8 per cent but many private firms had to pay nearly nine per cent, he said on the sidelines of the Lujiazui Forum in Shanghai.
"It'll be better if the rate cut comes as a part of a package of support policies," he said.
China's six largest state-owned commercial banks cut interest rates for savers on Thursday to boost spending, according to announcements on their websites, after being asked by the central bank.
The country's producer price index (PPI) — which measures prices paid by wholesalers — dropped a bigger-than-expected 4.6 per cent in May, from a 3.6 per cent decline in April, and the biggest drop since 2016.
PPI has fallen for eight consecutive months because of sluggish domestic demand and lower commodity costs.
Other economic data released recently also signal weakness in the world's second-largest economy, despite the lifting of strict pandemic rules at the end of last year.
Exports sank in May for the first time since February, state media reported earlier in the week, breaking a two-month growth streak as a post-COVID rebound faded.
The Chinese economy is weighed down by a debt-laden property sector and a global economic slowdown.
"The risk of deflation is still weighing on the economy," Zhiwei Zhang, chief economist at Pinpoint Asset Management, said.
"The government has not sent a clear signal on potential policy stimulus," he said, adding that the next round of policy reviews may come after July.
Analysts from Capital Economics said: "We still think a tightening labour market will eventually put some upward pressure on inflation later this year."
Related Articles
Aug 18,2022
HONG KONG — Markets dropped in Asia on Thursday following a sell-off in New York spurred by minutes from the Federal Reserve (Fed) indicatin
Sep 13,2015
BEIJING — China unveiled details on Sunday of how it would restructure its state-owned enterprises (SOEs), including partial privatisation,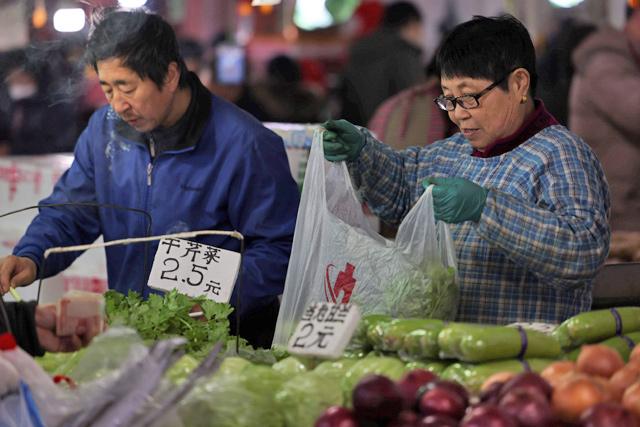 Dec 09,2020
BEIJING — China's consumer prices dropped more than expected in November on falling food costs, with a key gauge turning negative for the fi