You are here
Bank of England follows Fed in pausing rate hikes
By AFP - Sep 22,2023 - Last updated at Sep 22,2023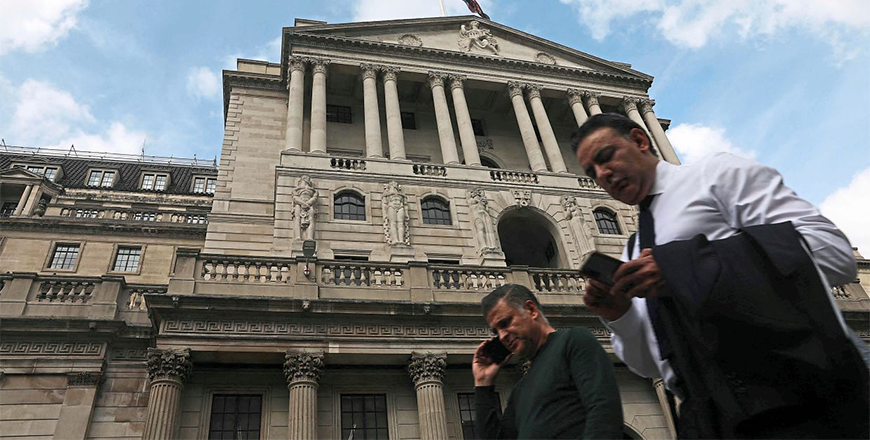 Pedestrians walk past the Bank of England building in London (AFP file photo)
LONDON — The Bank of England (BoE) left its key interest rate unchanged Thursday, snapping 14 straight hikes following a shock slowdown to UK inflation and one day after the US Federal Reserve (Fed) also hit pause.
The BoE's monetary policy committee decided in a close 5-4 vote to maintain its key rate at 5.25 per cent, the highest level in more than 15 years.
It cautioned that the rates outlook hinged on inflation staying elevated, echoing the views of its US and European peers.
UK policymakers had been tipped to raise borrowing costs again heading into this week's gathering — until surprising official data Wednesday on consumer prices clouded the picture.
The UK has seen also a rise in unemployment and weak economic growth as rate hikes take their toll.
In reaction, the pound clawed back some of its losses having earlier plumbed a five-month low of $1.2239.
Thursday's decision comes toward the end of a busy week for rate calls from global central banks, which have hiked numerous times for more than 18 months to tame inflation that surged following Russia's invasion of Ukraine.
'Finely balanced'
"The decision on whether to increase or to maintain... at this meeting had become more finely balanced," said BoE on Thursday.
"Further tightening in monetary policy would be required if there were evidence of more persistent inflationary pressures," they added.
Even if the rate has peaked, analysts expect the cost of borrowing to stay elevated for well into next year.
The BoE "doesn't want the markets to decide that a peak in rates will be soon followed by rate cuts, which would... undermine its attempts to quash inflation", noted Paul Dales, chief UK economist at Capital Economics.
Five policymakers, including governor Andrew Bailey, voted not to hike for the first time since December 2021.
A minority of four urged a quarter-point hike "to address the risks of more deeply embedded inflation persistence".
The Fed on Wednesday held US rates but indicated another hike was likely this year should inflation remain high. It hinted also that there would be fewer cuts than anticipated in 2024.
Also Thursday, Sweden's Riksbank and Norway's Norges Bank each raised their key interest rates by a quarter-point.
But the Swiss National Bank unexpectedly left its rate unchanged, confounding expectations for an increase.
All three said more rate increases may be necessary if inflation remains too high.
Shock data
UK official data on Wednesday showed the Consumer Prices Index slowed to 6.7 per cent in August from 6.8 per cent in July.
That was the lowest inflation figure since February 2022 and confounded expectations for an acceleration to 7.1 per cent on higher energy prices.
Central banks have tightened borrowing costs to multiyear highs in the wake of surging energy and food prices.
The European Central Bank has carried out 10 straight rises, including a quarter-point hike last week, but is now signalling that eurozone borrowing costs may have reached a peak.
It comes as data this week showed eurozone inflation slowed slightly in August.
Cost-of-living crisis
In a bid to cool prices, the BoE began lifting its key interest rate from a record low of 0.1 per cent at the end of 2021, when inflation started to creep higher as economies slowly emerged from lockdowns.
Nevertheless, UK inflation subsequently struck a 41-year peak at 11.1 per cent in October 2022, while the BoE is tasked by the British government with keeping the level at about 2 per cent.
The country has since been blighted by disruptive strikes, notably by rail and health workers, as salaries fail to keep up with the surging cost of living despite record-high growth in average UK wages.
The rate increases have worsened the cost-of-living crisis, with retail banks following suit by significantly hiking mortgage rates.
Landlords, faced with higher repayments, have in turn pushed up rents by sizeable amounts.
At the same time, banks are offering higher returns on savings, for those who can afford to set money aside.
In response to Thursday's BoE decision, XTB analyst Walid Koudmani warned rates may not have peaked.
"The key message today is that rates are at their peak or close to it," Koudmani said.
"But with current data, it could be a dangerous signal to send the markets since if inflation keeps running hot, the BoE will need to hike once more."
Related Articles
May 11,2023
LONDON — The Bank of England (BoE) on Thursday lifted its key interest rate to the highest level since the 2008 financial crisis, noting inf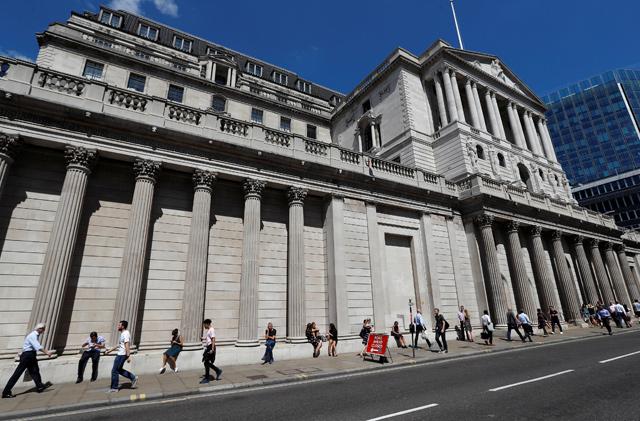 Aug 01,2018
LONDON — The Bank of England (BoE) appears set on Thursday to hike interest rates to combat high inflation, as it eyes fallout from both Bre
Dec 17,2015
WASHINGTON — Federal Reserve (Fed) Chair Janet Yellen conceded Wednesday the Fed's rate increase could hurt some emerging economies, but tha