You are here
Automakers report healthy April sales led by SUVs, trucks
By AP - May 03,2016 - Last updated at May 03,2016
In this November 5, 2015, photo salesperson Jerry Camero (right) delivers a 2016 Jeep Cherokee Limited to a customer at a Fiat Chrysler dealer in Doral, Florida. Major automakers report sales figures on Tuesday (AP photo)
DETROIT — America's love of trucks and SUVs helped push most automakers to healthy sales gains last month as Ford reported record SUV sales and Nissan posted its best April ever.
Nissan's sales rose 12.8 per cent for the month to 123,861, while Fiat Chrysler posted a 6 per cent gain to nearly 200,000 and Ford's sales rose 4 per cent to just over 231,000. General Motors, which is cutting back on low-profit sales to rental car companies, posted a 3.5 per cent decline to just under 260,000.
Ford Motor Co. sold more than 65,000 SUVs, the best April in company history, led by the Explorer with a 22 per cent increase. At Nissan Motor Co., cars and SUVs pushed sales up, while Fiat Chrysler was led by a 17 per cent increase in sales of Jeep SUVs. It was FCA US LLC's best April since 2005.
Analysts expect US sales of new cars and trucks to be up 4 per cent over last April when companies are done reporting figures on Tuesday. Car-buying site Edmunds.com predicts April sales of more than 1.51 million, beating the previous record for the month set in 2005.
Most major automakers were expected to see sales increases except for GM and Volkswagen AG, which is struggling with an emissions cheating scandal.
The strong showing for April — traditionally a month of calm before the hot summer selling season — indicates that 2016 could be another record year for the US auto industry, said Jessica Caldwell, Edmunds' director of industry analysis. US auto sales hit a record of 17.5 million last year.
As sales reach those historic peaks, however, the overall pace of growth is slowing. Two years ago, for example, April sales jumped 8 per cent, or double last month's expected pace. J.D. Power and Associates predicted that April sales this year would run at an annual rate of 17.6 million.
For now, the sales outlook is still mostly sunny. Consumers are on track to spend more than $36.9 billion on new vehicles in April, surpassing the previous record for the month set last year, according to J.D. Power and LMC Automotive.
But there are some worrying trends for the industry.
Buyers are flocking to SUVs and trucks, which might force manufacturers to offer big discounts on cars to move them off lots. That is good for buyers in the short term, but incentives can flood the market with cars and hurt resale values.
At Fiat Chrysler, car sales fell 8 per cent for the month. Sales of the Chrysler 200 midsize car tumbled 60 per cent to around 7,600. Ford's car sales fell 12 per cent.
Sales to individual consumers also appear to be slowing, so automakers are relying more on less profitable sales to rental-car companies and other fleets. J.D. Power expected April sales to individual buyers to rise 4 per cent, while sales to fleets were expected to jump 8.7 per cent.
John Humphrey, senior vice president of J.D. Power, said consumers will spend more on new cars and trucks than any other April on record. But slowing growth, the shift away from cars and rising fleet sales "pose significant challenges to manufacturers as they compete in the marketplace".
Related Articles
Jan 06,2015
Automakers reported strong December US sales on Monday, boosted by falling gasoline prices, but industry executives and analysts cautioned that growth would slow in 2015 after five years of rapid recovery from the recession.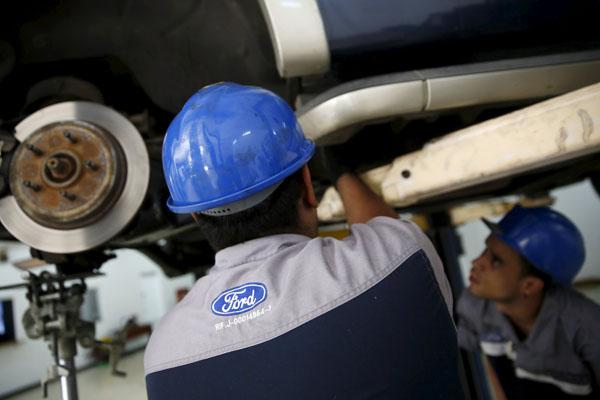 May 10,2015
Detroit's automakers, on track for their best sales year since 2006, may want to brace themselves for rockier times ahead.
Jan 06,2016
CHICAGO — US auto sales were set to smash records in 2015 as easy credit, hot new vehicles and strong consumer confidence lured buyers to sh
Newsletter
Get top stories and blog posts emailed to you each day.