You are here
Airbus ready to axe A380 if it fails to win Emirates deal — sources
By Reuters - Dec 27,2017 - Last updated at Dec 27,2017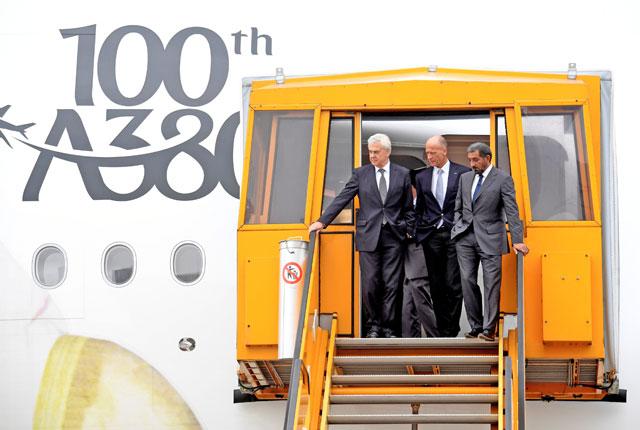 Sheikh Ahmed Bin Saeed Al Maktoum, Emirates' chairman and CEO (right), Tom Enders, CEO of Airbus (left), and Tim Clark President of Emirates Airlines, descend the steps of Airbus A380 during a delivery ceremony of Emirates' 100th Airbus A380 at the German headquarters of aircraft company Airbus in Hamburg-Finkenwerder, on November 3 (Reuters file photo)
PARIS — Airbus is drawing up contingency plans to phase out production of the world's largest jetliner, the A380 superjumbo, if it fails to win a key order from Dubai's Emirates, three people familiar with the matter said.
The moment of truth for the slow-selling airliner looms after just 10 years in service and leaves one of Europe's most visible international symbols hanging by a thread, despite a major airline investment in new cabins unveiled this month.
"If there is no Emirates deal, Airbus will start the process of ending A380 production," a person briefed on the plans said. A supplier added such a move was logical due to weak demand.
Airbus and Emirates declined to comment. Airbus also declined to say how many people work on the project.
Any shutdown is expected to be gradual, allowing Airbus to produce orders it has in hand, mainly from Emirates.
It has enough orders to last until early next decade at current production rates, according to a Reuters analysis.
The A380 was developed at a cost of 11 billion euros to carry some 500 people and challenge the reign of the Boeing 747.
But demand for these four-engined goliaths has fallen as airlines choose smaller twin-engined models, which are easier to fill and cheaper to maintain.
Emirates, however, has been a strong believer in the A380 and is easily the largest customer with total orders of 142 aircraft, of which it has taken just over 100.
Talks between Airbus and Emirates over a new order for 36 superjumbos worth $16 billion broke down at the Dubai Airshow last month. Negotiations are said to have resumed, but there are no visible signs that a deal is imminent.
Although airlines such as British Airways have expressed interest in the A380, Airbus is reluctant to keep factories open without the certainty that a bulk Emirates order would provide.
Emirates, for its part, wants a guarantee that Airbus will keep production going for a decade to protect its investment.
A decision to cancel would mark a rupture between Airbus and one of its largest customers and tie Emirates' future growth to recent Boeing orders. European sources say that reflects growing American influence in the Gulf under President Donald Trump, but US and UAE industry sources deny politics are involved.
There are also potential hurdles to a deal over engine choices and after-sales support.
Related Articles
Jan 18,2018
PARIS — Emirates Airlines on Thursday said it has struck a $16 billion deal to buy 36 Airbus A380 superjumbos just days after the European m
Jan 09,2017
PARIS — Airbus is set to post an 8 per cent rise in deliveries for 2016, beating expectations, after a sprint to the finish line that narrow
Jan 14,2016
PARIS — European plane maker Airbus beat Boeing in the race for new business last year, swelling its total order book to a record $1 trillio
Newsletter
Get top stories and blog posts emailed to you each day.