You are here
'If you have a hope map, youth are the GPS, Mazrui tells GMIS Week
By JT - Nov 24,2021 - Last updated at Nov 24,2021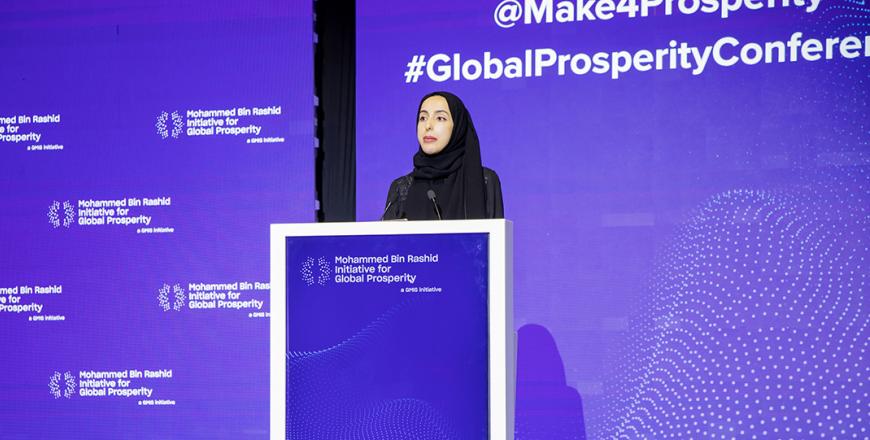 Shamma Al Mazrui, the UAE's Minister of State for Youth Affairs, addresses The Global Prosperity Conference at the Global Manufacturing and Industrialisation Summit Week in Dubai on Wednesday (Photo courtesy of GMIS)
DUBAI – Shamma Al Mazrui, the UAE's Minister of State for Youth Affairs, on Wednesday opened The Global Prosperity Conference at the Global Manufacturing and Industrialisation Summit (GMIS) Week.
In her keynote speech, she highlighted the importance of investing in youth for a future industrial and manufacturing sector that is both sustainable and innovative, according to a GMIS statement.
She said: "Investing in all youth leads to unlimited compound interest and true prosperity. The Global Prosperity Conference is about serving humanity for the long term and investing in the young people who will carry our torches the farthest.
"The UAE's model of investing in youth is a living case study on the path to real 21st-century prosperity. We listen to youth, act on their ideas, and put them front and centre alongside policy- and decision-makers. We make youth the innovators and creators of our tomorrow."
Mazrui also referred to the results from the recently published Arab Youth Survey, which she said is proof that the region is "filled with hope and optimism" for the progression of the next generation.
"If you have a hope map, youth are the GPS. Youth if they despair, then we regress. If they hope, we move forward. If they prosper, humanity will profit."
up
9 users have voted, including you.
Newsletter
Get top stories and blog posts emailed to you each day.