You are here
Umniah receives ISO 22301:2012 Certification
Feb 06,2020 - Last updated at Feb 06,2020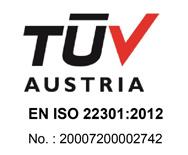 As part of its ongoing efforts to provide a highly reliable business environment and distinguished work system, Umniah has obtained the ISO 22301:2012 certification, the international standard for a controlled business continuity management system, after ensuring that it had fully complied with the procedures followed in this field.
The ISO 22301:2012 certification is an international framework that helps businesses identify potential threats to critical functions and design an effective business continuity management plan. Umniah has successfully implemented the requirements of this certification that aim to protect, reduce the likelihood of occurrence, prepare for, respond to and recover from disruptive incidents when they arise, enabling the company to respond effectively and promptly to any potential threats while providing a high level of services to its shareholders.
Umniah CEO Ziad Shatara stressed the importance of obtaining the certification as a step towards following and implementing the highest international standards in business operations management, enabling Umniah to continually meet the needs and aspirations of its customers on the one hand, and keep pace with the ever-changing business environment on the other hand.
Newsletter
Get top stories and blog posts emailed to you each day.