You are here
Jordan Ahli Bank honoured by health minister
Jul 04,2022 - Last updated at Jul 04,2022
In coincidence with World Blood Donor Day, and under the slogan "Donating blood is an act of solidarity... Join the effort and save lives," Minister of Health Feras Hawari honoured the Ahli Bank for its contributions to blood donation campaigns.
This came during a celebration held by National Blood Bank Directorate. Jordan Ahli Bank organises such campaigns periodically and continuously within the framework of its social responsibility, in collaboration with the National Blood Bank and under its supervision.
The campaigns held by the bank are also witnessing a wide turnout by the bank's employees, in addition to its customers, to contribute to saving the lives of those in dire need. These campaigns highlight solidarity among the members of our one society and the values of giving they reflect.
Related Articles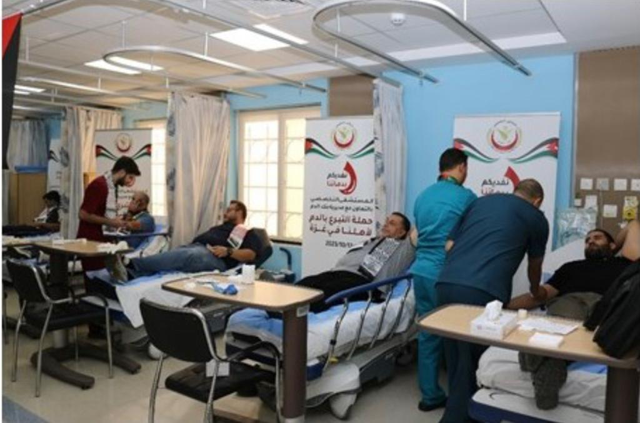 Oct 25,2023
AMMAN — A blood donation campaign initiated by a local women's organisation in solidarity with Gaza's medical sector has successfully
Jul 27,2014
The Islamic Shura Party held a protest in Ajloun on Sunday in solidarity with Gaza.
Nov 26,2023
AMMAN — The Amman Chamber of Commerce (ACC) on Sunday organised a blood donation campaign in cooperation with the Health Ministry's blood ba